**Full Disclosure: Contributor, Sara Phillips from Sensibly Sara, went on an all-expenses-paid trip to Cincinnati in order to learn more about the Iams, Febreze and Swiffer. All opinions are my own.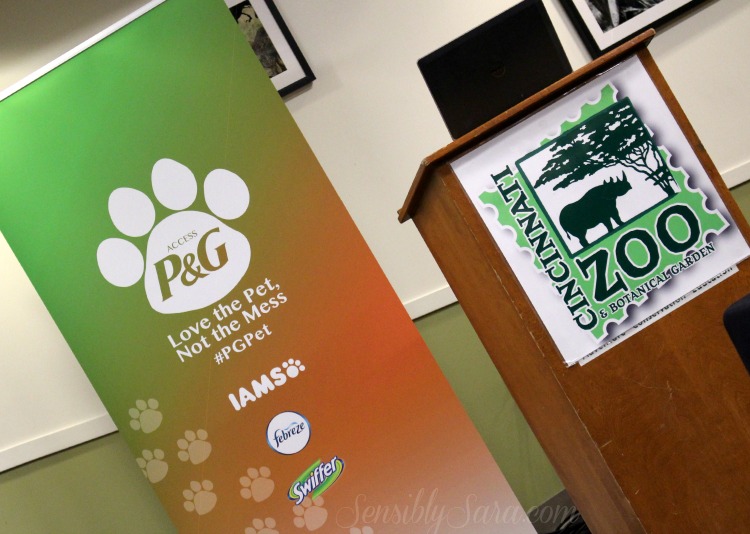 Frank is a pretty clean cat – not much shedding and hardly any hairballs. But my other cats are a MESS! Louie sheds like crazy. You can always tell when he has been sleeping in the living room chair because he leaves behind a pile of orange & white hair. Sure, it's easy to clean but it's ONE MORE thing I have to do. Then we have Slim. She drops a mouthfuls of food in the water dish every time I put fresh water in the bowl.
Do you have messy pets?
A few weeks ago I attended Procter & Gamble's 'Love your Pet, Not Their Mess' conference in Cincinnati. During my time there, I learned a few tips & tricks. Not only the products we can utilize to make our lives easier but also how to train our pets.
Fun Fact: There are almost 96 million cats & 84 million dogs in American homes.
Andrea Arden, an Animal Planet celebrity and dog trainer, was our host for the weekend. She spoke with the attendees animals and their tendencies. I was a little surprised to learn that animals want to do what we want!Behavior – for both animals and humans – is driven by reinforcement.
P&G has some great products that make spending more time with our pets a little easier – Febreze, Swiffer and Iams.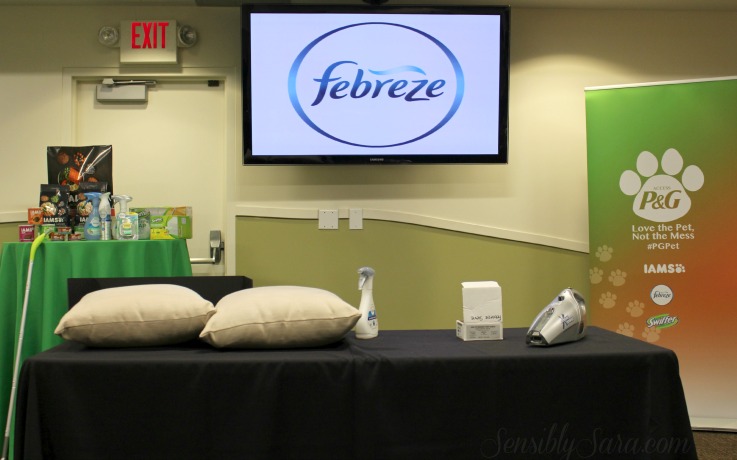 Febreze – maybe you are already using it – but did you know the Febreze Allergen Reducer helps reduce up to 95% of allergens on the soft surfaces in our homes? The Allergen Reducer forms an flexible, invisible net that traps allergens. Simply spray your soft surfaces, let the Febreze dry and then vacuum the surface. The net breaks up so it's easily vacuumed but not enough to let the allergens back into the air. You can use the product between cleanings, too. It won't create build-up or change the texture of the materials.
The Swiffer Sweep and Trap is a new product which picks up things like cat food & cereal. It uses rotating blades to pick up large particles and flicks them into a dirt bin. At the same time, the attached Swiffer Sweeper dry cloth traps dirt, dust and hair that brooms can leave behind. It's a neat product!
As we talked with someone from Swiffer's research and development team, we decided that the next Swiffer product needs to something that will pick up cat litter. Wouldn't that be useful?!
After hearing about Iams, I am convinced it is the food for my cats. The way they embrace the person-pet relationship is just beautiful. They want your pet to have all the essential nutrients they need and work to provide it in a healthy manner. Iams wants the nutrients to work together cohesively to give your pet the best possible food.
Fun Facts:
50% of cat owners have multiple cats.
Dogs need 10 essential amino acids; cats need 11.
Hairball Awareness Day was April 25.
Cats spend 1/3 of their waking hours grooming themselves. (That's the equivalent of about 3 hours a day!)
Cat dander is a result of inflammation.
Which of the P&G products would be most helpful in your home?
Watch Iams YouTube channel, as they will be releasing a really great (tear-jerking!) series of videos – Love Changes Everything.