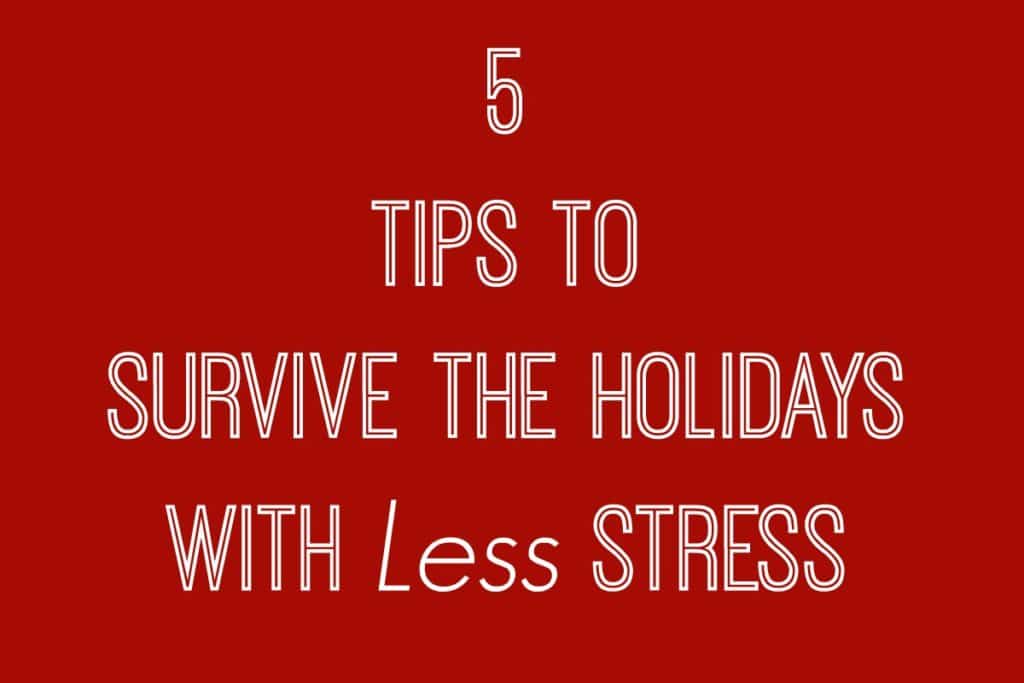 It doesn't matter that the holidays occur at the same time each year. Every year, I go into the last quarter of the year and the holidays completely take me by surprise.
It's not that I don't know that they're coming. Obviously, I do. Who doesn't? But the increasing demands from year to year and the new commitments that seem to pop up never cease to amaze me.
I want to focus on enjoying the holidays and not slowing down for anything. I don't want something unexpected to keep me from getting the most joy out of my favorite time of year with my favorite people.
There is so much that has to be done this time of year. It almost seems like more takes place in just a few short weeks than the rest of the year combined. There's food shopping, meal planning, meal prep, cookie baking and exchanges, work and school parties, family photos, charitable giving, Christmas shopping and wrapping, gift giving, and for us, birthdays. There's no possibility that a mom could get anywhere near bored this time of year.
Even with intense preparation, each year it seems like something unexpected comes up. Not just during the holidays but all year long. But you mourn a little bit for control and joy lost when it happens during the holidays. If there's anything that's stuck out to me from my short eight years as a mom, its to expect the unexpected.
Anything can happen at any time and it usually happens when you least want or expect it.
When something happens during the happiest and most joyful time of year it's easy to get distracted and shut down. Your holiday preparations and to do list comes to a halt as you deal with the crisis at hand. But it doesn't have to be as dramatic or life-changing as you might believe it to be in the moment.
5 Tips to Survive the Holidays with Less Stress
1. Sleep. Getting at least 7 hours of sleep at night will help you make it through your day and your to-do list. It may be tempting to stay up late and try to get more done, but prioritizing sleep will leave you feeling better and help you more efficiently get things done.
2. Eat breakfast. This may be a given but during the holidays there's an overabundance of not-so-healthy food and calorie-laden drinks. While you may not be able to be able to avoid temptation or control the foods you eat later in the day, with a healthy breakfast you can at least make it to lunch without crashing and have at least one meal a day that's healthy.
3. Start early. Try to get as much done as early as possible. Look at your schedule and to do list. Is there anything you could get done right now? Start on your Christmas cards now – get them signed, addressed, and with stamps on them so you're ready to mail them off at the beginning of December. Get the kids working on their lists to Santa so you can be prepared for all of the Cyber Monday sales. When the gifts come in, start wrapping them right away after the kids are in bed. There's so much you can get done ahead of time.
4. Brain dump. Once a week give yourself 15 minutes to devote to putting everything you want to get done that week on paper. Don't let that never-ending to-do list keep adding up in your head and allowing the stress of remembering it all or worrying that something is going to fall through the cracks. keep you overwhelmed. Write down as much as you can, even the little stuff and start checking things off. Visual reminders really help make everything you need to get done a priority.
5. Laugh. Give yourself the freedom to take joy in the fun times and laugh at the more challenging ones. Don't allow yourself to stop laughing because you're self-conscious. Watch the funny movie, sing karaoke at the Christmas party, dance around and have fun!