After a long winter, nothing brings new joy and hope quite like spring! These 15 Spring Quotes are sure to inspire you to find the beauty in this season.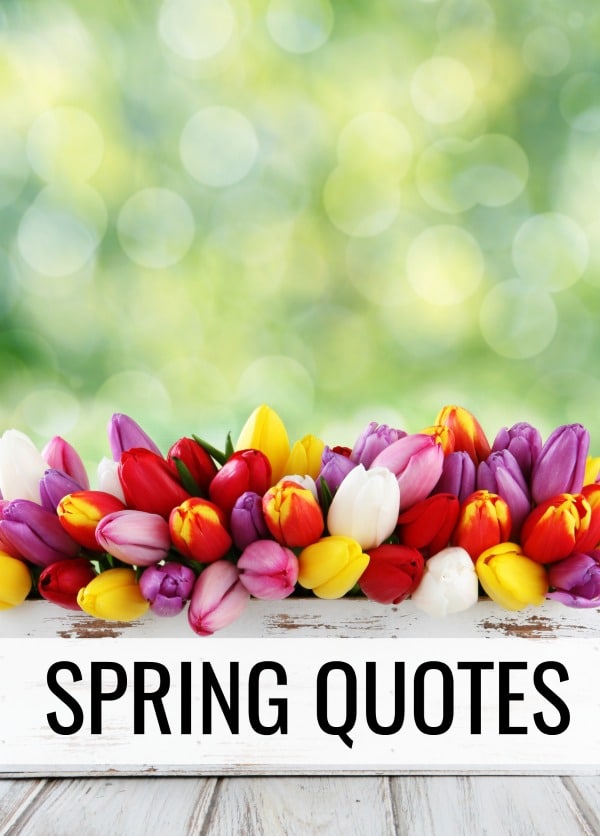 15 Spring Quotes
Spring is here and I couldn't be more excited! I love springtime – the trees and flowers blooming, the longer days, the warmer weather, all of it. Even when you live in a warm climate and the winter isn't particularly brutal or cold, it's just such a sweet time. There's something so magical and hopeful about seeing the changing of the season and nature coming alive again.
No matter what season of your life you're in, I hope these 15 Positive Spring Quotes will inspire you and provide you with a little hope and comfort to persevere.
"If we had no winter, the spring would not be so pleasant; if we did not sometimes taste adversity, prosperity would not be so welcome." ~ Anne Bradstreet
"Spring is nature's way of saying, Let's Party!" ~ Robin Williams
"No matter how long the winter, spring is sure to follow." ~ Proverb
"The first day of spring is one thing, and the first spring day is another. The difference between is sometimes as great as a month." ~ Henry Van Dyke
"The seasons are what a symphony ought to be: four perfect movements in harmony with each other." ~ Arthur Rubenstein
"Spring is God's way of saying, 'One more time!" ~ Robert Orben
"April hath put a spirit of youth in everything." ~ William Shakekspeare
"You can cut all the flowers but you cannot keep spring from coming." ~ Pablo Neruda
"Spring is the time of plans and projects." ~ Leo Tolstoy
"It was one of those March days when the sun shines hot and the wind blow cold: when it is summer in the light, and winter in the shade." ~ Charles Dickens
"The day the Lord created hope was probably the same day he created Spring." ~ Bern Williams
"With the coming of spring, I am calm again." ~ Gustav Mahler
"In the spring, at the end of the day, you should smell like dirt." ~ Margaret Atwood
"No winter lasts forever; no spring skips its turn." ~ Hal Borland
"If people did not love one another, I really don't see what use there would be in having any spring." ~ Victor Hugo
Do you have any favorite inspirational spring quotes? Share them with me in the comments!
More seasonal quotes:
Don't forget to pin these spring quotes for later! These make for great little quotes to add to Easter cards and reminders about the upcoming season ahead!