No matter your shopping style, be prepared for all the holiday fun with these tips on Where to Find the Best Ugly Christmas Sweaters for Women for Parties! This post was sponsored by Kelley Blue Book; however, all thoughts and opinions expressed are my own.
When I was 10, I got my very first ugly Christmas sweater. Or, rather, ugly Christmas sweatshirt. It obviously wasn't intended to be one of the best ugly Christmas sweaters for women for parties at the time, but that's definitely what I made it into.
My mom spent hours working away on this homemade ugly Christmas sweater craft for me – complete with a template, hot glue gun, and…SEQUINS! If sequins alone doesn't put you in the running as one of the best ugly Christmas sweaters for women for parties, then I don't know what does.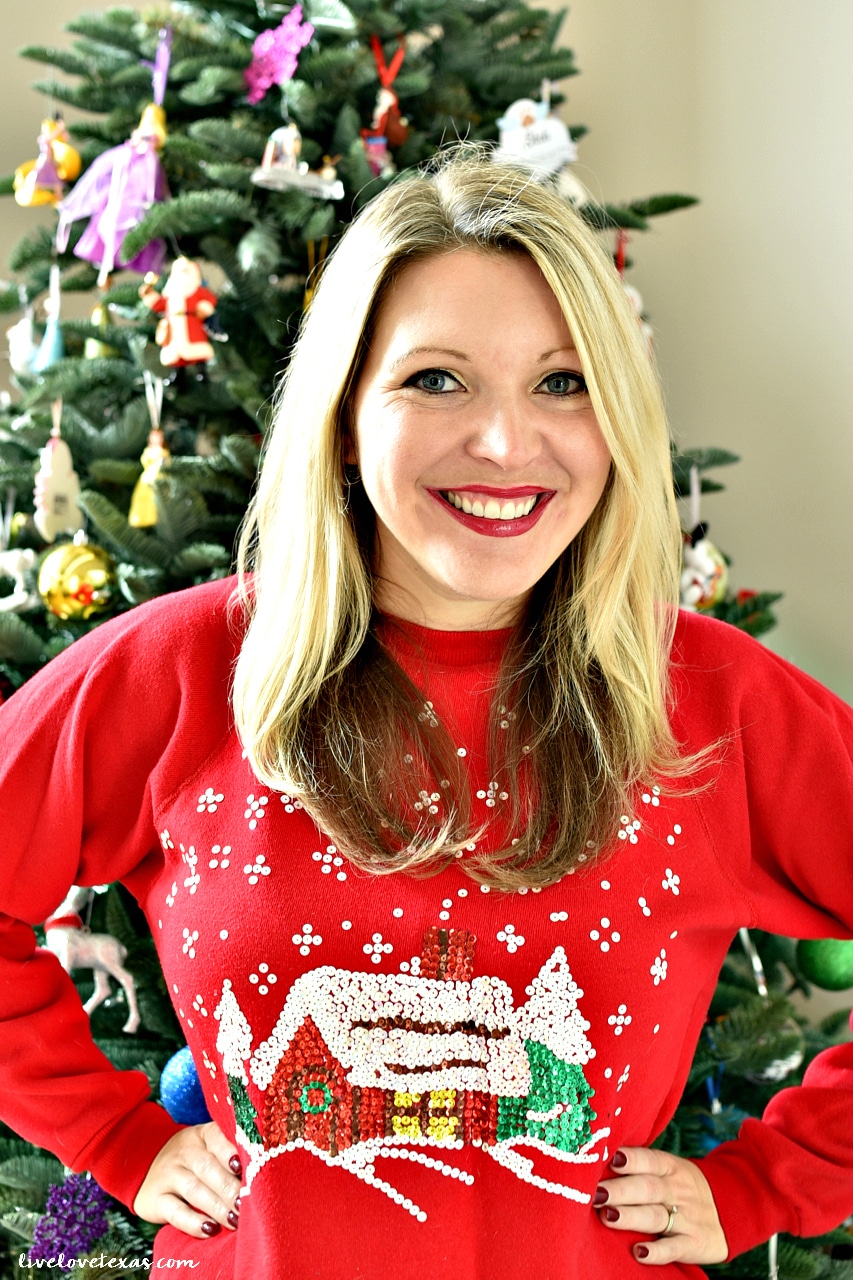 Since it was the early 90s, some of the best ugly Christmas sweaters for women for parties were being rocked all season long unbeknownst to them, so I fit right in. It wasn't until ugly Christmas sweater parties became a thing in the last 10 years, that I was glad I had saved that sweatshirt.
Thankfully I was a tall 10 year old and the style at the time was to wear it big and over leggings, so over the years I've still been able to put it on during the holidays. It wasn't until last Christmas, that I showed my mom that I had kept that ugly thing after all of these years. After a good laugh over the now obvious tackiness of the craft and surprise I had held onto that thing through the years and many moves around the country, we agreed that it was time to pass the sweatshirt onto Brady (almost 9), so she too can win the ugly Christmas sweater contest.
Now the only problem is, what to wear to our next ugly Christmas sweater party or for some long overdue Christmas cards? But while scrolling through Facebook, I found the perfect solution on the Lone Star English Bulldog Rescue page that we adopted Bunny from…an English Bulldog ugly Christmas sweater.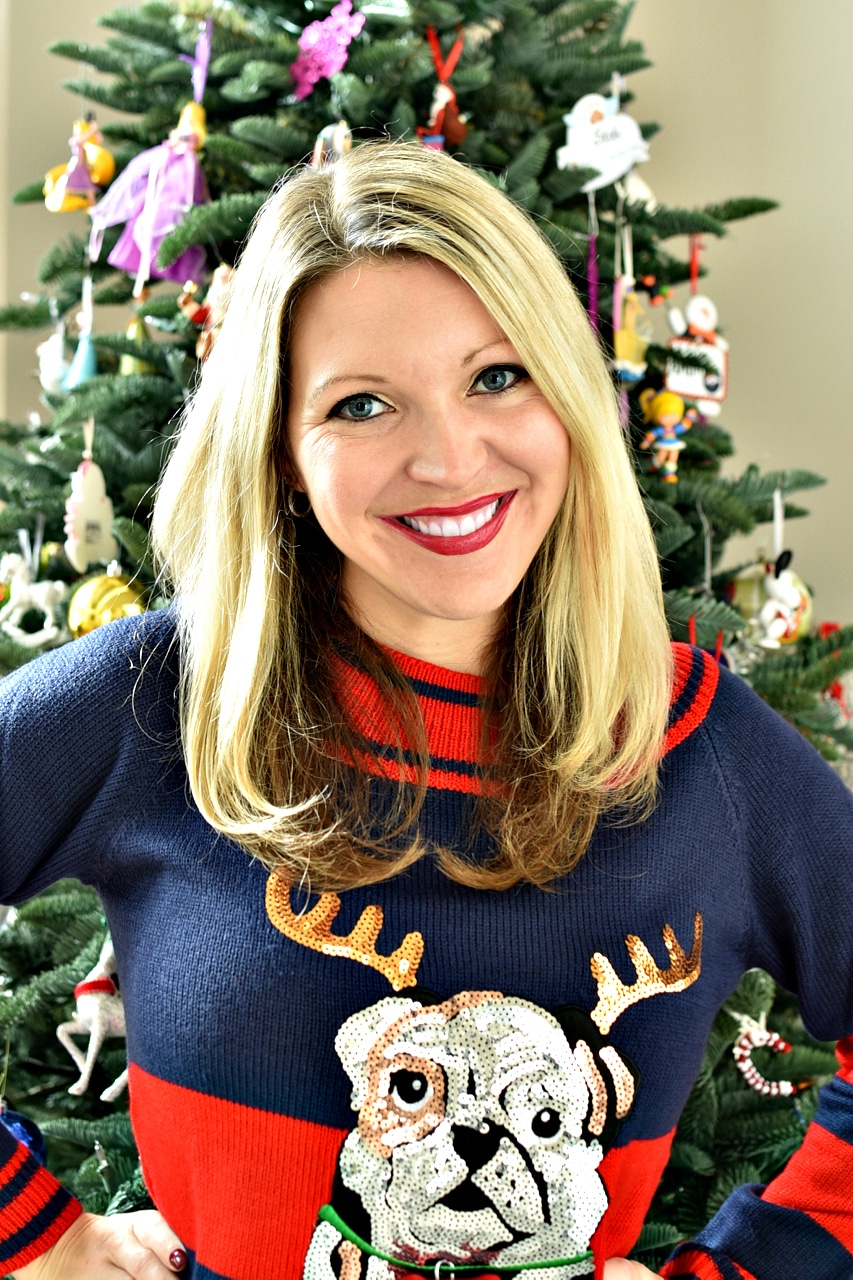 If you're looking for where to find the best ugly Christmas sweater for women for parties this year…or sweatshirts, no judgement, check out my tips below!
Where to Find the Best Ugly Christmas Sweaters for Women for Parties
1. Borrow one. From ugly Christmas sweaters and sweatshirts to socks, someone you know likely already has something you can borrow if you're not quite ready to invest.
2. Buy one online. There is an amazing selection of the best ugly Christmas sweater for women for the holiday season online. You can get pretty much anything online from a sweater that lights up to your favorite movie character. Buying a new sweater online gives you the opportunity to show a little of your personality at the party.
3. Check out thrift stores. If you have your heart set on vintage, you need to head to the thrift store. You'll find gems from decades past but beware the selection might be limited as others are scouring the thrift store aisles along with you.
4. Make your own. You can either go crazy at the craft store buying individual pieces of flair, or there are even ugly Christmas sweater kits available.
5. Win one. Why buy or make an ugly Christmas sweater when you could win one? Just enter to win Kelley Blue Book's #GiveYourselfaBestBuy sweepstakes where 50 entrants will win Kelley Blue Book holiday sweaters. PLUS, one super lucky winner will get $35,000 toward the purchase of a Kelley Blue Book Best Buy Award-winning car! So you can enter for the free ugly Christmas sweater for great odds and possibly win a new car for Christmas in the process!
Car shopping, car buying, negotiating deals with dealerships, none of that is very much fun. But with $35,000 towards your new car and KBB as a resource, that should make the process go smoother and easier so you can spend more time at ugly Christmas sweater parties and finishing your holiday shopping!
Entering is easy! Now through November 27th, just take the quiz about the annual Kelley Best Buy Awards to enter!
So go enter this awesome sweepstakes and then let's continue the conversation on Facebook where I want you to tell me if you have any other tips where to make or find the best ugly Christmas sweaters for women for parties!