This post is sponsored by Expedia.com.
Can you believe we've never had a professional family photo? Sure, we have the family selfies that are perfect for sharing on social media, but nothing wall-worthy.
And most of the time it's only three of us in the photo anyway because…someone has to be taking it. If we do get a stranger to take the photo, the expectations have to be set low. You're grateful for the photo, but it might not be something you want on a Christmas card.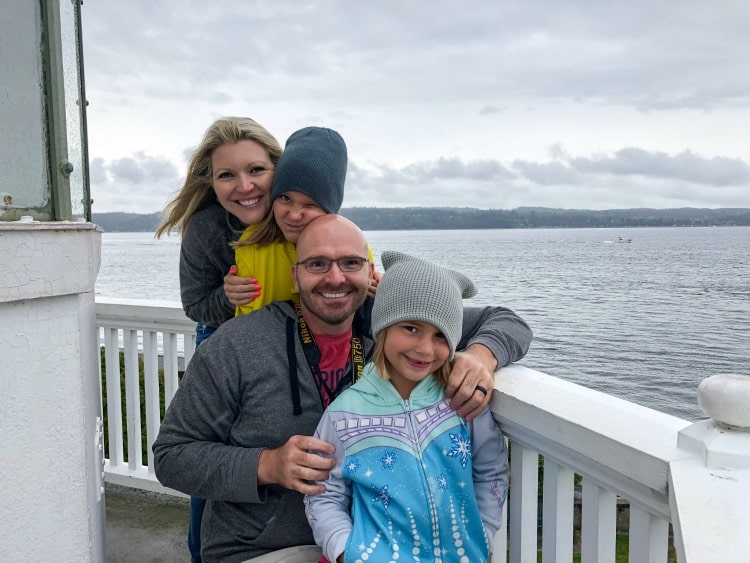 That's all changing this year. We don't need to hire a professional photographer for this, we can take our own family pictures.
Our family loves to travel, so it only makes sense that we would capture photos for our first family portrait and our holiday card while on vacation. So far this year we've already traveled to Taos, New Mexico; Tulum, Mexico; and all over the Texas Hill Country.
And with two months more to go of summer, we also have trips to Missouri, Florida, and the Texas Coast planned. So many different and unique options to capture for photos that include the entire family.
In preparation of all of this, I've been talking to my friends that have taken their own family portraits. Between what I already know and what they said, today I'm sharing 7 tips for taking your own family pictures in partnership with our sponsor, Expedia.com.
7 Tips for Taking Your Own Family Pictures
1. Plan ahead.
Don't head out on a whim for family pictures. Make sure to plan ahead with these other tips so you can get the best photos possible. If you can, try to take photos around dusk when the light is less harsh and more golden to allow for more beautiful pictures.
2. Decide on the location.
For us choosing the perfect location for family pictures is going to be tricky. We're traveling all over so we need to be prepared whenever we see the perfect spot. You can find locations for your family portrait by checking out professional photographer websites or keeping your eyes peeled while driving around. You never know when a wall, barn, or landscape will catch your eye.
3. Coordinate clothing.
You have two options here – match or coordinate. Matching would mean everyone is wearing black shirts and denim bottoms. Coordinated would be to find colors that complement each other and building off of it. Dad could have on a plaid shirt and the other family members could wear pieces in colors that are on his shirt. You could also focus on the feet as the common element – barefoot at the beach or boots in a field. Get creative!
4. Tripod and remote.
If you, the photographer, plan on being in the photo investing in a tripod and a remote is your best bet for a professional looking photo. We've all seen those pictures with the photographer trying to outrun the camera timer and no one wants to be that guy.
5. Plan your poses.
Your family needs to know what to expect. Practice poses at home and check out Pinterest for inspiration.
6. Shoot the hardest shots first.
By taking the hardest shots first, I don't necessarily mean anything crazy. Just take the direct, posed pictures first while everyone is still fresh and focused. This will allow kids to be kids and let you get some truly candid pictures later on.
7. Take lots of pictures.
The beauty of taking your own family portraits is you're not limited by a photo count. Take way more pictures than you think you'll need so you can hopefully capture that one shot that makes it all worthwhile.
Where would you go on your dream vacation?
This post is sponsored by Expedia.com.