This GE Profile Fridge with Built In Keurig Review is a sponsored post on behalf of the Best Buy Blogger Network. The reviewer has been compensated in the form of a Best Buy Gift Card and/or received the product/service at a reduced price or for free. #MyGEKitchen
When we moved into our current house, we made a terrible mistake. Not something as big or costly as choosing the wrong mortgage or something as stressful as choosing the wrong neighborhood.
Instead when we were choosing appliances, we simply did not measure properly. We measure the width but let the depth go by the wayside and for our fridge in particular decided more interior space trumped the exterior dimensions.
Now we have a very modern kitchen and everything is very sleek and streamlined. The fridge we selected was amazing and we had zero complaints about it. Well, maybe just one. It was way too big and bulky. The day after it was delivered and we started getting the opinions of friends and family on it, we immediately regretted our choice of fridge.
Who knew that counter-depth was so important? In some kitchens having a full-sized fridge may not matter but with the angles and configuration of our cabinets our choice looked so out of place.
How do you easily and cost effectively return a full-sized fridge?! I'll never know so I felt stuck.
So when I found out that I was being sent a GE Profile Fridge with Built in Keurig from Best Buy, I was stoked! A fridge that was counter depth *and* brews your coffee? This sounded too good to be true but I have to tell you it's everything I wanted it to be and more!
Using the GE Profile Fridge with Built In Keurig is super easy. You have two options for getting started – either directly from the control panel on the front of the fridge or from the GE Kitchen app. Yes, you can actually start heating up the water from your phone while you're still in bed!
We feel like the Jetsons!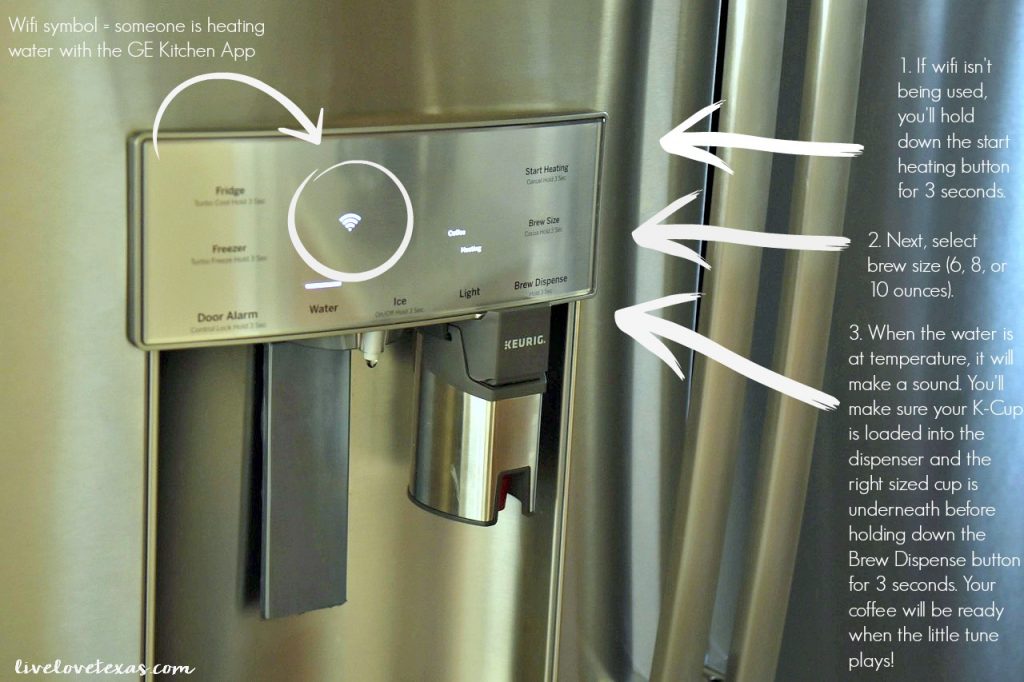 Word of warning. Do not open the fridge while your coffee is being dispensed. Operations will shut down and you'll have to wait (less than a minute) for the water to heat back up to temp.
Back to the GE Kitchen app. This thing is ah-mazing! Not only can you heat the water for your coffee, you can check the temp of both your refrigerator and freezer, set your ice cube dispenser to automatically refill, ensure your water filter doesn't need to be replaced, and ensure your little one didn't forget to shut the freezer drawer all the way when they grabbed a frozen yogurt out.
For the interior of the fridge, I love that the ice maker is built into the left hand side of the door. Sure, this eliminates some shelf space in the door but there's more interior visual space created.
The opposite side has three adjustable shelves along with a butter bin that add a ton of space to your fridge. Especially since the bottom shelf can be used to store gallons of milk juice, 2-liter drinks, or bottles of wine.
If the door space isn't enough for your tall items, there's one shelf in the fridge that can be pushed in to accommodate taller items and then readjusted as needed.
While I do wish there was exterior access to the produce drawer like my last fridge had, I do like that there are two produce drawers with adjustable temperatures for each drawer as well as a full sized temperature select drawer with separate temperature settings for meat, beverages, and deli items. This drawer comes with an adjustable divider in case you're like me and want everything in its place.
I think one of the worst parts of having a new fridge delivered is waiting for it to cool down. This freezer has something I've yet to see and has a rapid cool down option to quickly bring your freezer down to freezing temps. It also has two drawers with removable dividers to separate items.
What are your thoughts on the GE Profile Fridge with Built In Keurig?