This post on Knorr One Skillet Meal Starters (Steak & Peppers, Brown Rice & Quinoa recipe) is a sponsored post on behalf of Mirum.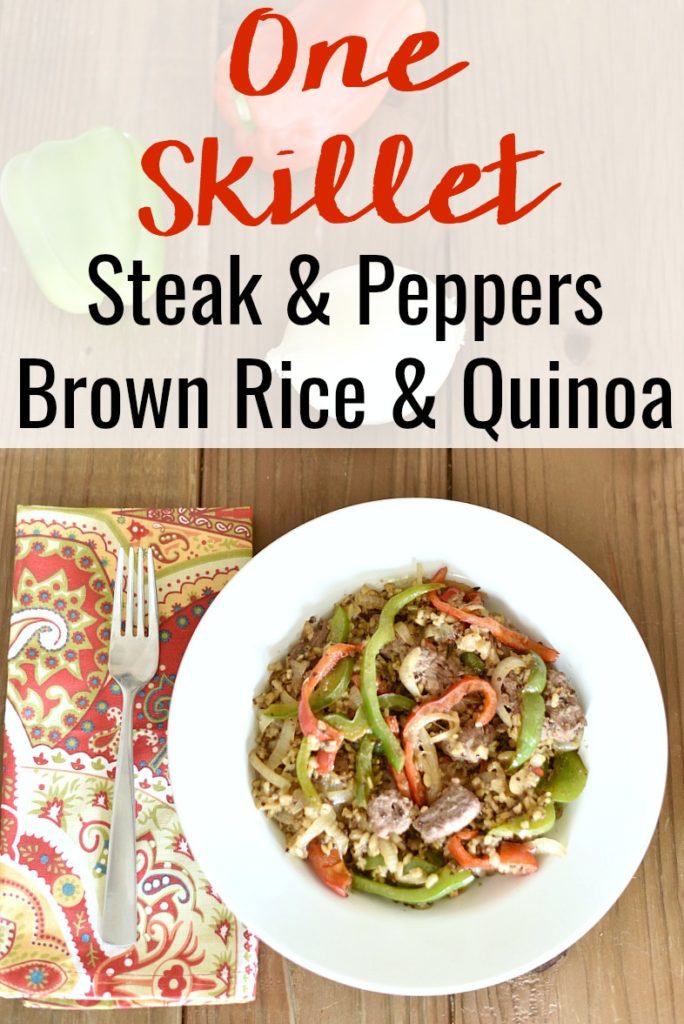 It never seems there are enough hours in the day. All of those productivity, time hacking books enlighten you and show you the opposite, but for most working parents time feels elusive.
I have all of these plans to limit eating out, start menu planning again, and get into a routine and it just never seems to stick for very long. Now after being married for nearly 17 years, I have a pretty healthy number of recipes that I've tried over the years and yet I still struggle.
Menu planning ends up going one of three ways. Either I load up the menu for the month repeating all of our favorites too many times, I try to make too many new recipes that haven't earned the family's stamp of approval, or I loosely create a menu saying chicken or ground beef night with no idea what said chicken or ground beef recipe will be.
After being gone at two different conferences in two different parts of the country in the last two weeks, I need to get back on the meal planning train again.
I need to have a meal plan in place that's foolproof so there's plenty of options for dinner that taste great, don't take hours to make, and just make life easier in general. So while I'm usually a make it from scratch kind of girl, I also don't want to reinvent the wheel or spend more time on something that just doesn't help make meal time with my family easier and better.
Then I found Knorr One Skillet Meal Starters at Kroger near the Knorr Sides products! I went with the Steak & Peppers Brown Rice & Quinoa since our whole family loves love steak, peppers, and onions.
Knorr One Skillet Meal Starters have a variety of organic grains like barley, farro, quinoa, and couscous, along with a blend of herbs and spices, without any color from artificial sources or artificial flavors. So all you need to add is the protein (chicken, beef, or shrimp) and fresh veggies, and dinner is done! Not only does it taste great and save time cooking dinner, since it's a one skillet meal you have less dishes to wash too!
Check out how easy it is to push boundaries in the kitchen by encouraging your family to try new things with this Steak & Peppers Brown Rice & Quinoa recipe using Knorr One Skillet Meal Starters!
Steak & Peppers Brown Rice & Quinoa
Instructions
Heat 1 tbsp. olive oil in a large skillet over medium-high heat and cook steak 3 minutes or until desired doneness. Remove from skillet and set aside.

Add another 1 tbsp olive oil to the skillet and cook peppers and onions 5 minutes. Remove everything from skillet and set aside with steak.

Add remaining olive oil, water, and contents of Knorr One Skillet Meal Starters to the skillet and bring to a boil. Cover, reduce heat to medium-low, and simmer 22 minutes or until rice is tender and liquid is absorbed.

Stir steak, peppers, and onions into rice mix. Remove from heat and let stand covered for 2 minutes before serving.
Nutrition Facts
Steak & Peppers Brown Rice & Quinoa
Amount Per Serving
Calories 415
Calories from Fat 153
% Daily Value*
Fat 17g26%
Cholesterol 69mg23%
Sodium 514mg21%
Potassium 553mg16%
Carbohydrates 34g11%
Protein 28g56%
Vitamin A 1865IU37%
Vitamin C 78mg95%
Calcium 66mg7%
Iron 2.9mg16%
* Percent Daily Values are based on a 2000 calorie diet.
Dinner just got a whole lot easier with Knorr One Skillet Meal Starters! If you try them, share your thoughts and results with me on Facebook!