This Minions Birthday Party Breakfast post featuring Illumination Entertainment's Minions © 2015 Universal Studios. All rights reserved. has been compensated by Collective Bias, Inc. and its advertiser. All opinions are mine alone. #MinionsMovieNight #CollectiveBias
At this time of year a majority of people are running around completely overwhelmed and stressed out of their minds about Christmas preparations and somehow I can't help but find myself a tiny bit jealous. Why would I possibly be jealous? Because not only do I have the typical holiday planning stress, I also have my oldest daughter, Cakes, and husband's birthdays within the same week of Christmas. This triple whammy of holidays so close together is enough to get my blood pressure up with all the needs and things I want to get done.
This may come as a shock but until this past weekend, neither of my girls had had an actual birthday party with friends. In the past, we've done the family only parties but last year our oldest asked why she didn't get a party like so many of her friends do. <insert face palm here> I felt horrible that she was now feeling so left out and promised this year she'd have her party.
We were never intentionally withholding a birthday party but with her special day so close to Christmas the logistics just seemed to be too much. Would people be traveling? Have family in from out of town? Would anyone even show up? With some advance planning I was able to send out invitations to everyone in advance (think wedding early) and throw a successful party.
But then came another struggle, now that we'd had a party weeks before her birthday, how did we make her actual birthday special? We weren't planning to have a full on second party, but something special and memorable she could share with just the family or even a few of her close friends.
During one of my many recent Target runs, I snagged a copy of the new Minions movie that we hadn't yet seen. The movie just released on 12/8 and Target exclusively carries the Minions Metalpak Blu-ray/DVD – Deluxe version with an extra 40 minutes of Target exclusive content. That's almost a whole other movie! While there I decided to make this movie the centerpiece of her special birthday party.
Cakes is obsessed with the
Despicable Me
movies and is a major tomboy and anything too girlie wouldn't have been fitting, but this was perfect. I didn't just buy the movie for a fun movie night, I picked up everything to create a memorable girls 
Minions
Birthday Party Breakfast!
Our elf, Trixie, helped to set the stage by bringing both of the girls Minions pjs she picked up on that same shopping trip and delivered them the day before the party, so when they woke up they were ready to go!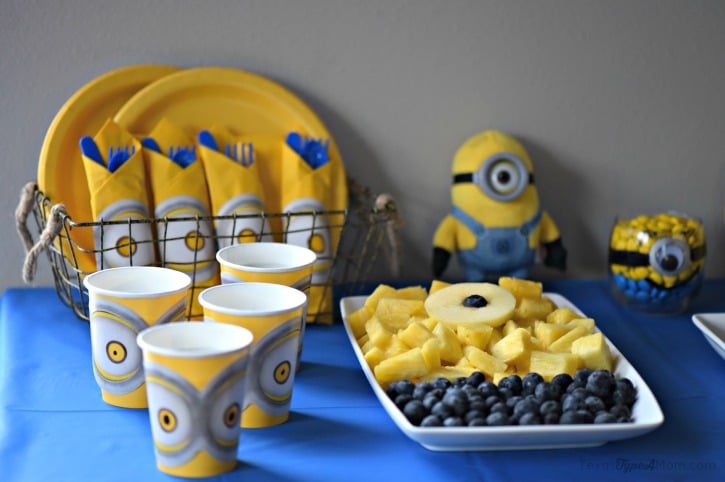 While Target had a huge selection of
Minions
licensed party products (including this amazing piñata), I opted for the solid colors from their party line instead. One item I did pick up were the
Minions
goggle party favors which I used to wrap around the utensils and cups for a more festive look. There are so many uses for these little things!
Admittedly, I'm not the craftiest of gals. I try but I can't cut or draw a straight line to save my life, but I try because I know my girls love it and don't see the flaws that I do. I grabbed some Simply Balanced juice boxes and easily transformed them into minions using yellow and blue constructions paper, double-sided tape, and permanent markers in white, black, and silver.
My girls just can't get enough strawberries so what better way to incorporate these into our
Minions
 movie themed breakfast, than making the strawberries look like minions?!
Minions Strawberries
Ingredients
1

lb.

strawberries

washed and dried

1

bag yellow candy melts

1

bag royal blue candy melts

candy eyes

thin black icing OR an edible marker

I used the icing on this batch but I think the marker would have more precise lines
Instructions
Place a sheet of wax paper on a baking sheet and set aside.

Melt yellow candy melts according to the package directions.

Dip entire strawberry up to the stem into the yellow candy melts. Allow any excess to drip back into the bowl before transferring to the wax paper.

Repeat until all of your strawberries are yellow and allow to dry.

Meanwhile, melt the blue candy melts according to the package directions.

Once the yellow candy is thoroughly dry, dip the bottom 1/3 of the strawberry into the blue candy melts. Again, allow the excess to drop off before before moving.

Repeat process until all of your strawberries are 2/3 yellow and the bottom 1/3 is blue.

Carefully dip the candy eyes into the yellow candy melts and press firmly to stick to the strawberry.

Repeat using one eye or two for the remaining strawberries.

Finally, using thing black icing or an edible marker draw those minions some mouths!
The star of the show were definitely these minions pancakes my husband created. Make sure to watch the video to see how easy these really are to make!
Minions Pancakes
Ingredients
1 1/2

c.

Market Pantry all-purpose flour

3

tsp.

baking powder

1

tbsp.

white sugar

1 1/4

c.

+ 1 tbsp. milk

1

egg

3

tbsp.

salted butter

melted

1

tsp.

vanilla extract
Instructions
In a large bowl, mix together all dry ingredients. Make a hole in the center and mix in all other ingredients until batter is smooth.

Funnel pancake batter into an empty condiment squeeze bottle.

Lightly spray a griddle and let heat to medium high.

Follow the video tutorial below creating your very own Minion pancakes.

Tip: it helps to sketch out your design ahead of time!
Whether you decide to have your own Minions Birthday Party Breakfast or just breakfast for dinner while watching the new movie, these pancakes will definitely bring a smile to anyone's face!
To stay up to date on all of the latest happenings and lots of fun content about all things
Minions
, make sure to follow the official
Facebook
and
Pinterest
accounts!
Be sure to check out more delicious recipes inspired by the Minions movie release. What do you think of this Minions Birthday Party Breakfast? Have you ever thrown a birthday breakfast party before?
If you haven't checked out the Minions movie, snag a copy next time you're at Target which is the best place for all of your movie night needs!