This post on the Nest Hello Doorbell Review with smart wireless home security was sponsored on behalf of Best Buy.
When you think of home security what comes to mind?
Whenever I think about home security one of the aspects I look at is mail security and it's usually a fear that it will get stolen. But in March the exact opposite happened in Austin. Instead of not getting your mail, people were receiving packages that they didn't order and that was loaded with explosives.
While the explosive package deliveries have ended, it does make people more cautious about what's going on outside your house at all times. Until recently you'd have to either be looking out a window or investing in some elaborate (expensive) security system.
But now there's an affordable, high-tech way to know what's going on outside your door at any with the Nest Hello Smart Wi-Fi Video Doorbell. There's a peace of mind and feelings of security that can't quite be described knowing you can monitor your home at all times…no matter where you are.
Nest Hello Smart Wi-Fi Video Doorbell
The Nest Hello Video Doorbell continuously records so you can see movements leading up to an event and afterward. This feature is unique versus other video doorbells where it only begins recording when there's movement or sound. Have continuous recordings have also allowed us to put our neighbor's minds at ease when they mentioned they've noticed suspicious vehicles. We're able to assure them that we'll review the camera footage and be on the lookout if anything is out of the ordinary.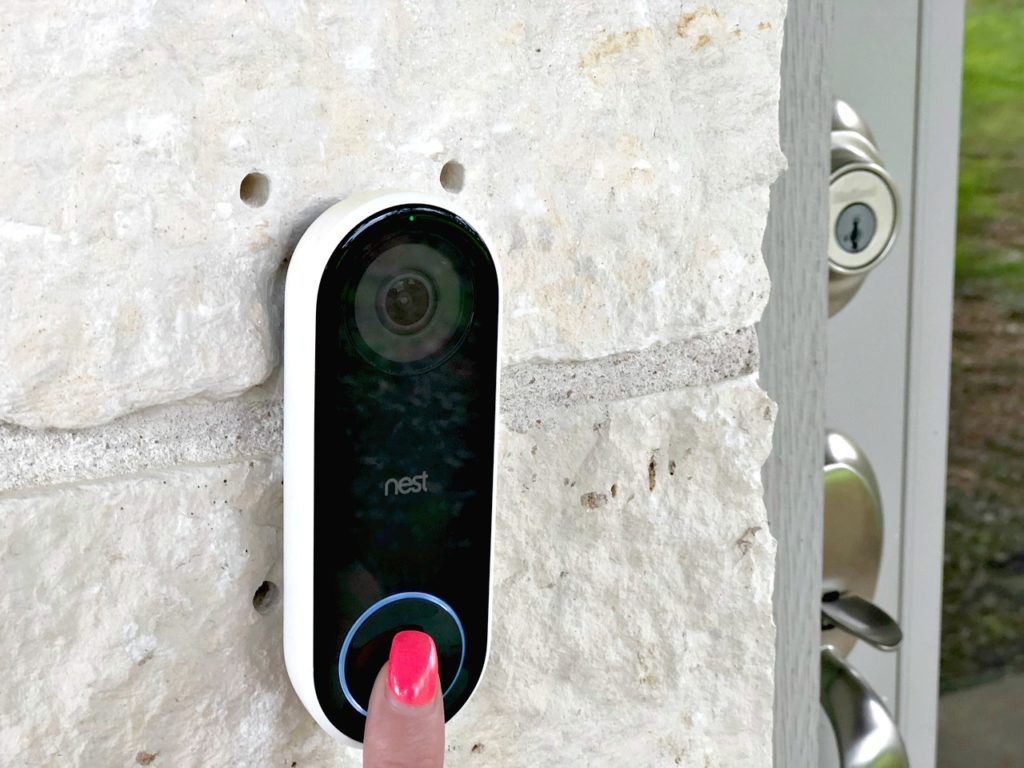 The range and quality of the video recordings are unparalleled in comparison to the slim profile of the Nest Video Doorbell. You can see where our last video doorbell was mounted and how much of a smaller profile the Nest Hello Doorbell has.
I love the notifications my husband and I both receive from the Nest app on our phones whenever something is happening outside our house. We have two girls so being able to monitor their activity when they're outside is critical. You not only get notifications to your phone, but when you go to the Nest app, you can not only see the live feed but all of the sounds, movements, and rings are stored for 5 days free of charge in your Nest account. And if there's anything you want to save, you can also swipe left and save the videos to your Nest account or directly to the camera roll on your phone.
On a business trip to California this week, I received a notification there was motion at my front door and I was able to talk to the girls through the intercom feature and interact with them in their daily routine when they got home from school even though I was riding around San Diego in my new favorite sports car. How awesome is that?!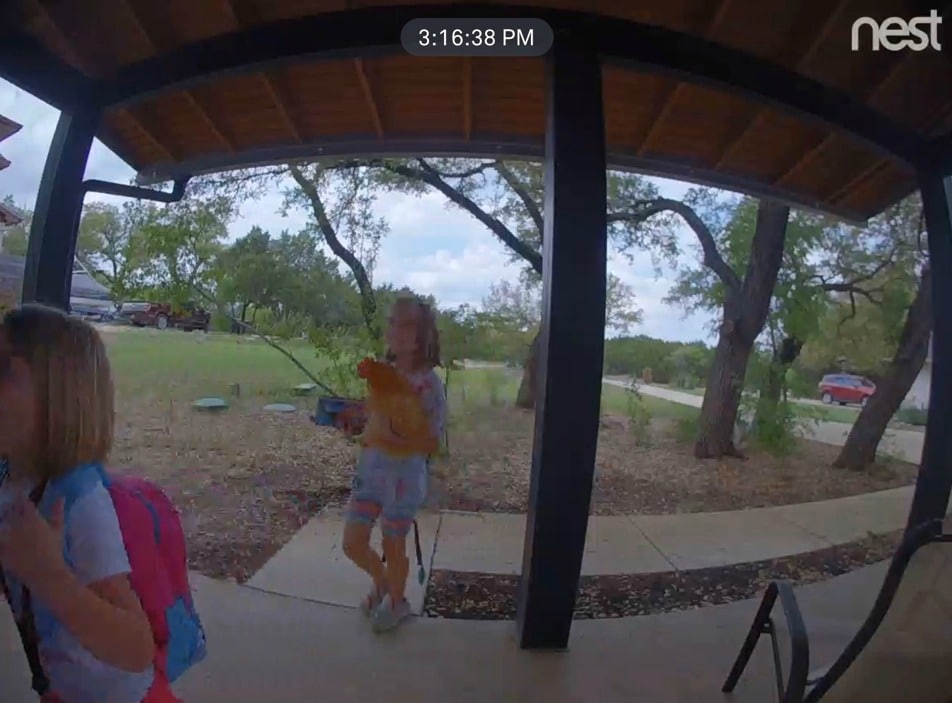 Besides the two girls, we also have two bulldogs and two chickens so knowing where they are at all times is so important. Especially when one of your chickens is proven an escape artist and has gotten out of our fenced backyard on multiple occasions.
If you don't want quite as many notifications from the app, you can also identify familiar faces for the Nest video doorbell. This means that if you're doing yard work and are walking back and forth in front of the camera, the camera will recognize you as a familiar face. It will also keep compiling photos of you to get a better feel for your facial recognition and you can assign names so you can get a notification to your phone that Kelly is moving is at the front door.
We all know how valuable our time is, so another great feature is that joy can also help you know when you need to answer the door and when you don't. I never have to deal with solicitors because I can see who's at the door and if I don't recognize them, either don't answer it or use the intercom to see what they're up to. If I know that a package is being delivered and it's safe to leave at my door, I don't have to disrupt what I'm already doing to go and answer the door. Then again, if I'm expecting my grocery delivery I know that I need to take the time to respond when I receive that Nest Doorbell notification on my phone or hear them ring the doorbell.
Don't worry if you're not especially tech-savvy because when you buy the Nest Hello Doorbell from Best Buy, you can get Geek Squad installation! My husband is pretty geeky but I'm so grateful the Geek Squad installed our doorbell to help make the transition and ensure that everything was installed properly.
Get ready for the peace of mind that comes with a Nest Hello Doorbell for home security and buy yours here from Best Buy with Geek Squad installation now! Check out the video below with all of the amazing features and more information!