This Soft & Chewy Chocolate Cookies recipe without chocolate chip cookies has the flavor of brownies but cooks much faster!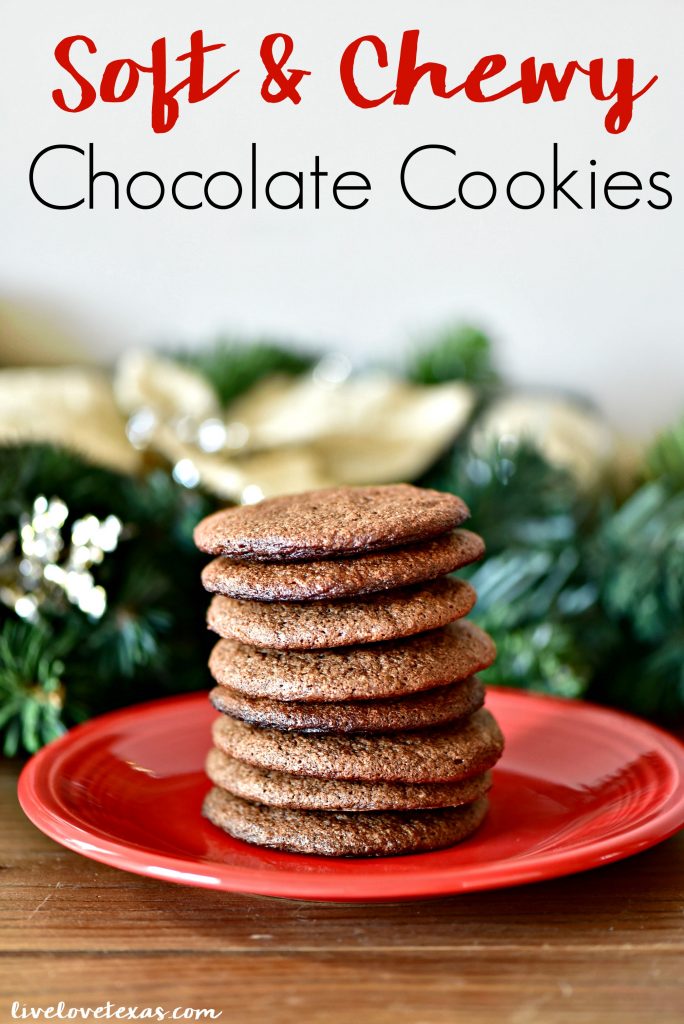 Mom confession. Sometimes I avoid letting my kids do stuff because I know it'll be more work for me to clean up afterward. There, I said it.
Sadly, I think it's a carry-over from my days as a Type A. Brady didn't even start feeding herself exclusively until she was almost 3 because I wanted to control the mess. Kids are a lot of work so I was trying to save myself extra work where I could. Well, that was a big fail because she had gotten spoiled with being fed and waited on so lots of tantrums and bigger messes ensued. With Colby, I saw the error of my ways and let her get messy from the get-go with the self-feedings. But I still tried to keep close tabs on messes.
As the girls have gotten older I've started loosening up more and more. While they still make messes and I end up cleaning them up a good part of the time, they can help clean up and I should be empowering them to do so.
Part of the fun of the holidays is making memories and spending time with family. This year I've challenged myself to let the girls have fun crafting with glitter and paint, playing with homemade playdough, and helping bake cookies.
Sure it might be easier to just bake these soft & chewy chocolate cookies myself and avoid the massive cleanup, but where're the memories in that?!
Soft & Chewy Chocolate Cookies
Instructions
Preheat oven to 350 degrees.

In a mixing bowl, cream together margarine, sugar, vanilla extract, and eggs.

Next, add all dry ingredients to wet ingredients and stir just until combined.

Refrigerate dough for 15 minutes, then drop using small cookie scoop onto greased cookie sheet.

Cook for 10 minutes in preheated oven, then allow to cool for 3 minutes before transferring to wire rack.
Nutrition Facts
Soft & Chewy Chocolate Cookies
Amount Per Serving
Calories 133
Calories from Fat 54
% Daily Value*
Fat 6g9%
Cholesterol 9mg3%
Sodium 115mg5%
Potassium 41mg1%
Carbohydrates 17g6%
Protein 1g2%
Vitamin A 295IU6%
Calcium 7mg1%
Iron 0.6mg3%
* Percent Daily Values are based on a 2000 calorie diet.
What's your favorite soft & chewy chocolate cookies recipe? Any tips to take this recipe to the next level? Send me your tips on Facebook!