This Summer Kids Car Kit post has been compensated by Collective Bias, Inc. and its advertiser. All opinions are mine alone. #SnugHugs #CollectiveBias
Can I just tell y'all about a recent mom fail? I always (well apparently almost always) carry a change of clothes for my kids in my bag and car. A couple a weeks ago we went with some friends to an exotic animal ranch about an hour from the house. On the way, My Wildflower threw up in the car. What we thought was her usual car sickness actually turned out to be the tummy bug so we took her in public and accidentally exposed everyone. Apparently this story has a few mom fails in it.
Sadly I had taken her extra clothes out of my bag so she was left with nothing but her brother's shorts that swallowed her, her clean socks, high top tennis shoes and her older friend's leopard hooded sweatshirt that was also too big. My sweet girl was sick and looked like a baby gangster. Thankfully we had friends there or she wouldn't have had anything to wear at all!!
I usually carry a survival car kit for my kiddos but at some point it had been taken out of the car because it was empty. More reason to replenish my reserves, they obviously get used! When I fished it out of the garage, I realized it was time for a seasonal update to our car kit. So get summer ready with me and be prepared for any kiddo emergency with the perfect summer kids car kit!
I have a first aid kit in the car for everyone so my kids kit is just that, everything you need for any kid emergency this summer! Here's a look at what's inside:
Beach Towels
Extra Clothes
Bathing Suits
Wipes
Sunscreen
Bug Spray
Sunglasses
Snacks
Gallon size plastic zipper bags
Garbage bags
As y'all know, we live on Lake Travis and this will be the first summer we have had a full lake in nearly a decade! It is beautiful! Sometimes we go visit daddy at a job site and one thing leads to another and my munchkins are in the water! They can't resist getting wet so not only do I carry bathing suits and sunglasses but I also carry beach towels. These also come in handy when we get a last minute invite to the pool while we're out and about. My water babies are ready to swim all summer long!
The sunscreen, bug spray and extra clothes are must haves and of course, snacks!! True story, one time the littles and I got stuck behind a wreck at supper time and we were all having hunger melt downs as we sat in park on the side of the road so I crawled to the back of the car and snagged our extra snacks to save the day (and my sanity)!
I always have a garbage bag and large zipper bags for emergencies. These work great for dirty clothes, trash, wet bathing suits, stinky diapers and throw up bags! Hello, contain that smell, am I right!?! I use the zipper bags to hold my kiddos extra clothes so if I need to grab someone a change of clothes in a hurry, everything is in one place.
And what kind of car kit for kids would be complete without wipes and Huggies Snug & Dry diapers? Here's a little secret, the car kit is not the only place I stash diapers, you can find them rolled up in all the nook and crannies of my car! If I ever run out, I always have a car full of emergency diapers!
I don't usually run out though because I buy the big box at Sam's Club! You can't beat the value at Sam's for the quality! I love the Huggies Snug & Dry diapers because the keep my little lady dry with up to 12 hours of protection! Sam's Club members save over $10 on their Huggies Snug & Dry diapers and here's an Ibotta offer to save you $7 more!
My littles love to go to Sam's Club with me because we get to buy in bulk all of their favorite things! I love that I cut down on trips to the store and find all the great deals and everything I needed for my summer ready car kit! And have you heard of Sam's Club pick up? Hello amazing!! You order online and they load your cart for you! Mamas, can I get a hallelujah for time savers!
This is an easy kids survival kit to put together for the car and it gives me peace of mind that we are prepared for the summer! Make it life easy on yourself, head up to Sam's Club and stock up on all your summertime essentials including Huggies Snug & Dry diapers! And follow Huggies on Twitter and Facebook for more great deals! Let the sun shine summer, we are ready!!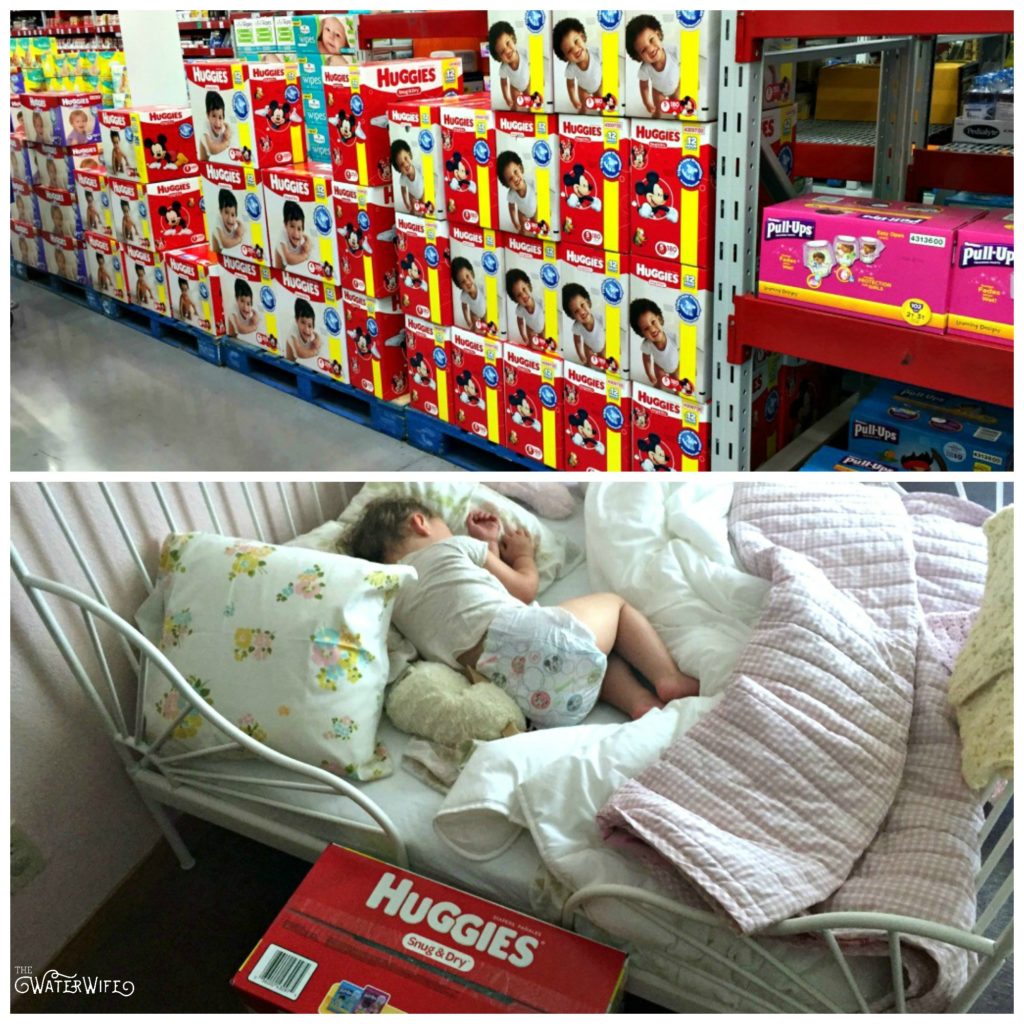 Love this post!? Share it and check out more summer ideas and vacation tips from The Water Wife!