I am a member of the Collective Bias®  Social Fabric® Community. This shop has been compensated as part of a social shopper amplification for Collective Bias.
Anyone that knows me, knows of my love affair with Amazon. For almost all of my shopping I comparison shop online or with the Amazon app before buying an item at the store. I'm obsessed with everything about Amazon from Subscribe & Save where I don't have to worry about ordering my regular items every month like diapers, wipes, dog food, and more but they're still sent to me on a regular schedule; to all of the benefits of my loyal 8 year subscription to Amazon Prime.
Now, as if shopping on Amazon wasn't awesome enough. Things recently got easier thanks to #AmazonCart! Being online almost all day every day as a blogger, I was super excited by the news of this latest feature and couldn't wait to try it out for myself.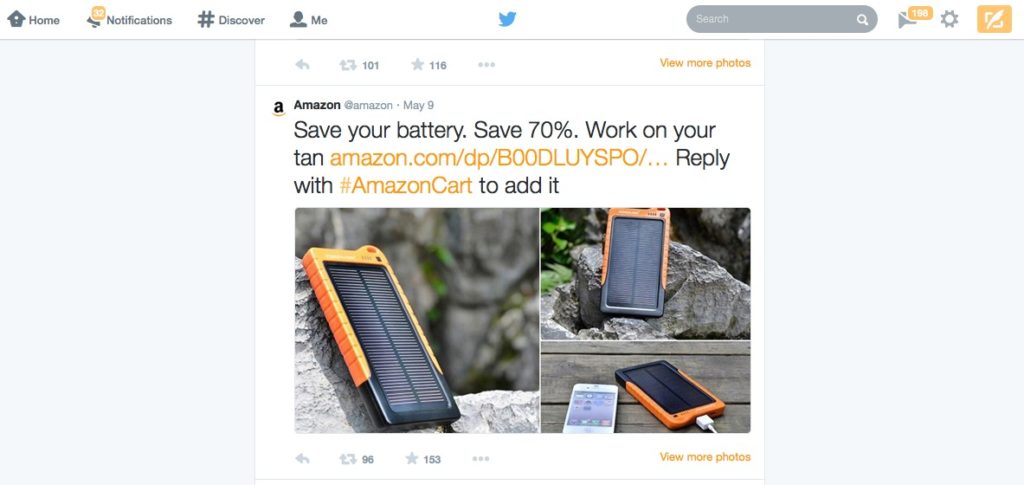 My battery drained considerably while at SoFabCon and I fell in love with portable chargers. Especially those that are discrete and can be tossed in even the smallest clutch.
What is #AmazonCart?    This is the new first of it's kind collaboration between Amazon and Twitter that brings together shopping and social media in one easy on the go platform.
With our upcoming family beach vacation, this tweet description confirmed my need for this awesome battery charger. I can't wait to try this out!
How does #AmazonCart work?  It's easy! Whenever you're on Twitter and you see an Amazon product link from one of your followers or while checking out one of the Amazon Twitter accounts, you just reply to that tweet with #AmazonCart. That item will then be automatically added to your Amazon shopping cart. You don't have to worry about keeping a running list of all the fun items or great deals you see on Twitter, with #AmazonCart the item is added and you can check out at your leisure.
How do I know that my #AmazonCart reply works?
 We all know that sometimes technology doesn't behave and we can't be sure that an item has been added to, but Amazon takes the guesswork out. Amazon will respond back to your #AmazonCart reply with a small pop-up confirming the item has been added to your cart. You'll also receive an email to serve as both a confirmation and a reminder that items are waiting in your Amazon shopping cart for you to check out.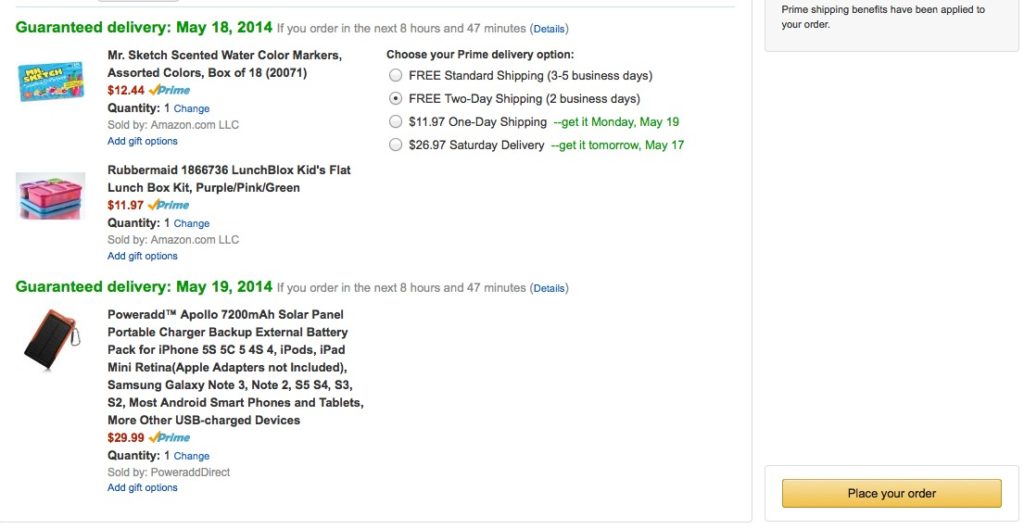 So far I've only used #AmazonCart to add impulse items to my cart but I can't wait to see the possibilities for building wish lists and do my weekly shopping as well!
Not only did I get to take advantage of my free Two-Day Prime Shipping, but now that Amazon has partnered with USPS I'm expecting Sunday delivery for two of the items in my order! This is a first for me and is such a relief when I miss placing my order by Wednesday to receive the order the same week.
Check out some of my favorite Amazon Twitter handles where you can find tons of fun products to add using #AmazonCart:  
@amazon
, 
@amazondeals
, 
@amazontechdeals
, 
@AmazonFashion
, and 
@AmazonToys
.