Terror is one thing the parenting books don't warn you comes with the territory. I think most parents accept the fear, but not the terror.
My motherly terrors began when I found out I would be delivering a baby 9 weeks premature at high altitude. And while there were falls, cuts, and bruises along the way I didn't feel real terror again until my last pregnancy ended with a 36 week preemie. In the last two years, I've been scared at time but never felt that fear again.
Until Saturday.
You see on Saturday an already stressful week got a little more stressful. On Saturday I was terrified that my time with my 2 year old daughter, Cupcake, was coming to an end. Dramatic? Possibly. Honestly though, it's the truth.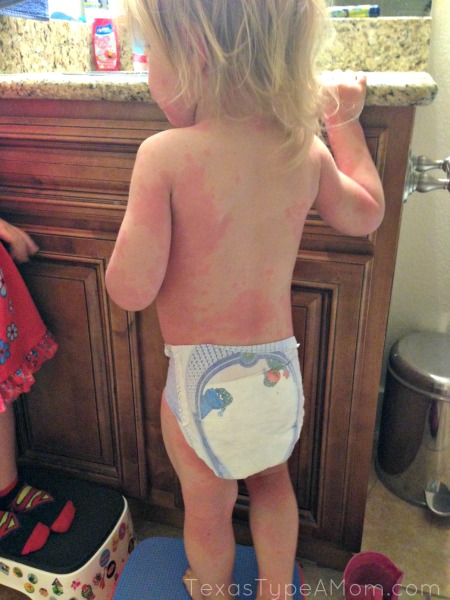 Backing up a little to Friday, Cupcake woke up with hives covering her trunk (belly and back), arms, and legs. I know hives are common, but hives in a child is so much scarier to see so I took her to the pediatrician that morning just to be sure and was told it was a virus that would run its course in a few days.
The next morning, the hives progressed and were covering her entire body. Her poor little hands and feet were swollen and tense and she was avoiding walking because it was so uncomfortable. I took her into the pediatrician again (thank goodness for Saturday hours) and the she was relieved that the hives were moving and that she was itching and had a fever because this meant her body was fighting the infection.
The pediatrician reassured me again it was just  a viral infection and there was nothing we could do but wait. She said she wanted Cupcake's body to fight the virus but if it progressed to give her a call and she'd get her a prescription for a steroid to help with the swelling.
Things progressed.
Even with pain medication, her temperature stayed between 101-103.6 all day long. And when Cupcake awoke from her nap, her entire face was swollen. Red skin, puffy eyelids, and puffy lips. A few minutes later I was holding Cupcake (because she still was avoiding walking) and noticed her feet were turning purple and cold. Then I noticed her hands were the same way.
Since the rest of her body was still hot from the fever, the sudden change in her extremities made me super nervous. While I might have otherwise wavered over whether or not to call the doctor when we were told to wait it out, things were progressing quickly in the wrong direction. It took 45 minutes from the time I called the on-call service before getting a return call and was urged to take her to the hospital.
While I was on the phone confirming that I needed to take her to to Dell Children's Hospital for treatment and not the nearest ER, my husband was holding Cupcake. As I was hanging up the phone, Cupcake began having a seizure. Her body tensed up, she got a faraway look in her eyes, and twitched for what seemed like an eternity. During this time she stopped breathing and started turning a dusky color.
I grabbed her from my husband and wasn't sure what to do with her. Should I start rescue breathing? Call 911 right in the moment? What?!
My husband suggested I lay her down on the floor, which I did. And then I did the only thing I could thing to do to try and get a response. I started blowing her face and talking to her. One of the breaths made her snap out of the seizure (or maybe she was in the process of doing that already) and start breathing again. She seemed exhausted afterwards and it took a lot of effort to get any sort of response out of her. I started asking her questions and she started responding a little.
Growing up the child of a nurse and an avid researcher myself, I knew she had a febrile seizure because her temp had spiked. My husband called 911 and I took Cupcake to the bathtub to cool her down. Since we live on the same street as the fire department, they arrived first and assessed Cupcake while waiting for the ambulance.
Since we were scared out of our minds that it would happen again while we were driving and the drive is about 35 minutes without any traffic, we opted for riding in the ambulance.
My heart broke seeing my baby in such an obviously painful and uncomfortable state for most of the ride there. The silver lining in taking the ambulance ride was we were taken to a room right away with no waiting time. (I'm trying to avoid thinking about the ambulance bill for this, but I don't regret it knowing would could have happened if Cupcake didn't get seen quickly.)
After 3.5 hours of monitoring, four attempts to place a catheter to rule out a urinary tract infection by two different nurses, and a steroid pill we were able to leave. During that time her fever came down, there were no other febrile seizures, and her circulation had returned.
The doctor assured us that febrile seizures were quite common in children under 6. She said that her fever had a sudden spike and the febrile seizure was her body's way of resetting itself. She explained that the possibility of having epilepsy or recurrent seizures was highly unlikely. The ER doc reconfirmed Cupcake's pediatrician's diagnosis of virus and we went home to wait things out.
Sunday was a little better and the fever and swelling were managed with pain and allergy meds. But we were still on pins and needles unsure of how things would turn out. Cupcake still had some hives and was uncomfortable and quite itchy but her fever was being managed and she was eating and drinking (even more than normal thanks to the steroids).
Sunday night was the first night since this all happened that Cupcake has slept through the night again. I didn't sleep through the night and woke at least four times just to make sure she was breathing by zooming in and out on our monitor. But now I think we're coming to the end of the road for this cruel virus. Cupcake's fever never hit 100 yesterday and by bedtime the hives were gone and the itching was minimal.
After a scary few days, I'm so thankful to report that today Cupcake is back to her happy, smiley self!
Have you had a child with full body hives or a febrile seizure? What's been your scariest
parenting
moment so far?