Get creative and festive for the holidays this year with these 20 DIY Ideas to Make Awesome Christmas Cards!
There is no better way to show your loved ones how much you care about them, than a homemade Christmas card. This year I decided to be more creative than last year and find a better way to say "Merry Christmas" to my family and friends instead of buying whatever's on sale in bulk at the store.
I searched online for inspiration so that this year I could make awesome Christmas cards and I came across some beautiful DIY holiday cards I can't wait to share with you.
Scroll on for these 20 DIY ideas to make awesome Christmas cards and make your loved ones feel special this holidays even if you don't have a chance to see them in person this Christmas.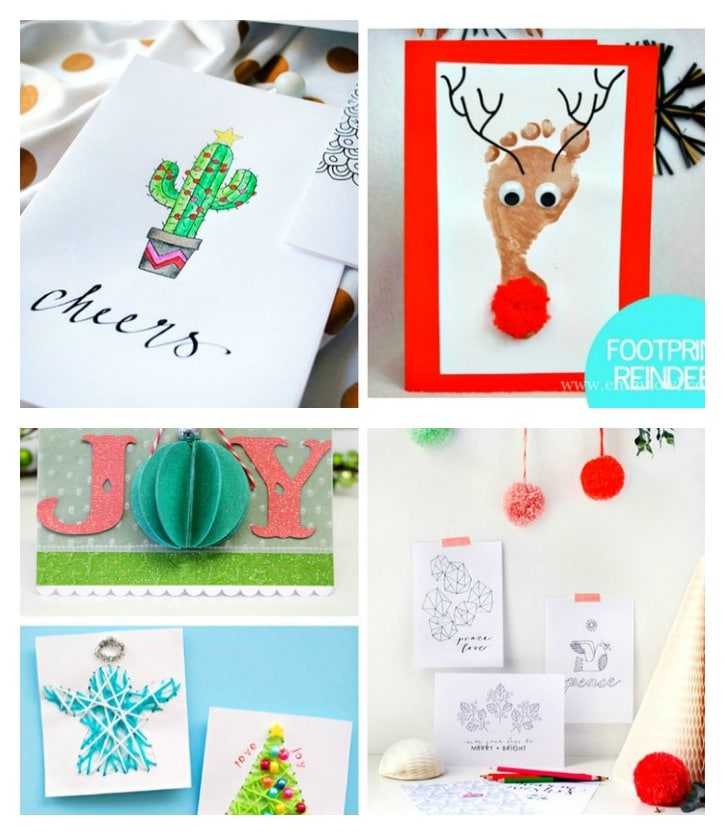 Kid-made DIY String Art Christmas Cards from hellowonderful.co
Christmas Cards DIY: Embossed Cards from blog.consumercrafts.com
DIY Christmas Cards + Free Printable from deliacreates.com
O Christmas Tree ~ DIY Christmas Card from hopefulhoney.com
DIY Christmas Card Ideas: Fun & Simple from blog.consumercrafts.com
DIY Christmas Cards: Modern & Traditional from blog.consumercrafts.com
Free Colouring Christmas Cards. Print Out These Coloring Pages from we-are-scout.com
How To Make Pretty Papers DIY Christmas Cards from theimpatientcrafter.com
Reindeer Footprint Christmas Cards. All You Need Is A Shiny Nose! from emmaowl.com
How To Make A Simple Christmas Greeting Card from mayholicraft.wordpress.com
Christmas Card Tree Blog from branchstudio.com
DIY Paper Cut Holiday Cards from forthemakers.com
Floral Watercolor Wreaths Tutorial from life-athon.com
Christmas Candle Card from creabeacards.com
Waffle Flower: Winter Holiday Cards Using Watercolor Stamping from mayholicraft.wordpress.com
"Be Merry" Christmas Card from minkikim.com
Painting A Simple Snowy Pine With Watercolors from ehow.com
DIY: Handmade Christmas Card with Cricut from thesweetescape.ca
Easy Gift Card Holder + Free Printables from damasklove.com
DIY Christmas Cards: Merry & Bright from blog.consumercrafts.com
Do you make awesome Christmas cards? Share them with me on Facebook or Instagram!