My family and I try and make smart choices. Smart choices for our money, time, and even the environment.
Making smart choices for the environment has become second nature for us. Thanks to our homemade composting bins and recycling options available it's super easy for us to do our part.
While recycling in the kitchen is simple because the compost and recycling bins are right there, we haven't always been as vigilant as we should about recycling in other rooms. Especially the bathroom.
Laying items aside to walk out and be recycled just ends up creating clutter and instead of looking at the clutter, I'm guilty of just tossing things away. Even thing I know better about and feel guilty because they could (and should) be put into the recycling bin.
With America Recycles Day coming up on November 15, I'm feeling the urge to tame this problem area. American Recycles Day is the only nationally recognized day dedicated entirely to recycling. Care To Recycle challenges you to get in on the bathroom recycling conversation using #CareToRecycle.
4 Easy Tips to Organize and Recycle in the Bathroom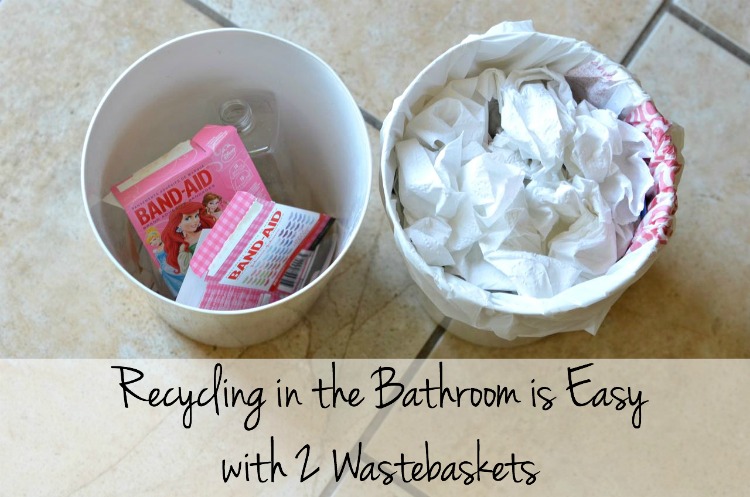 1. You likely have two different bins in the kitchen for trash – one for recycling and another for everything else. Why not in the bathroom too? We've started using two wastebaskets in the bathroom so that on trash day the contents are already separated and easily placed in the appropriate locations.
2. Reuse packaging to create organizational containers/holders. Using four empty baby wipes boxes, I upcycled these to house everything under my bathroom sink. The uniform appearance and lovely design make me want to keep things neat and in order. Other ideas are to use an empty (and clean) baby food jar to store small items like reusable flossers or to boil the wax out of an old candle jar and use that to store hair accessories.
3. Make use of all of those shopping bags by lining your wastebaskets with them for easier cleanup. (I usually only line the line the regular trash just to make it easier on my husband when he's in a hurry to determine which basket is which.)
4. My plastic bag storage is from a repurposed container too! Just wash and dry out the inside of a tube of wipes push all of your bags inside. My husband is relieved we no longer have bulky bags inside of bags stuffed into the cabinets and it makes it easier on the entire family when looking for a bag!
You can help celebrate America Recycles Day by sharing your own bathroom recycling tips and why you #CareToRecyle on the Care To Recycle gallery, Twitter, Tumblr, Vine, or Instagram. Make sure you include #entry for your chance to win a prize pack from Johnson & Johnson.
What are your bathroom recycling tips?