Don't spend more time than you have to in the kitchen during the Big Game. Try these 5 Easy No Bake Super Bowl Snacks Ideas to make party planning easy!
Thanks to G.H. Cretors for sponsoring this post and our Super Bowl snacks!
Y'all know how much I love football. Even before moving to Texas, I was a huge football fan. I just love the sport!
The biggest event in football is just a few short weeks away, so now is the time to start planning. While the teams that will be in the Super Bowl are anyone's guess, although I'd bet money on the G.O.A.T., the date is set. And in these playoff weeks leading up to the Big Game, you need to be thinking about your guest list, decorations, and cleaning up the house.
What you don't need to worry about is the food. Save yourself time, money, and your sanity by simplifying your party foods. We've made the mistake of trying to grill hamburgers or other meat in the past, but that just means the host misses most of the game and you blow your budget.
This year skip the hustle and still have a fun party with delicious food by using this list of 5 Easy No Bake Super Bowl Snacks Ideas instead!
5 Easy No Bake Super Bowl Snacks Ideas
By far the easiest holiday appetizer I recommend is also perfect for the Super Bowl. And since every party needs some delicious, salty snacks that are easy to serve and easy to eat. But where other snacks need a dip to be party ready (see 2 and 3 below), G.H. Cretors Popped Corn is delicious right out of the bag! Just throw it in a big bowl and it's ready to be crunched! (Don't expect there to be any leftovers after the party though.)
G.H. Cretors just released a new favorite in time for the Big Game – Buffalo & Ranch Mix! Do you realize what this means?! It means you get that amazing iconic flavor of the Buffalo wing/ranch combination without all of the cooking or mess! This flavorful explosion is enough to bring on an impromptu touchdown dance!
But don't stop with just the Buffalo & Ranch Mix flavor, with all of the unique, gourmet flavors available from G.H. Cretors like the Organic Chile Jalapeño White Cheddar and Dill Pickle, you could set up an entire popcorn bar. There's sure to be something for everyone and the Caramel Corn could even double as dessert either alone or together in a sweet snack mix or ice cream topping!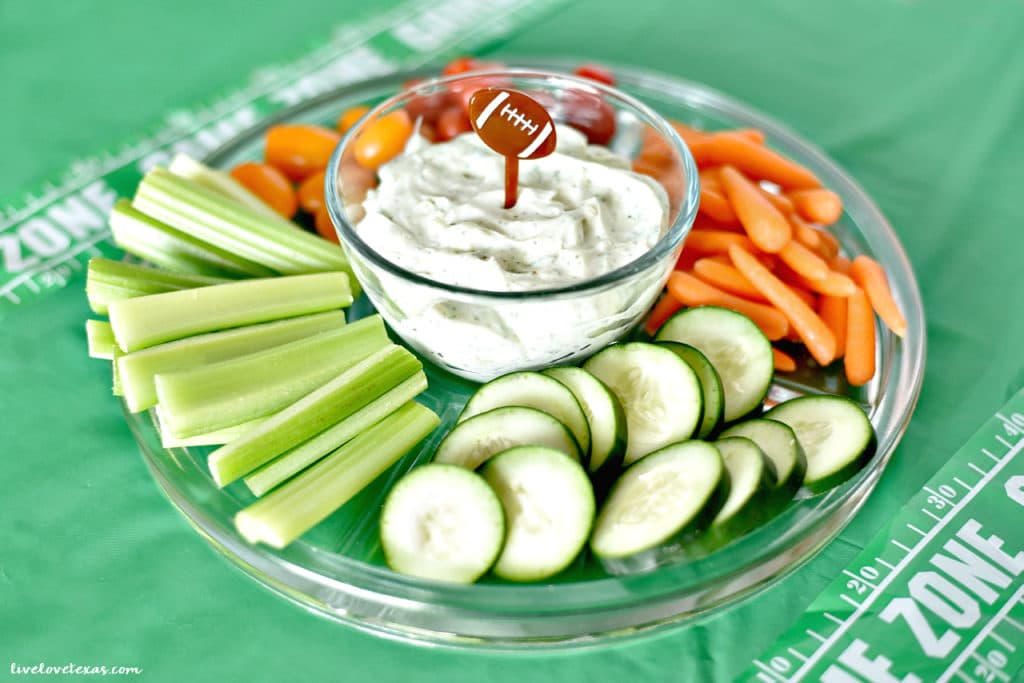 2. Veggies and dips.
Everyone could use more veggies in their diet and what better motivation do you need to enjoy them than paired with delicious dips?! Choose a few different veggies as the dippers: carrots, celery, and cucumbers are all inexpensive options for feeding a crowd. Then, pair the veggies with a variety of dips: hummus for the carrots, onion dip for the celery, and ranch for the cucumbers!
Try these dip recipes:
3. Pimento cheese and pita chips.
I have to admit, I was a little skeptical about pimento cheese at first. But in Texas, it's all over and even served in some of the nicer restaurants. And for good reason, it's delicious! I'm a sucker for the spicy pimento cheese from the deli at my local grocery store. Just toss it on a plate and serve with pita chips for a fast and easy snack.
Meat, cheese, veggies, and olives all in one convenient skewer. While this Super Bowl snack idea may have the most assembly involved, it's anything but difficult. Even kids with washed hands could practice their hand-eye coordination while helping to assemble these delicious and flavorful snacks.
5. Pizza.
This one may be cheating just a little bit as far as no bake Super Bowl snacks ideas go because you most definitely want your pizza cooked. But you're not doing the cooking, so it doesn't count! Pizza is a fast and easy way to have hot food delivered to your party without blowing the budget or having to turn on the oven yourself. Or, if you're really prepared, you could swing by and get the best pizza in Austin to go!
You can find more Super Bowl snacks ideas and where to find G.H. Cretors Popped Corn by checking out their website. Stay updated on the latest product news, recipes, and more by following G.H. Cretors on Twitter, Facebook, Pinterest, and Instagram!
What are your favorite easy Super Bowl snacks ideas? Let's continue the conversation on Facebook and you can help inspire others with their party preps!
More Super Bowl recipes: