Grocery shopping with kids is hard work and a chore. Here are 5 Reasons You Need to Use Walmart Grocery Online Pickup Service to save time and your sanity!
Walmart Online Grocery Pickup
Pre-kids I loved shopping. Loved it. It didn't matter if I was going shopping for groceries or clothes, anything of shopping was simultaneously exciting and calming. My AIM username was even shopgrrl because of it.
Then kids came along and all of that changed.
When they're babies you have to worry about squeezing in shopping trips during nap time or exposing them to germs. Then when they get to the age where they can no longer fit in the cart and/or very strongly refuse being confined to one area because they want to go explore, things really get stressful. Add in an extra kid or two and things can really go sideways fast.
Now that my kids are older, shopping has definitely gotten easier but we're nowhere near the point where I'd say I actually love shopping again. If I thought it was hard trying to find a window to shop with a baby was difficult, then trying to find a window between our busy school/church/work/social schedules is even harder.
With my 5 year old, Colby, insisting we tour every restroom in every store we visit making an already long trip take even longer, they add nothing to the time compared to all of the whining and badgering for all the things. I guess I should be thankful they're not to the point of just adding it to the cart, but it never fails they wander the aisles and each find things they need. So when I was contacted about doing a sponsored post for Walmart Grocery Online & Pickup Service, I was all about it and eager to share my latest mom hack and the 5 reasons you need to use Walmart Grocery Online Pickup!
5 Reasons You Need to Use Walmart Grocery Online Pickup
1. You can shop anywhere.
Y'all know how much I love Sam's Club Pickup and I'm excited its sister store now has something similar. To start, just download the app or visit the Walmart Grocery Online website. Now groceries can be ordered from anywhere, whether you're in the carpool line using the app or on the website. One of the secrets to meal planning is making your grocery list at the same time!
2. Never forget items you need.
When you enter your ZIP Code, you'll be able to choose the store closest to you and start making your list. Walmart Grocery Online has over 30,000 items from fresh meat, dairy, and produce, to diapers, dog food, and wine! You can easily find what you need by using the search field or, if you're using the app, the built-in barcode scanner. I love this feature because I can just login to the app throughout the week as we run out of things or realize we need them and they're already there without worrying I've forgotten an item.
There's no membership or extra fees for using Walmart Grocery Online, you get the same Every Day Low Prices you would find in store and same day delivery is FREE!
3. Pickup the groceries on your schedule.
Once you're done making your shopping list at walmart.com/grocery or on the Walmart Grocery app, you'll choose a pickup time that's convenient for you and your schedule and checkout. You'll receive an email prior to your pickup window letting you know your personal shopper has completed your order and you have the green light to head to the store for pickup.
I was able to place a same day order (find a location near you) that I was able to slip in between all of our other plans for the day, like hosting friends and cooking a dinner my picky kids will eat.
4. You don't have to fight for a parking spot.
When you arrive at the store, you'll follow the signs to reserved parking spaces and alert your shopper of your spot. You can even select the color of your car to make finding you easier.
5. You don't have to leave your car or take kids into the store.
Once your personal shopper arrives with your order, they'll give you a welcome bag (if it's your first order), show you any substitutions (quality is guaranteed) they had to make and allow you to either keep those items or have them taken off your bill, verify your ID for the order and date of birth if you purchased alcohol, and then load up your vehicle. Of all the reasons you need to use Walmart Grocery Online Pickup, this one might be the best!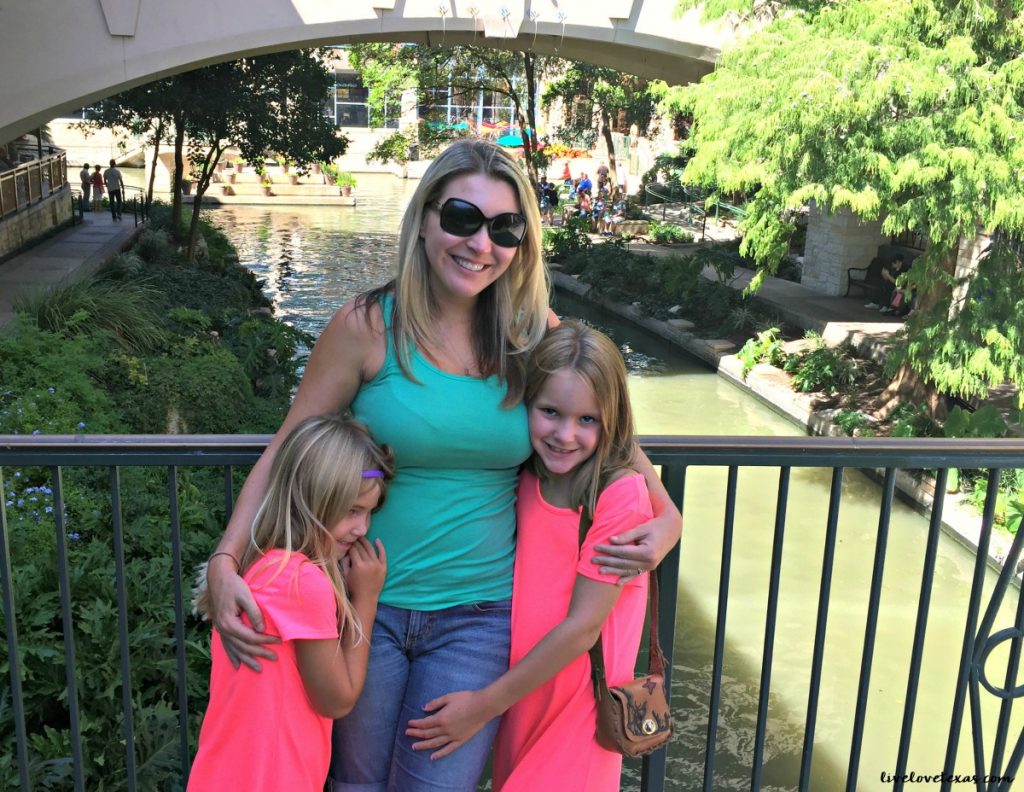 Bonus number 6.
You get to enjoy more quality time with your family doing activities (like visiting the River Walk on a Saturday, even if your youngest won't look at the camera to capture the moment the way you had hoped) instead of a stressful shopping experience with kids, because we all know that's anything but quality time.
Ready to try Walmart Grocery for yourself?
Use the code MOMHACKS to save $10 off your first order of $50 or more!
It's your time to share! Being in community with other mom is all about sharing mom hacks, those are my 5 Reasons You Need to Use Walmart Grocery Online Pickup, what hacks for shopping do you have for me?

More mom hacks: