Don't stress about what to pair with your favorite cheesy recipe. Try this super easy salad recipe that goes with lasagna…or any other Italian meal!
With less than a week to go until Thanksgiving, I've already started making a list of all the ingredients and meals to complete our dinner. We've been this month (year) that I'm thankful not to cook the entire meal this year like I usually do. We'll be going over to a friend's house on the actual day and getting our family meal catered next weekend. While I'm grateful this will take quite a bit off my plate next week, there's still plenty of our deadlines, events, and appointments that will be keeping us busy.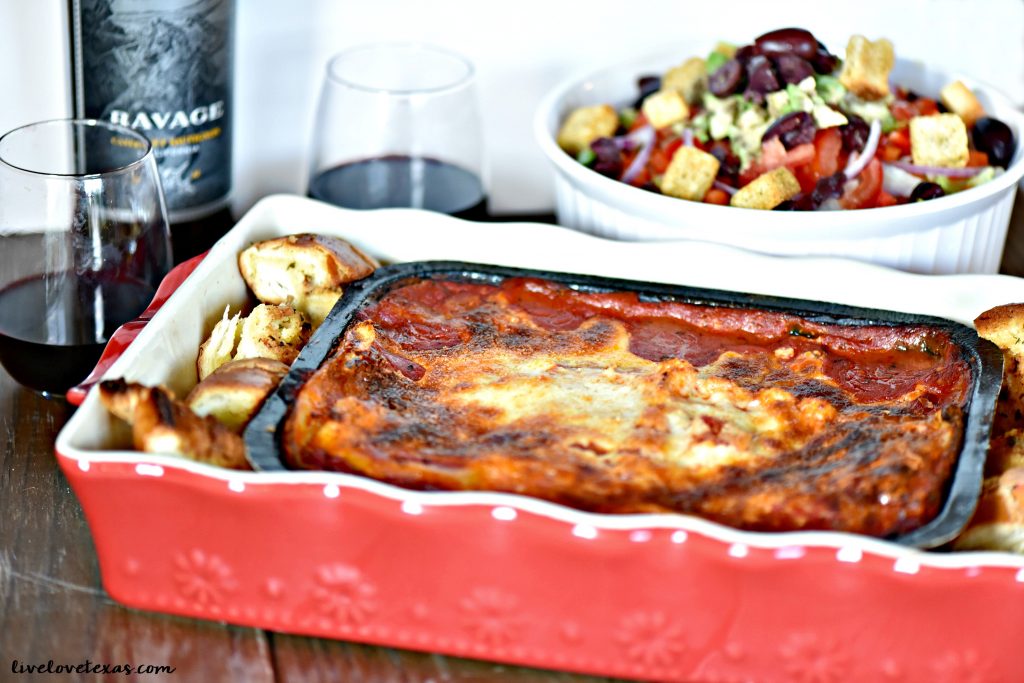 As busy as it gets around here, my family can't just stop eating and we can't afford to go out every night. During the holiday season when I know things are going to be busier than ever, I like to make sure that my kitchen is stocked with everything I need to put a balanced meal on the table easily.
One of those meals is frozen lasagna. I love a good veggie lasagna when I have the time, but some nights I just don't. And frozen lasagna is seriously so easy – just open the box, place it on a baking sheet (with the film still on), and toss it in the oven. It's way faster than making lasagna from scratch but still has fresh ingredients and tastes great.
Creating a side dish doesn't have to be difficult either. This super easy salad that goes with lasagna can be topped with a drizzle of balsamic vinegar or a squeeze of lemon juice so your salad only has fresh and flavorful ingredients as well to have a balanced plate.
Super Easy Salad
Ingredients
2

heads Romaine lettuce

chopped

1

medium red onion

sliced

1/2

c.

baby carrots

chopped

1

medium tomato

diced

1

avocado

diced

2

tbsp.

pitted Kalamata olives
Instructions
Toss all ingredients in a large bowl and serving with a drizzle of balsamic vinegar, fresh lemon juice, or your favorite dressing.

Sprinkle with croutons and serve!
Do you have a go-to recipe for a super easy salad that goes with lasagna?