This avocado grapefruit salad recipe is the perfect summer salad. This salad features a spring mix salad topped with grapefruit, avocado, feta, onion, and walnuts. It can be served with a simple grapefruit vinaigrette dressing recipe or with a drizzle of olive oil or balsamic vinegar.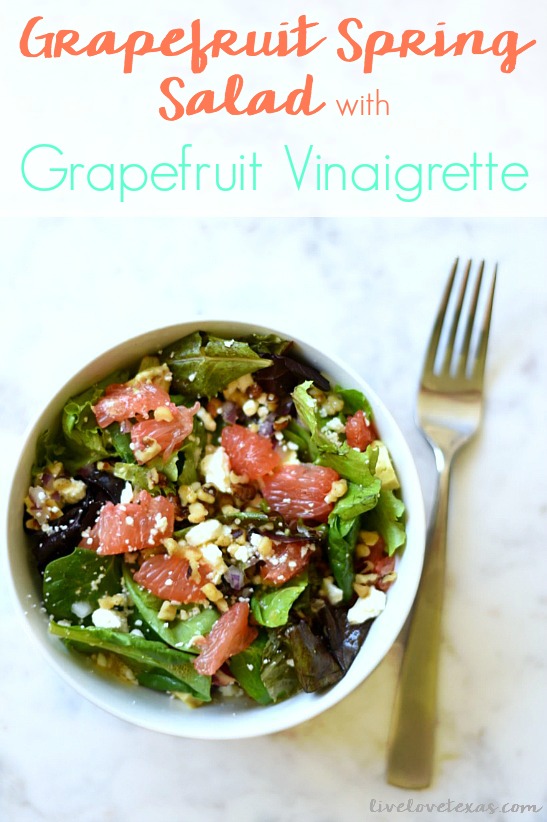 Avocado Grapefruit Salad
Today marks the first day of Spring Break in Austin! It may not officially be spring yet but the signs are all around us.
Aside from some crazy storms that swept the south last week, the temps have been warming steadily and what little winter we had this year is long gone. The trees have already gotten their leaves, flowers are blooming, and the high today is 93.
While a majority of the country will still be battling snow or at least cold temps for several more months, we're preparing for the longer days and warmer weather. We can no longer hide that extra 5 or 10 pounds of lingering holiday weight under bulky sweaters and leggings.
Getting ready for spring means heading back to the gym on a regular schedule. My lazy, post-holiday once a week trips are not going to cut it.
If I want to see real change before it's time to don my bikini. Which, based on today's forecast, it seems I'm in a race against the clock (er, calendar) to get it done.
Working out alone isn't going to get me where I want to be. Life's been busier lately and I've been enjoying far too many nights off from cooking in favor of eating out at the best pizza restaurant in Austin, but I'm trying to get things back on track.
Whenever the urge to get back in shape and more disciplined strikes (about the same time every year), I don't research any crazy diets or quick fixes. I know that discipline and whole foods are the way to go so I try to stock up so there's never an excuse to not eat healthily.
Let's face it. Eating salads can get old. Fast. But I know they're good for me, so I like to constantly change up the toppings and dressings I use so things are always different and I don't revert to my old ways.
My current obsession is to add to fruit to salads. Not a fruit salad, but a green salad with fruit. There's something about that little sweetness in an otherwise savory salad that just makes it such a treat.
Grapefruits are in season right now so I was able to snag a 5 pound bag for super cheap. When I'm not snacking on them as is, I've been adding them to other dishes like putting grapefruit in salad topped with a homemade and super simple grapefruit vinaigrette dressing.
Ingredients
Spring Mix or Spinach
Avocado
Red Onion
Feta Cheese or Goat Cheese
Salt and Pepper, to taste
How to make grapefruit salad
Split a bag of spring mix green between four bowls. Peel the grapefruit, remove the membrane, and chop into bite-sized pieces. Add chopped avocado and walnuts, thinly sliced onions, and feta or goat cheese crumbles.
Season to taste with salt and black pepper. Top it off with 1 tablespoon of a homemade grapefruit vinaigrette dressing or olive oil.
These grapefruits are seriously so good, I'm also adding them to my water. My husband carbonates water for us in a keg so we always have fizzy water on hand.
But sometimes I like a little something different but I don't like the artificial sweetness that store-bought brands bring. Instead, I've been infusing my water to make a grapefruit detox water. It has the natural sweetness of grapefruit juice and fresh mint for a refreshing drink!
But I'm not the only one on a grapefruit kick, my 4-year-old is sneaking them whenever she gets a chance. And will happily accept a piece of fruit over junk food – that makes this mama happy!
More salad recipes:
Pin this recipe for later!

Grapefruit Avocado Salad Recipe
Print this salad with grapefruit and avocado salad recipe so you have it for later using the recipe card below!
Avocado Grapefruit Salad
Ingredients
4

cups

spring mix or spinach

1

grapefruit

peeled, membrane removed, chopped

4

tbsp.

walnuts

chopped

4

tbsp.

feta cheese

crumbled

4

tbsp.

avocado

diced

2

tbsp.

red onions

minced
Instructions
Starting with the spring mix, split toppings evenly among four bowls.

Drizzle with 1 tbsp. grapefruit vinaigrette dressing and serve!
Nutrition Facts
Avocado Grapefruit Salad
Amount Per Serving (4 g)
Calories 196
Calories from Fat 135
% Daily Value*
Fat 15g23%
Cholesterol 13mg4%
Sodium 177mg7%
Potassium 312mg9%
Carbohydrates 13g4%
Protein 6g12%
Vitamin A 1274IU25%
Vitamin C 31mg38%
Calcium 107mg11%
Iron 1mg6%
* Percent Daily Values are based on a 2000 calorie diet.