This post on How to Save Money on Back to School Shopping has been sponsored by Zappos. As always, all opinions are my own. #ZapposStyle
The race is on to get ready for school. Here in Austin, school starts a week from today and if you've been busy this summer (who hasn't?!) then all that needs to be done before school starts has probably snuck up on you.
You've missed the tax free shopping days and maybe even sales on that backpack your child just has to have.
But don't worry a week is plenty of time to get it all done! You don't have to sacrifice those last few days left of summer rushing all over town trying to track down specific colors of folders!
You don't have to fight the crowds scrambling to get the last size 1 pair of shoes or yellow plastic folder with brads (argh, those folders).
The secret on How to Save Money on Back to School Shopping?
Shop online.
Sure you might pay for expedited shipping at some stores but some of my favorites have free shipping and arrive in just a couple of days! You don't have to pay the price of procrastination and can get everything you need directly to your door so you can enjoy more time with your family.
Because the weather is still so warm hot here in Texas, I usually don't do any serious back to school shopping for clothes until a few months into the school year. The girls just continue to wear the same clothes they've worn all summer and as the weather cools and/or things get worn out, I replace as needed.
Shoes are another story. My 4-year old is a little fashionista and cycles through her shoes very regularly. I mean very regularly…multiple pairs a day. But Brady really only wears two pairs of shoes – tennis shoes for school and flip flops at home.
And she wears them out. I'm talking soles falling off of the tennis shoes and the top separator coming through the top of the flip flops. I don't mind spending a little extra to ensure quality but this girl is active and wears out her shoes.
I thought I was done with back to school shopping but realized last week I completely skipped getting Brady her school shoes. Her 5 month old pair was falling apart and the wires connecting her light up shoes together were exposed.
I'm usually someone that shies away from buying shoes online. Especially for the girls. It can be frustrating to buy a pair of shoes for a child if they've either had a growth spurt or are in between sizes and you don't know which to buy. Life would be so much easier to just buy both pairs in question to see which fits and send the other back.
I made the leap and decided to try out Zappos for back to school shoes. I've heard friends on and offline that swear by it. And with 365-day returns I didn't figure I had anything to lose and everything to gain with the fast, free shipping and amazing selection.
I'm so glad I gave Zappos a try! I decided on Stride Rite's new light-up Leepz shoes and am in love. I like that Leepz come in half sizes so we're not dealing with blisters or shoes falling off from choosing the wrong size. Brady likes that the shoes are bright, colorful, and light up!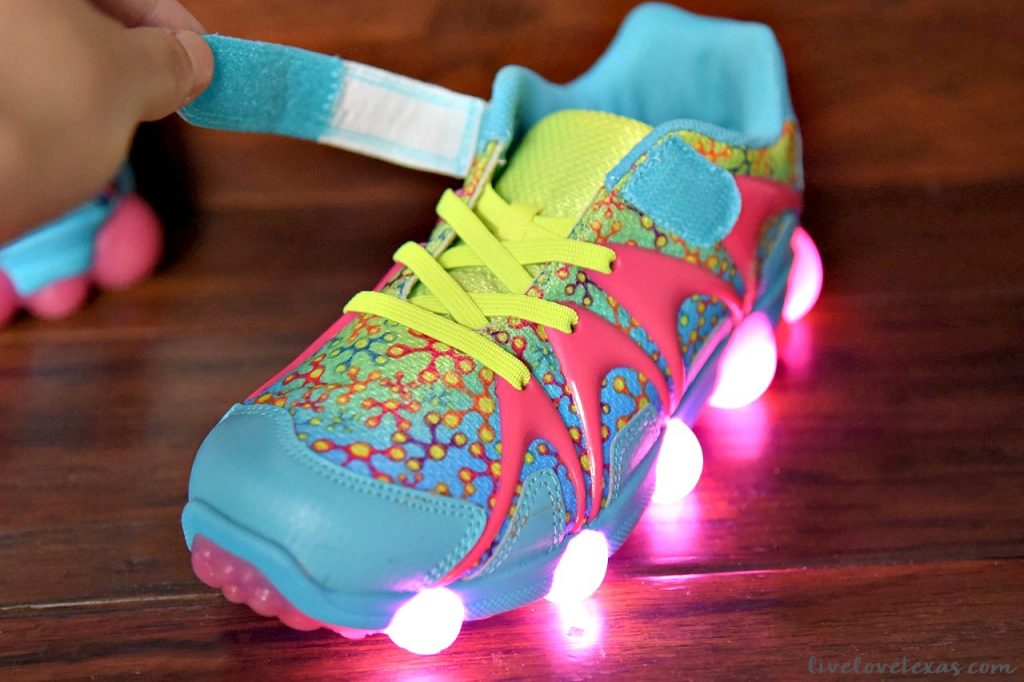 We've spent time every day this summer teaching Brady how to tie her shoes, but if your child is younger or not quite there yet , you'll be happy to know they don't have to with these shoes. You can enjoy the look of laces but a velcro strap secures the shoe.
Save time and money on back to school shopping with at Zappos and Stride Rite, so you can get back to enjoying the rest of your summer vacation!