These 5 Ways to Serve StarKist Chicken Creations BOLD Buffalo Style is a sponsored post on behalf of StarKist and The Motherhood.
I don't know about you but there are certain foods I just can't get enough of. I love the flavor and it keeps me craving it day after day. Your food cravings are probably different than mine but trying to find ways to enjoy your favorite foods more frequently and especially in a more healthful way are probably something we can both agree on.
One of those flavors for me is Buffalo chicken. And while I could've said hot wings, which I also love, having the Buffalo chicken straight off the bone isn't necessary.
I have a favorite wing joint and know that I could probably make those at home myself, but the price, time, and nutritional content keep me from enjoying the flavor of buffalo chicken as much as I would like.
Now that summer is almost over and the kids are headed back to school, I'm looking forward to returning to a healthy eating plan. But as a busy, working mom the food I eat needs to be convenient for my lifestyle or I know I'll either give up and grab something that is easy but maybe not so good for my diet or skip the meal entirely. Neither one of those is going to help me reach my goals.
That's why I'm so excited to have foundStarKist ® Chicken Creations™ BOLD Buffalo Style! I can get the same flavor that I crave but with only 80 calories per pouch. These pouches are perfect for when you're on the go and need a quick snack or meal because you can enjoy them directly out of the pouch. Just tear, eat, and go!
I love throwing one in my bag per day that I'm shuttling kids around, traveling, or anytime. I like knowing that I can be in control of what I'm eating no matter where I am.
Even when I'm at home, there are so many different ways to serve these delicious pouches. If you need some inspiration, here are 5 Ways to Serve StarKist Chicken Creations BOLD Buffalo Style.
5 Ways to Serve StarKist Chicken Creations BOLD Buffalo Style
1. With veggie dippers. What goes better with buffalo chicken than celery and carrots?! One way I'm able to get more veggies into my day is by using celery and carrots as dippers. Or, you could load celery sticks up with the Buffalo chicken (if you're not watching your caloric intake even drizzle light ranch over top of them) and not only do you have a nutritious lunch, but it's also something you could serve as an appetizer when ent training.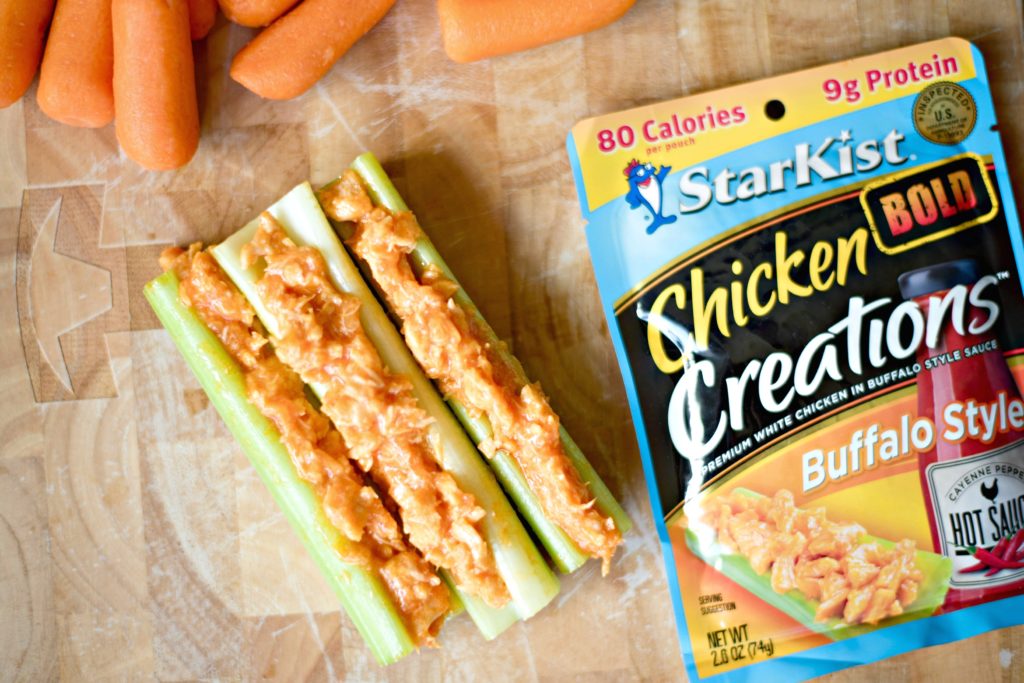 2. Use it as a dip for crackers or pita chips. No need to boil chicken or put anything in the slow cooker, just open a couple pouches of StarKist chicken creations next together with some diced celery carrots and red onions maybe a little ranch and you have a crowd-pleasing app in no time!
3. Salad in a jar ingredient. Like I already said, I'm all about convenience when I'm trying to eat healthily. So sometimes I like to make a salad in a jar for the entire week so lunch is already covered. There are so many different flavors of StarKist Chicken Creations that you can have a convenient and unique source of 8 g of protein in every salad.
4. Or go old-school and serve it like you do your favorite StarKist tuna and salmon pouches… On a sandwich. Chicken Creations have white meat chicken sourced from American Farms that are raised cage and hormone free.
5. Or, if you don't do bread you could make a chicken wrap using lettuce leaves.
Whether you're at home, working, or traveling there's no excuse for not getting a great tasting snack or meal! Which of these ways to serve StarKist Chicken Creations are you most looking forward to trying?