Don't leave on your next trip without checking out these 10 Things to Add to Your Family Camping Packing List.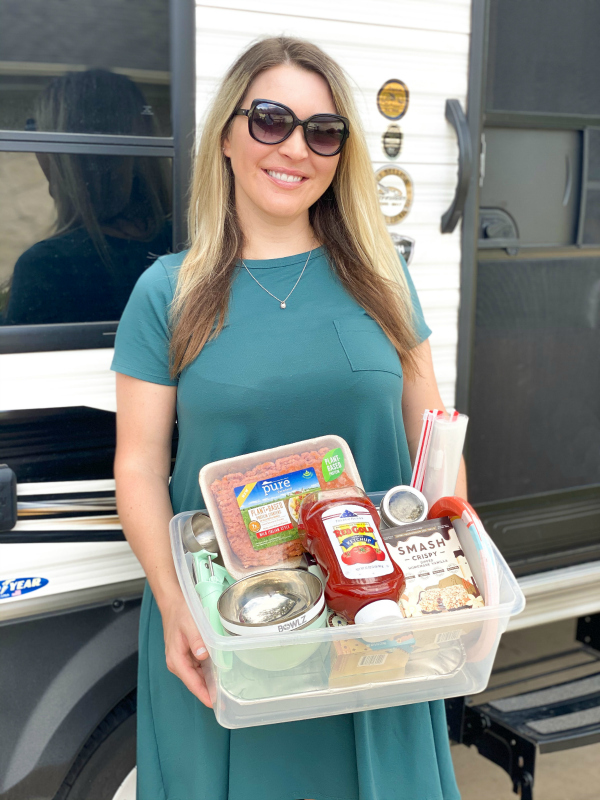 This post is sponsored by BabbleBoxx.
There are few things in life I love more than travel. This summer, we've spent a ton of time camping in our RV. We love the flexibility it provides, by traveling on our schedule with all the comforts of home. From our pillows and dogs to full-sized toiletries and our favorite foods we get to decide what comes with us in the world's largest suitcase.
Whether you're a novice or expert at camping, there're still some things you forget. No matter where you are here are 10 things you need to add to your camping packing list that you might not think to bring along.
10 Essentials to Add to Your Camping Packing List
1. Plastic Tote
One of my secrets for organizing tiny spaces like RVs or even houses is with plastic totes. They're inexpensive and so versatile. I use a plastic tote to organize clothing in the RV, store food in the cabinets, and to organize under the (tiny) bathroom sink. Once you get to your destination, these tubs can also double as a caddy for your picnic table with utensils, napkins, and condiments so you're not going back and forth every meal.
2. Foil Pans with Lids
Foil pans are an amazing thing to take camping, no matter how you do it. They're the perfect size to use as a baking sheet in an RV oven, or you can use it to cook food over a campfire. I love foil pans with lids because you can not only cook large batches of food in it, you can also refrigerate leftovers in it without wasting multiple containers or creating more dishes.
Let's face it, meal time with kids (especially younger ones) usually involves ketchup. And when you're camping, ketchup is a must have.
We were recently introduced to Red Gold Tomato Ketchup and are really enjoying it! It's premium-quality ketchup that's full of flavor and comes in a squeeze bottle to make it easy to use. It's also gluten-free, vegan, and has no artificial colors, flavors, or preservatives. Ketchup is a must-have for mealtime in the RV and we use it on all of our kids' favorites from burgers and hot dogs to fries and nuggets.
Having Meatless Monday on the road is easy with Pure Farmland. It's a full line of products with ready-made burger patties, pre-rolled meatballs, breakfast sausage, and Mild Italian sausage.
We went with the Mild Italian style protein starter because of how versatile it is. You could use it as a breakfast sausage, turn it into meatballs, add it to red sauce, or make burgers!
With these hard times, Pure Farmland has realized the importance of community gardens as a way to help communities to survive and thrive when getting access to the foods they need is a struggle. But with community gardens, there's fresh produce, grown by all, cared for by all, available to all.
Through the Pure Growth Project, Pure Farmland will be providing grants between $1,000-$20,000 each up to $100,000 for non-profits and food projects. Apply through 7/31/20 and check out their website for more details.
5. Mini Magnetic Spice Tin
Anyone that's ever gone camping, whether in a tent or RV, knows that space is at a premium. You don't want to take more than you need. But sometimes you never know what you'll need and these tins are a must-have for your camping packing list.
This is a great way to utilize unused space on vent hoods or refrigerator doors so you can have all of the seasonings you need on your trip. Like the Italian seasoning mix I always keep on hand to make meatballs or red sauce.
Life with kids is never predictable. Especially when you're away from home and only have a limited amount of cleaning supplies and even clothes. That's why BOWLZ are a necessity!
BOWLZ are the coolest ice cream bowl you have ever seen! They're made of double walled, vacuum sealed, stainless steel with ForeverBond thermal cooling that keeps ice cream cold and doesn't let it slip out of the bowl creating messes. BOWLZ are a must have for summer from camping to backyard BBQs, and everywhere else in between!
Just for Live Love Texas readers, BOWLZ is offering a secret offer for 32% off here!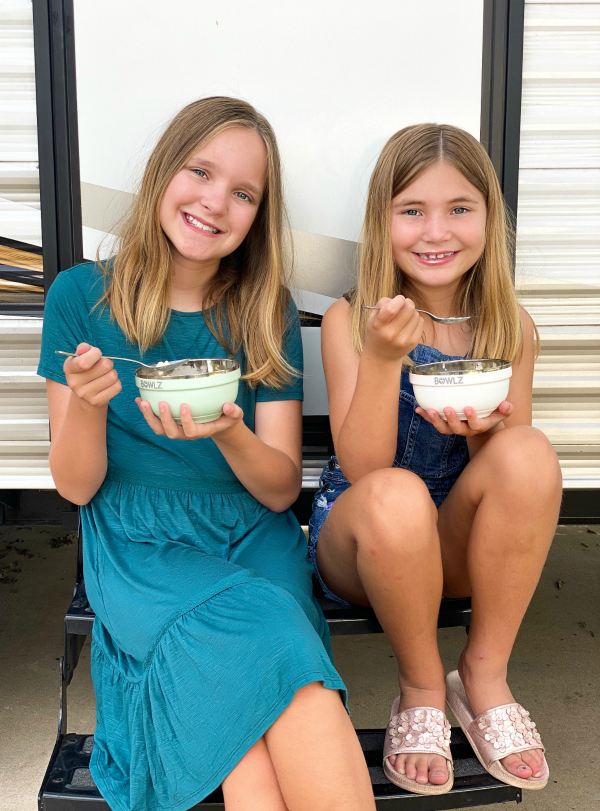 7. Ice Cream Scoop
Nothing tastes better than homemade ice cream…especially in summer. We like to make batches of homemade ice cream before we leave and freeze them in reusable containers. This system works for us, because the girls always have a dessert they like and the container can be reused and stores easily without taking up too much space. But even if you buy store-bought ice cream to bring along with you, one thing you might forget to bring is an ice cream scoop. We have one in our travel trailer just in case because the girls eat ice cream so often.
I get asked all the time how we're able to travel so much with kids. Aside from training them since birth, my other tip is to pack lots of snacks. If you pack enough snacks, you'll save precious time and money when you're away from home by avoiding gas station, grocery stores, or drive-thru's. I guarantee you, the time and money you spend prepping for your trip is nothing in comparison to the time it takes bringing kids into a store, walking around the store letting them pick the snacks, checking out, etc.
One of the girls' new favorite treats are SmashMallow bars. And with flavors like dipped cinnamon churro and dipped cinnamon vanilla, are also great when there's a burn ban and you can't make s'mores (churro flavor) or even for a quick lunchbox or hiking snack!
Unlike traditional crispy rice treats, SmashMallow is free of GMOs, peanuts, and gluten so they're perfect for most kids even if they are on a special diet.
9. Paper Plates
No one wants to do dishes when they're on vacation. Paper plates are my secret weapon when traveling. They're lightweight and can be used for meal prep or meals. If you're tent camping, make sure you go with paper plates instead of styrofoam if you plan to burn your trash.
10. Plastic Storage Bags
I use plastic storage bags at home and on the road. You can pack outfits for individual days (and people), prep veggies for dinners while you're gone, use them to marinate meats, make omelets in a bag over the campfire, make individual road trip snacks, store leftovers, or organize pretty much anything. And they're lightweight and take up little space!
Before you head out on your next trip, make sure to add these essentials to your camping packing list! What's one thing on your camping gear list, other people don't know about?!
More travel tips you might like: