No matter what back to school looks like for you, these are the 6 New Products for Kids to Check Out in 2020!
This post is sponsored by BabbleBoxx.
Back to school looks a lot different than it has in previous years. A lot of people are starting online learning to start the school year. Others have opted out of the traditional school setting in favor of homeschooling or pod schooling. And those that are returning to school in person, are doing so cautiously and with more supplies than before.
No matter how your kids are learning this year, along with a new school year comes new health products and new opportunities for play. Babbleboxx recently sent me a new curated box of their favorite products for Kids Health, Learning, and Play for 2020 to share with you!
6 New Products for Kids to Check Out in 2020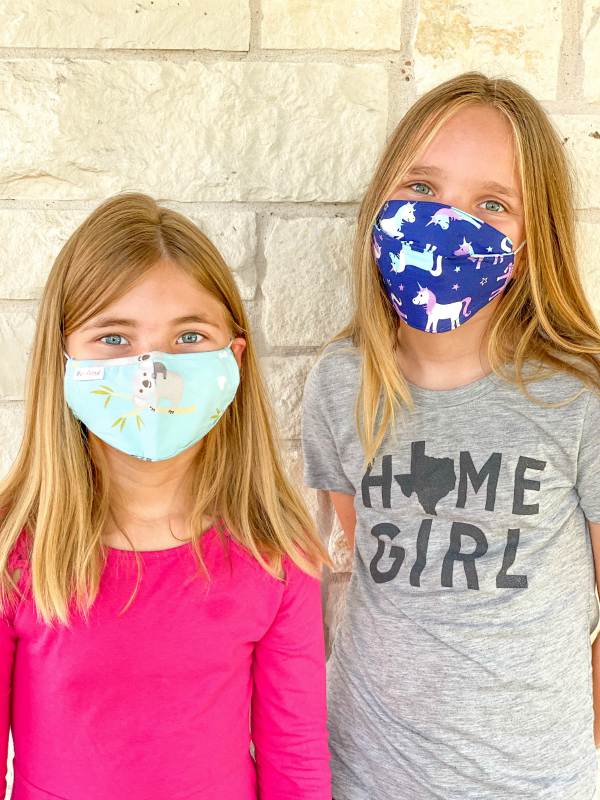 Even though school doesn't look quite the same as usual now that we're learning from home, that doesn't mean that some things can't stay the same. To keep things normal and ensure that your schedule aligns with the school's, you should consider packing their lunch the night before to save time during the school day. This will give them plenty of time to eat their lunch and do any catch up they might need from the morning's classes.
Insulated lunch bags are our go-to during the school year but also when we do picnics away from home or in the car. Each child having their own lunch bag to be responsible for makes things so much easier for everyone. Including me!
The girls are all about the design of everything, but I'm looking for high-quality and durability. There are few things I hate worse than replacing things like lunchboxes mid-year. Funkins lunch bags are roomy and easy to pack! Best of all these cute lunch bags are machine washable so no more mystery smells or stains! The coordinating placemats and washable cloth napkins for kids make Funkins an environmentally friendly way to make cleanup easy!
This year's back to school wouldn't be complete without new face masks. Funkins started making face masks that coordinate with the lunch bags, napkins, and placemats for a cohesive look. These cute face masks for kids are soft and comfortable with two layers of woven cotton, adjustable ear loops, and a nose bridge wire in some designs. *NON-MEDICAL grade, for personal use, not for use in a medical setting.
Use code Babble2020 for 25% off lunch bags and napkins/placemats sets through 9/15/2020.
Lunchtime is more fun when there's a surprise in your kids' lunches. Whether it's a special treat reserved just for lunches, a comic, or a handwritten note these things really help kids feel connected to parents while at school.
The girls are all about trivia and jokes, so Lunch Notes are a great way to add a little summer fun back into the school year. These 4″ x 4″ notes come in packs of 101 colorful and unique messages that will brighten your child's day.
Lunch Notes aren't just perfect for lunches, they're a great boredom buster for mealtime, car rides, and more! All three varieties of Lunch Notes (Cool Facts & Jokes, Riddles & Giggles, and Wacky Facts & Laughs) are available at all Target stores nationwide right now in the Back-to-School section! Check them out here.
The girls are spending so much more time in front of the computer now, that I'm worried about their eyes. I started wearing blue-blocking glasses this summer because of the headaches, eye strain and disrupted sleep I was having. As part of my husband's annual prescription eyeglass order, we just placed his first order for Zenni eyewear prescription blue blockers.
While we were on there, we noticed that in addition to their kid's prescription eyewear they also had blue light glasses for kids. Since blue-blocking glasses were so effective at helping me with my blue light related eye issues, we figured the girls would really benefit from these as well. These are fashionable, affordable eyewear for kids that come in various sizes to fit kids from 4-15.
Prepping for the school day starts before the day even begins. Whether your kids bathe the morning of or the night before, they need products that will keep them smelling fresh, looking their best, and feeling confident.
Our family was recently introduced to TBH Kids and so far, we're loving it! Brady has really thick hair and struggles with ensuring she gets it washed thoroughly. TBH Kids Shampoo for oily hair really helps to wash her thick hair without drying it out. Ingredients like nettle and meadowsweet control the oil without stripping it of its natural oils and hydrate the hair. While quinoa moisturizes and repairs the hair, helping to prevent further breakage.
And TBH Kids Conditioner is great because it's made with jojoba, vitamins B & E, and quinoa to moisturize, strengthen, and repair the hair from all of that environmental and chemical stress.
While Brady's just starting middle school, she's needed deodorant since she was in 1st grade. In choosing a deodorant for her, I want something that isn't full of chemicals but is still effective and doesn't make her the smelly kid. TBH Deodorant is a blend of charcoal, coconut oil, arrowroot powder, sodium bicarbonate, and witch hazel to help absorb wetness and neutralize odors.
Use code TBH4me to receive a 15% discount on orders of at least $10.
Kids can take a break from online learning or have a little after school fun with Grouch Couch by Spin Master. This board game is an entertaining game that encourages turn taking and expecting the unexpected.
You can pick up Grouch Couch at Walmart and Target.
My husband took college art classes in high school. Me? I'm not a crafty person by any stretch of the imagination. I see and appreciate the value of arts and crafts, but teaching it is not something I've ever excelled at.
While some parents buy gallons of glue and liquid starch to let their kids make things that should be simple like slime, I'm over here making a mess all over my kitchen. But I have two girls that love slime. Since I'm not crafty enough to help them make it from scratch, I love art kits for kids that make things simple.
InstaStudio comes with 3 compounds, a variety of mix-ins, a mixing tool, a fun background, and a background diffuser so kids can make their own videos. This kit is easy to use for kids (and moms) and the built-in stand allows for hands-free video recording while crafting. In this world where playdates are rare, this allows kids to share their creations with their friends and the world!
More parenting tips you might like