I can always count on Cakes, my little fruit fiend, to eat up all the fruit I buy. Well, usually.
Lately, Cakes is getting pretty burned out on bananas so even though I buy them with the hopes she'll change her mind and want one that just hasn't been happening. So to avoid food going to waste, I've been making lots of fruity and healthy muffin recipes to use the leftovers before they spoil.
My family loves traditional, moist banana bread and even buttermilk banana bread but I'm always looking to improve a recipe and make it even better. Sometimes you can't mess with perfection and other times it really pays off.
In looking for ways to improve my banana bread recipe, I decided upon a crumb topping. I make my apple and pumpkin pies with a sweet crumbly topping so why not banana bread too?! I can confidently say that I will never be making banana bread without the crumb topping again.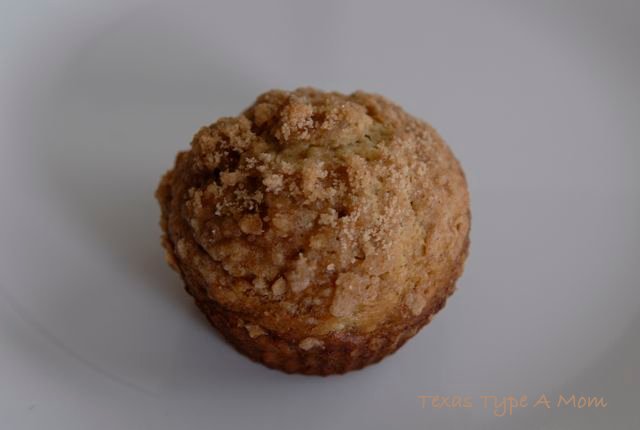 Moist Banana Bread with Crumb Topping
Ingredients
1 c. all-purpose flour
1/2 c. whole wheat flour
1 tsp. baking soda
1 tsp. baking powder
1 tsp. cinnamon
3 overripe bananas, mashed
1/2 c. white sugar
1/4 c. brown sugar
1/3 c. unsalted butter, melted
1/2 tsp. salt
1 tsp. vanilla extract
Crumb Topping
1/3 c. brown sugar
2 T. all-purpose flour
1/4 tsp. cinnamon
2 T. butter
Directions
Preheat oven to 375 degrees F.
Lightly grease 9×13 baking dish, muffin pan, or loaf pan and set aside.
In a mixing bowl, stir together flours, baking soda, baking powder, cinnamon, and salt.
In a separate bowl, mix together bananas, sugars, butter, and vanilla.
Combine the wet mix with the dry mix until moistened. Pour batter into greased dish.
In a mixing bowl, combine crumb topping ingredients. The mixture will be coarse and chunky. Evenly distribute topping over batter.
Bake for 15-18 minutes in preheated oven or until a toothpick inserted comes out clean.
Yields: 12 muffins
Be sure to try out my Pumpkin Gingerbread recipe for even more ways to create tastiness in muffin form!