Looking to update your home theater game? Then you need to check out the Bowers & Wilkins Formation Line of wifi speakers. Movies will never be the same!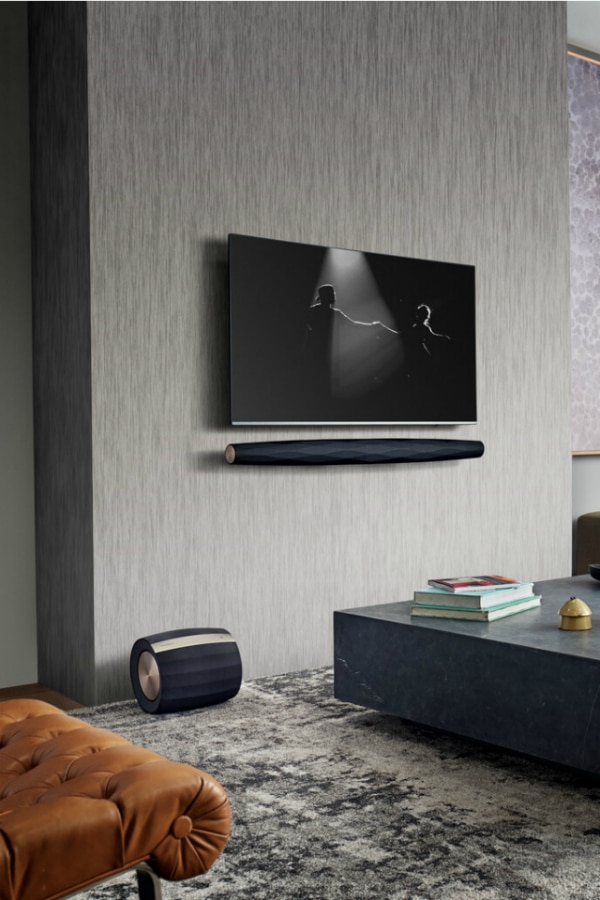 This post on the Bowers & Wilkins wireless speaker system was sponsored by Best Buy.
Our family is more than a little obsessed with technology. At any given time there can be 40+ devices connected in our smart home network. And three different access points.
We're also minimalist and if there's a way to control something with an app, then we're in. And whenever there are cables involved, you can be sure we know how to hide cables in the wall.
My husband is a computer engineering manager and prides himself in having a secure and super-fast network. While we have a traditional receiver and subwoofer, we've been lazy lately and just kind of using the TV sound or a smart home assistant for music. But that's all changed now.
I know I've talked about speakers before, but not all speakers are the same.
Are Wifi and Bluetooth Speakers the same?
While Wifi and bluetooth speakers are very similar they're not the same. Bluetooth is used to connect short-range devices like your phone to these Bose bluetooth sunglasses or this portable beach speaker. Wifi is used with a high-speed internet connection and is used for reaching a larger area.
Bluetooth to listen to music while hiking or at the beach is perfect. But for full home audio, you want to go with a Wifi speaker.
Bowers & Wilkins Wifi Speakers
The Bowers & Wilkins Formation line of wifi speakers includes the wedge, bar, and bass. Each speaker has its own benefits, check out the one that's right for you!
We just added the new Bowers & Wilkins Formation Wedge to our smart home setup and it's been such a game-changer. You actually can feel and hear the bass and the music has never sounded more clear. It's easy to set up and control through the app and connects directly with wireless streaming apps.
If you haven't noticed the Formation Wedge has a unique design. This 120-degree cabinet was made to deliver the quality of wired fidelity, wirelessly. This means room-filling audio, even with high ceilings and an open floorplan. Now you have access to your music library, radio stations, and online services wherever you are.
We had a different wireless speaker in this location before, but because of it's close proximity to another Amazon Echo, had a lot of interference. AKA one or both devices picked up your voice and one or both responded. This made keeping track of timers and getting the music to play like it should have a challenge.
With the Wedge's perfected speaker synchronization, you can play in one room and sync between speakers. You have rich, powerful sound in all of your rooms at once!
From my personal, in-house tech guy…
Having a smart home comes with its own challenges. The biggest one we faced with the Wedge speaker was wifi setup. If your wifi network has a complex password with special characters, you have a space in your network name, or your SSID operates on multiple frequencies you may have trouble connecting your Wedge. We were able to get our B&W Wedge to work by setting up a separate 2.4 GHZ only SSID. Hopefully that need will go away in future firmare updates.
The Bowers & Wilkins Formation Bar has a sleek appearance and is easily mounted along most HDTVs for a streamlined look. This wireless speaker provides amazing sound quality for your favorite shows, movies, games, and music. The Formation Bar not only reproduces multichannel audio, but it can also stream tracks from a bluetooth-enabled device.
If you're looking to get that movie theater-quality sound at home, the Formation Bass is what you need for your home theater set up. These B&W speakers have a wireless design which gives you the maximum flexibility in speaker placement.
Bowers and Wilkins Formation Bass are designed to give you booming lows that you can hear and feel. And the integrated amplifier is powered for high volume levels with minimal distortion.
Save $200 when you buy Bowers and Wilkins speakers at your local Best Buy thru 9/7/19.
More must have tech reviews:
What's your favorite Bowers & Wilkins speaker feature?