Not all smartwatches are alike. Here are all of your Michael Kors Runway Smartwatch Questions Answered. Not only is this a beautiful statement piece of jewelry, but it's also super techy too!
This post with All of Your Michael Kors Smartwatch Questions Answered was sponsored by Best Buy.
All of Your Michael Kors Smartwatch Questions Answered
It's been three years since I started wearing a basic fitness tracker. The problem with my fitness tracker is when I'm not working out or running errands, it's not very pretty.
So when I got out for a date night or even wear a dress, I either leave my fitness tracker at home. Or, I try to cover it up with a wide bracelet.
Now I don't need to worry about that anymore. I received the Wear OS by Google Michael Kors Access Runway Smartwatch and that's all changed.
The rose gold Michael Kors Smartwatch is gorgeous! It's also available in gold and both smartwatches have customizable watch faces. This creates a timeless, effortless statement that helps you move from workout to date night with ease. It's a classics piece of jewelry that does modern things like taking selfies, playing music, and more!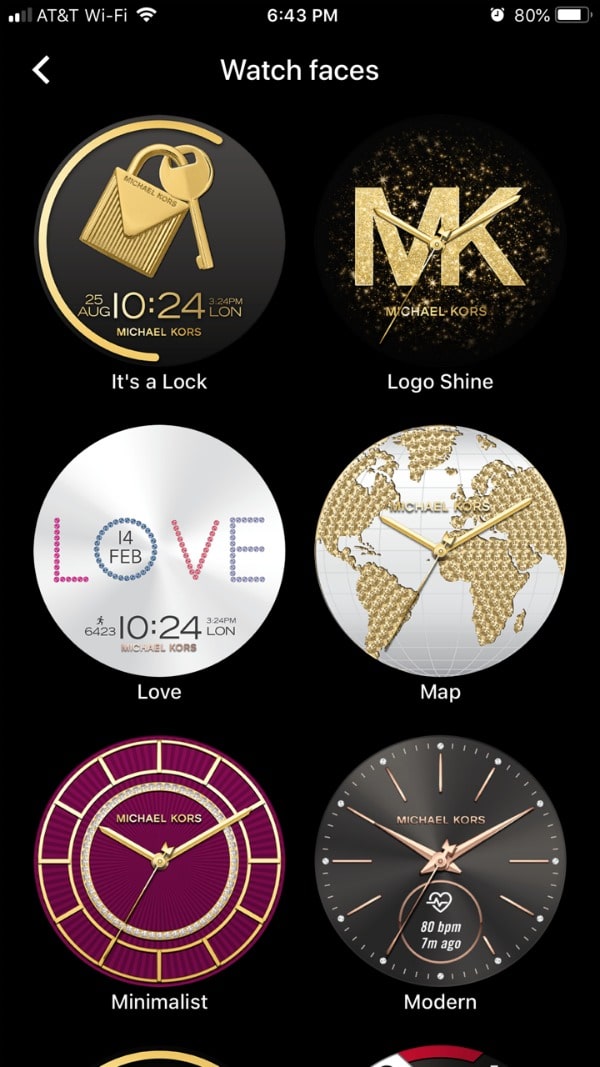 The design of this piece would have sold me alone, but after doing some research, I now have all of your Michael Kors Smartwatch questions answered and why I love the Michael Kors Runway Smartwatch!
Do Michael Kors Smartwatches work with iPhones?
This was one of my biggest concerns when shopping for a new smartwatch. Even though these are Android smartwatches, the Michael Kors Smartwatches are compatible with Apple phones. That said, to get full functionality, this smartwatch does work best with Android devices.
Does the Michael Kors Runway Smartwatch need a SIM card?
No! The Michael Kors Smartwatch pairs with your phone with bluetooth.

How do I pair my Michael Kors Smartwatch with my phone?
Pairing your Michael Kors Smartwatch is super easy! Just download the Michael Kors Access app from the Google Play or App Store. The app will walk you through everything you need to pair your phone…PS it mostly involves holding down the center button for 5 seconds!
How long does it take to charge the Michael Kors Runway Smartwatch?
I took my battery all the way down to zero and it only took 1 hour and 20 minutes until my battery was 100% again. You could charge your smartwatch while you're sitting down or at night while you're sleeping.
What can the Michael Kors Runway Smartwatch do?
This smartwatch allows you to make every minute matter with tons of built-in tools. The Michael Kors Runway Smartwatch can help you do everything from checking your notifications and calendar (Google or Apple) to using Google apps like Google Pay, Google Assistant, and coaching through Google Fit.
As far as notifications go, you can select which apps you want to receive from the settings. I have app notifications turned on for Facebook, Marco Polo, Messages, and Nest.
The Google Fit app has two new activity trackers – Heart Points and Move Minutes – to help you lead a healthier lifestyle. These trackers were developed in partnership with the American Heart Association and World Health Organization to not only monitor your heart rate and activity intensity, but the smarter health coaching makes your fitness goals more obtainable by motivating you to stay active throughout your day.
You can read texts and emails but you cannot reply to them if you have an iPhone.
How much does a Michael Kors Smartwatch cost?
You can get the Wear OS by Google Michael Kors Access Runway Smartwatch for only $350 at Best Buy right now!
Apps to use with your smartwatch: