Not all girls are into dolls and princesses. Here are 5 Nintendo Gift Ideas for Girls (and boys) who like to game!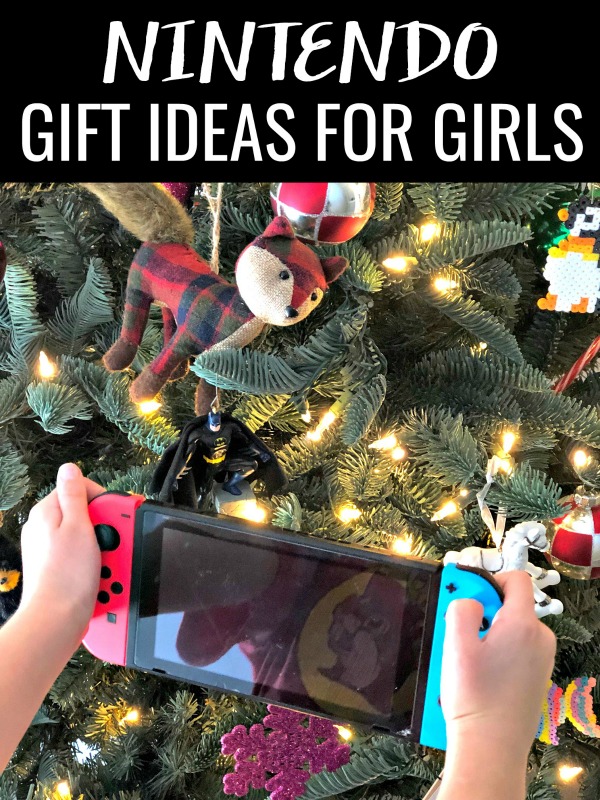 These 5 Nintendo Gift Ideas for Girls was sponsored by Best Buy.
Gift Ideas for Girls
For Christmas in 1988, I remember getting a Nintendo Entertainment System. I was only 6, but I was hooked.
Santa brought the girls a Nintendo Switch for Christmas last year. So this Christmas will be all about the games for us. If you need some gamer gift ideas for girls in your life, check these out! They're all Brady and Colby approved!
5 Nintendo Gift Ideas for Girls
1. Nintendo Switch Console.
We've had a lot of the other consoles but the Nintendo Switch is definitely our favorite. I just love how versatile it is! It can be played on the TV when docked, or you can slide the controller onto the device and it's totally portable!
Sure you could probably get any old game. But the hot new game right now is Starlink Battle for Atlantis is sure to be at the top of their list.
If you haven't heard about Starfire it's an open-world space game with modular toy technology. This lets players create and customize real-world starships to their game controller, and launch into the game. Players can go on a solo adventure or bring a friend along on a split-screen journey. Each modular piece and the pilot attached to it instantly appears in the game.
Don't have a Nintendo Switch? That's ok too, this game is also available on Xbox One and PS4.
Just in time for Christmas (thru 12/22), you can save $25 on Starter Packs, plus 30% on Starlink toys at Best Buy!

3. Extra Switch Controller.
Games are more fun when they're shared with friends! And having two controllers also helps reduce fights when there are siblings involved too.
4. Micro SD Card.
I love that we can buy the digital versions of games and store them on the card, so we can take them with us wherever we go without toting along the physical media.
5. Nintendo Switch Carrying Case.
If you are planning to take your Switch with you to play Starlink Battle for Atlantis on the go, having a case is a must. You don't want the screen getting all scratched up.
Which one of these 5 Nintendo Gift Ideas for Girls do you think your daughter would most like?
More Christmas gift ideas: