This Charlie Brown Popcorn recipe is a sponsored conversation on behalf of Alberstons Safeway. #PeanutsMovie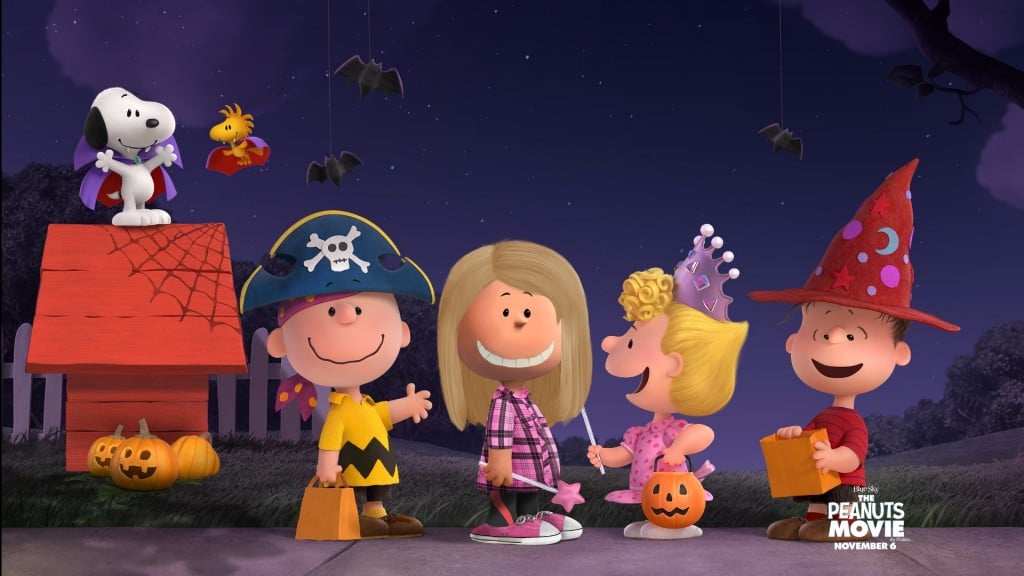 Since the calendar rolled over to October, my girls have been watching It's the Great Pumpkin Charlie Brown at least once a day. Add in this week's battle with the flu and it may have been twice a day for the last four days. But honestly, I can't complain much about the wholesome entertainment this movie provides and the fun storyline that reminds me of my own childhood.
I haven't told the girls yet but there's a new Peanuts movie coming out on Friday, November 6th that we plan on taking them too. Going to the theater is a real treat around here and at almost 4, Cupcake still hasn't been so this will a memorable event for the whole family!
Randall's here in Austin) is getting in on the excitement for the new Peanuts movie too and as the official grocery partner has designed two exclusive reusable Peanuts branded shopping bags/trick-or-treat bags to support this campaign!  These bags are available free in store (while supplies last) to shoppers who purchase three participating items from the following brands:
Horizon Organics
Coke (Honest and Pure Leaf)
Nestle
Johnsonville
Ziploc
Johnson & Johnson
All
Tyson
Pop Secret
Snack Pack (ConAgra)
DPSG
Schwan's (Red Baron's)
Rich Products (sugar cookies and cakes in the deli)
ACH Foods/Spice Islands
Bertolli/Ragu
Kellogg's
Cupcake can't get enough Pop Secret popcorn (she'll eat it for breakfast) so I stocked up and managed to snag two of these Peanuts bags to surprise the girls when we go trick-or-treating! I know they'll love to see their favorite characters and I love I can reuse it when grocery shopping (a must here in Austin with our plastic bag ban).
Charlie Brown Popcorn
Author:
Kelly Tomlinson/Texas Type A Mom
Prep time:
Cook time:
Total time:
Super simple, salty, and sweet way to celebrate The Peanuts Movie.
Ingredients
1 bag Pop Secret popcorn
1 bag Wilton yellow candy melts
4 tubes Wilton black decorator icing
Instructions
Pop your popcorn according to the directions on the box and set aside.
Microwave bag of yellow candy melts at 50% power for 1 minute, stir.
Continue microwaving and stirring at 30 second intervals until candies are melted and smooth.
Pour candy melts over popcorn until thoroughly coated.
Portion popcorn into individual bowls and create the appearance of Charlie Brown's infamous shirt using decorator icing.
Don't forget to hit up your local Randall's to pick up participating products and score your own Peanut Trick-or-Treat bag and go see The Peanuts Movie on November 6th!
This is a sponsored conversation written by me on behalf of Albertsons Safeway. The opinions and text are all mine.