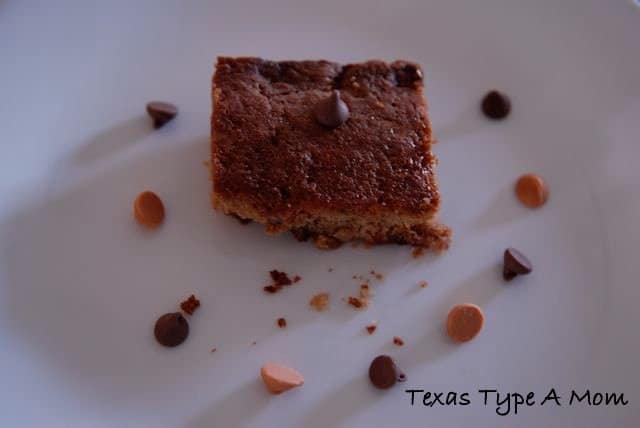 Caramel Chocolate Butterscotch Bars
Ingredients
2 c. flour
1/2 tsp. baking powder
1/4 tsp. baking soda
1/2 tsp. salt
1 c. brown sugar
1/2 tbsp. vanilla extract
1 c. butter
1 egg
1/2 c. whole milk
7 oz. caramels, unwrapped
1 tbsp. butterscotch chips
1/4 c. caramel coffee creamer
1.5 c. chocolate chips
Directions
Preheat oven to 325 degrees.
Lightly coat 9×13 baking pan with cooking spray.
Mix together flour, baking powder, baking soda, and salt. Set aside.
Cream together brown sugar, vanilla extract, and butter. Stir in egg. Set aside.
Place milk, caramels, butterscotch chips, and coffee creamer in saucepan over medium heat. Stir contents constantly, not allowing mixture to burn or stick.
Once caramels and butterscotch chips have melted completely, remove from heat.
Combine dry mix with sugar mixture. Cut in chocolate chips.
Spread batter evenly in baking dish.
Pour caramel/butterscotch mix over batter.
Bake uncovered for 45 minutes.