Are you ready for some football?! I know I am! It's been a long seven months without any football and I've been missing it since the day after the Super Bowl. Not only do I love watching the sport but I love football food – all of the tastiness found while tailgating and at parties. Check out this collection of recipes from around the web to provide inspiration for your own football party!
Cheese Football
Not your traditional holiday cheese ball. Impress your friends with this creative spin and really set the mood.
Visit Three Kids and Us for this Cheese Football Recipe
Texas Caviar
Part dip, part salad, all fresh and tasty goodness. Can be eaten alone or on chips.
Check out my Texas Caviar Recipe
Fried Pizza Bites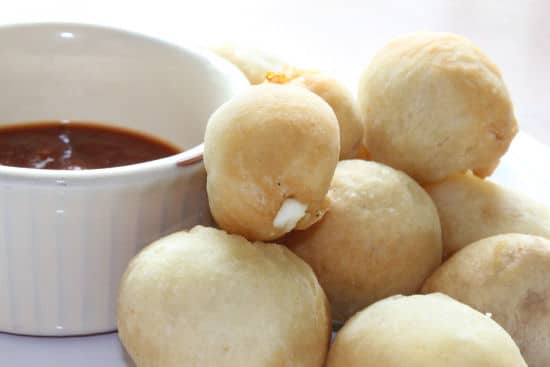 Want to avoid the need for silverware? Make these tasty little bites of pizza perfection.
Visit Simply Being Mommy for this Fried Pizza Bites Recipe
Oven Fried Pickles
How can pickles get any better? By frying them and dipping them in sauce of course!
Visit BusyMommy this Oven Fried Pickles Recipe
Perfect Guacamole
Is this really the perfect guacamole? You'll have to be the judge of that – I dare you!
Visit Penelope's Oasis for this Perfect Guacamole Recipe
Mexican Cornbread Salad
You can ditch your seven layer dip recipe in favor of this creative dip. Layers of goodness abound!
Visit Sweet T Makes Three for this Mexican Cornbread Recipe
Buffalo Chicken Pizza
For those days when you can't decide if you want buffalo wings or pizza – put your hands together!
Check out my Buffalo Chicken Pizza Recipe
BBQ Bacon Wrapped Meatloaf
Not your mother's meatloaf. This BBQ, bacon wrapped slab of protein is sure to fill your belly.
Visit Mommy Enterprises for this BBQ Bacon Wrapped Meatloaf Recipe
Boneless Buffalo Chicken Bites
Love wings but hate picking out the bones? Then this easy to make and easy to eat recipe will be sure to satisfy.
Check out my Boneless Buffalo Chicken Recipe guest post at Nap Time is My Time
Football Cake with a Grass Football Field Cookie
Perfect for a
football party
or your young athlete's birthday party, this cake is festive fun and mixed cake with a cookie!
Visit Three Kids and Us for the Football Cake with a Grass Football Field Cookie Recipe
Skillet Fried Oreos
It's a good thing football fans aren't known for dieting. This fun, creative recipe is a new spin on plain Oreos.
Visit Sweet T Makes Three for this Skillet Fried Oreos Recipe
What's your favorite football food?