Get ready for summer with a body you can be proud of! Here's the truth on CoolSculpting® with my honest review and Before & After Results.
To help me look and feel my best, I've partnered with Synergy Plastic Surgery which offers CoolSculpting and other med spa services in the greater Austin area, to share my CoolSculpting experience in exchange for treatments.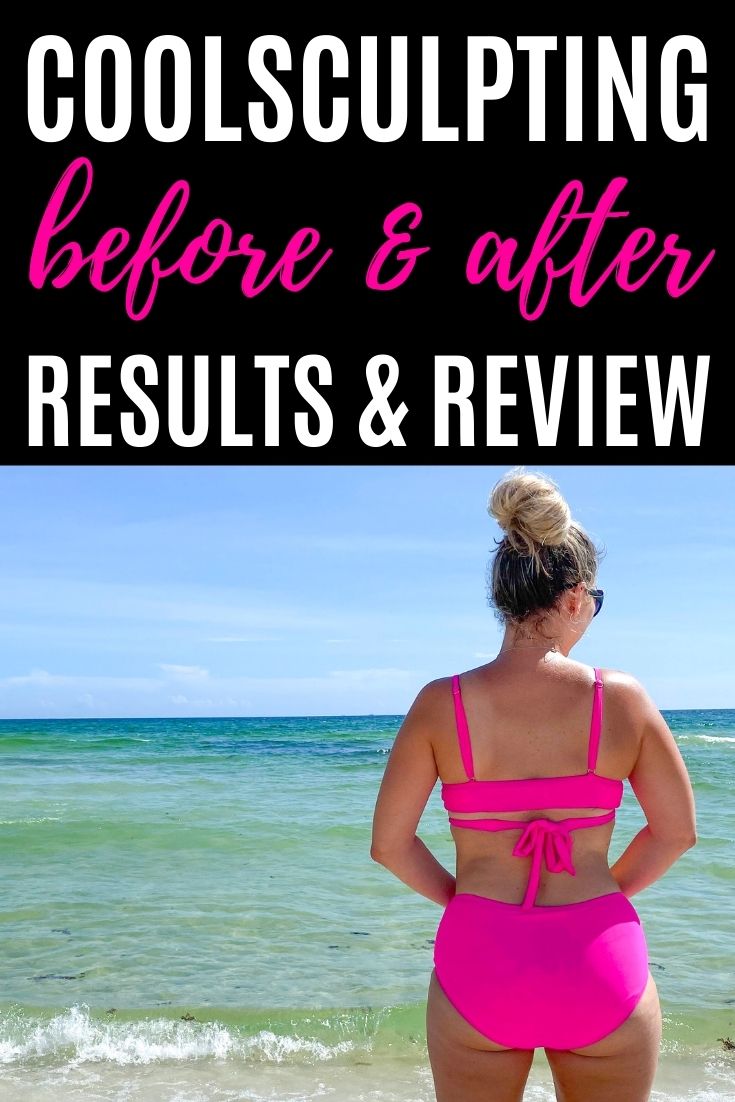 Coolsculpting Before and After Results & Review
When I decided to make a change and move forward with a fat reduction procedure, I first met with Ashley at Synergy Plastic Surgery to talk about the areas that bothered me most. Before I even arrived, I had the areas I wanted to be treated narrowed down to CoolSculpting my flanks (back, bra fat area) or CoolSculpting my stomach. Since I could get my flanks taken care of with just two treatments, I opted for that over my abdomen, which would have likely taken at least double that.
Before I get into my actual CoolScultping results, I want to share the answers to some of the most common questions I've been asked about the procedure. Hopefully, this will give you a better idea of how everything works and how freezing your fat can help you.
What is Cool Sculpting?
CoolSculpting is an FDA-cleared procedure for body contouring that targets fat in areas you want to get rid of it the most. Using dual applicators, this fat freezing machine can remove 20-25% of stubborn fat cells in 9 different areas.
CoolSculpting Areas
CoolSculpting treatments can be done on most problem areas of the body. You can do CoolSculpting on the arms including upper arms, stomach, chin, flanks, thighs, and legs. The thighs, abdomen, and flank are some of the most popular treatment areas.
How much is Coolsculpting?
Cool sculpting costs will vary based on the area of the country you live in, treatment site, the number of treatments needed, and how popular this body sculpting procedure is near you.
Can men get CoolSculpting?
Yes, men can get CoolSculpting too. All of the same treatment areas are available for everyone. A popular procedure for men is CoolSculpting love handles.
My CoolSculpting Before and After Results
Since I've already had plastic surgery before and know what it's like and even shared my real breast augmentation story with you, I wasn't terribly nervous about having my fat frozen. Outpatient, no scalpels, and no downtime make this a no-brainer.
As with any cosmetic or medical procedure, you'll want to have a consultation. This will help familiarize yourself with the staff, the treatment process, and aid the staff in determining if you're an ideal candidate for CoolSculpting.
Your total number of treatments will be based on the area being treated and the amount of fat being frozen. For my flanks, I had two treatments done. Treatments are ideally spaced 8 weeks apart but due to COVID, mine ended up being 6 months apart.
For each appointment, you'll need to schedule about an hour. The office will do photos before each treatment to monitor your progress. Then the actual procedure is about 35-45 minutes followed by a 2 minute time massage of the frozen fat.
On my first treatment, the CoolSculpting itself was very tolerable but the massage after was brutal. I got lightheaded and needed an ice pack and juice.
For my second treatment, I had the opposite reaction. The procedure itself was very uncomfortable (likely because there wasn't as much fat left), but the massage afterward wasn't nearly as painful as the first time. I did grit my teeth during most of the second appointment and was so eager to be done with it.
I did my research prior to the procedure and it really seems that Cool sculpting reviews can vary a lot from person to person, just like with any cosmetic procedure. But these are my actual, un-Photoshopped results so you can definitely see for yourself how CoolSculpting my flanks worked for me.
Does CoolSculpting work?
As you can see from my results, CoolSculpting works. It's not a quick fix, as it does require multiple treatments. But if you're looking to target specific areas that might be stubborn to change with diet and exercise CoolSculpting can help!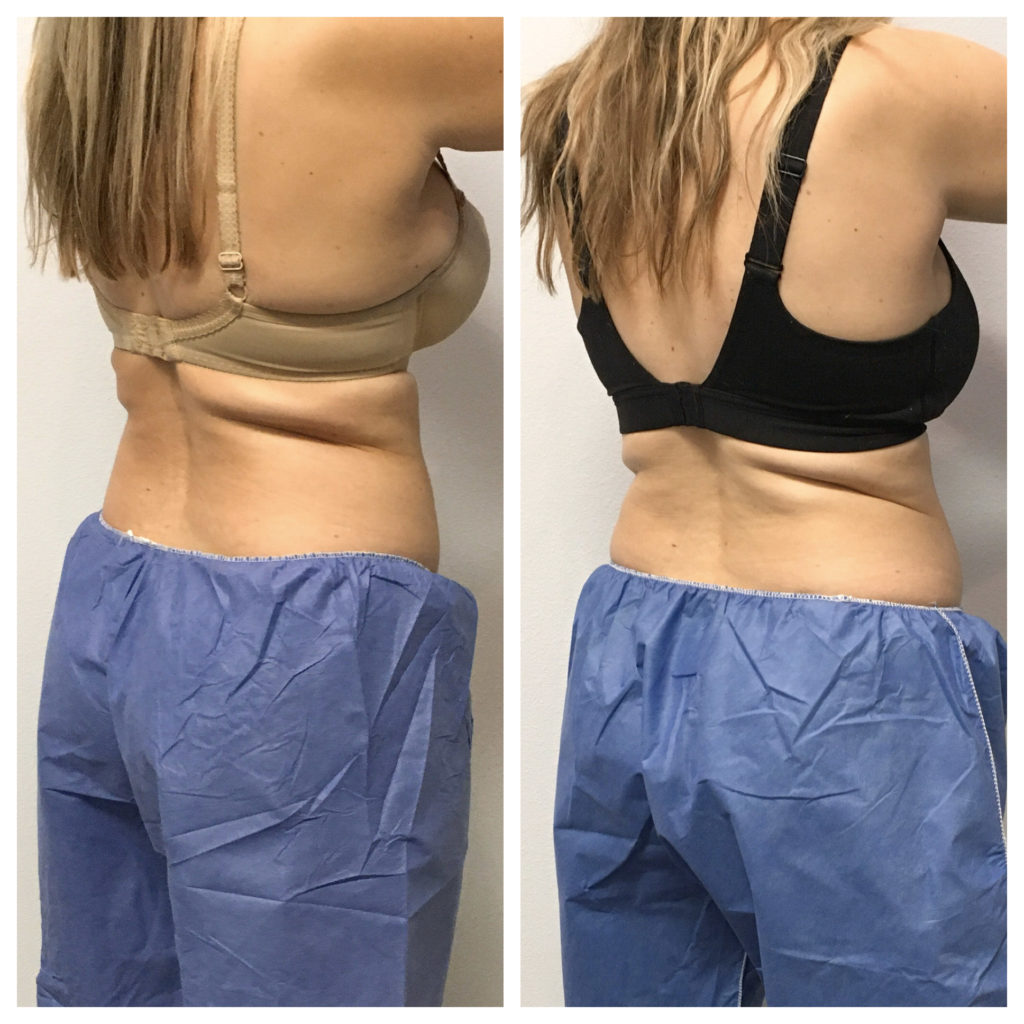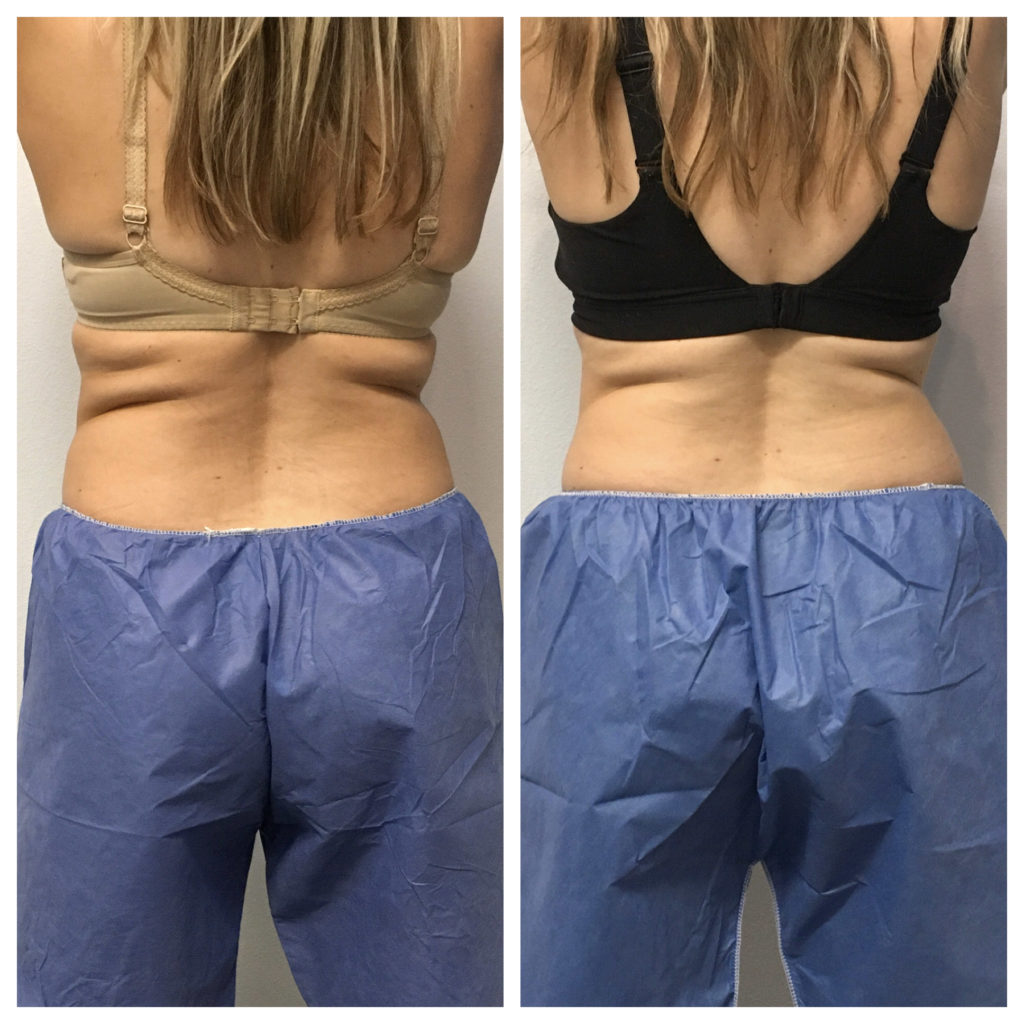 Does CoolScultping hurt?
Like most procedures, whether CoolSculpting hurts will depend on your personal pain tolerance and sensitivity to the cold. I'm not going to lie though, CoolSculpting was very painful for me.
Side effects of fat freezing
There are several side effects of fat freezing, but most are temporary. Some common side effects include pulling, pain, cramping, stinging, burning, swelling, numbness, sensitivity, aching, redness, itching, lumpiness, and bruising at the site.
You may also notice diarrhea after the procedure as dead fat cells leave the body. Drink lots of water after the procedure to compensate for the loss of liquids.
What if I don't have any fat to freeze?
Even if you don't have any fat to freeze, you can still try body sculpting. CoolTone™ is is a non-surgical procedure that tones and tightens the thighs, stomach, and butt.
What do you think of my CoolSculpting before and after results?
More beauty posts you might like