Texas is a big state, so there's never a lack of things to do. When you're ready to head to the coast, check out this list of the 10 Best Beaches in Texas.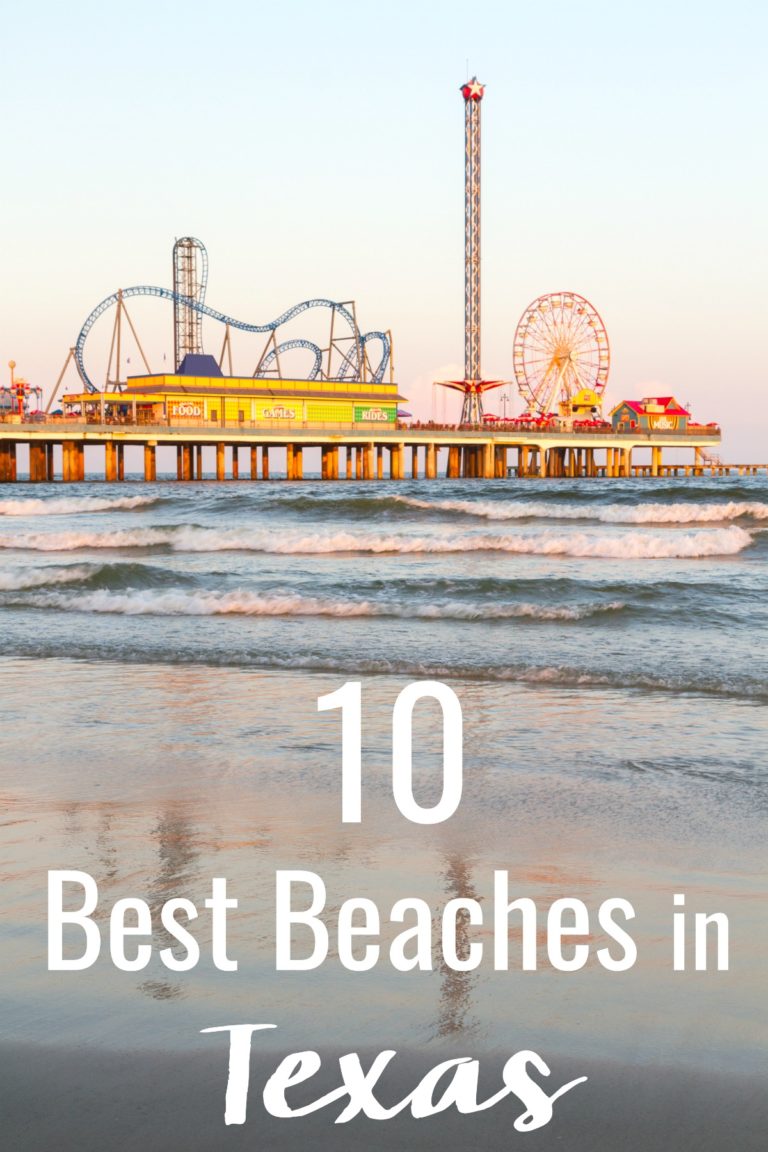 10 Best Beaches in Texas
What's not to love about the Lone Star State?! We have hills, plains, and best of all we have beaches!
There are so many different beaches you can visit to soak up the sun, sand, and just enjoy your time in the water. These are the 10 best beaches in Texas I recommend you check out next time you go on vacation or come down for a visit.
With so much to do and see, I don't think you will be disappointed by the beautiful beaches and water. So pack up all your beach bag essentials and go have some fun!
Beaches in Texas You Have to See!
This is one of the most popular beaches in Texas thanks to the number of students who spend Spring Break here every year. And it's no surprise.
With white sand beaches, wildlife like sea turtles and dolphins, and some of the clearest water on the coast. You can swim, surf, snorkel, and so much more!
While it doesn't get as much attention as other popular beaches in Texas, it's a favorite in Central Texas because of the easy drive and wide stretches of sand. It has a quieter, more laid-back feel that Austinites appreciate so there's no wonder why it's one of the best beaches in Texas.
This beach is located just outside of Corpus Christi and certified by the Clean Beaches Coalition. It's also one stunning beach to visit.
You will find playgrounds for kids, volleyball courts, grills, picnic areas, swim areas in the water, and more. This beach is full of wildlife and is a designated bird sanctuary. A very romantic setting as the sunsets at night over at Rockport Beach.
From the sandcastle contest to festivals, Galveston Island is known for epic events that last all summer long. It truly is a wonderful place to visit. But not only that it offers a gorgeous beach where you can lounge and soak up the sand, swim, fish and more.
Just east of Brownsville, Boca Chica and offers some stunning views. Crystal clear water, fine sand to walk on and build sand castles with, fishing, kiteboarding and more. It is a very relaxed beach that is a perfect escape for the day.
A family-friendly beach is what you find in the Surfside Beach. It is less than an hour drive from Houston and has a gorgeous open beach where you can swim, play, and enjoy. They even have lodging that is along the coast, which is great for staying a few days. Plus you can end your nights with a bonfire and hearing the waves come rolling in.
The perfect beach to head to relax or take your pooch for a walk along the beach. Over 5 miles of coastline, you have a lot of options.
Mustang Island State Park has special breeding grounds for turtles and over 400 species of birds. It is a stunning sandy beach with a lot of gorgeous scenery to take in as you lounge.
A 157-acre beach that is full of areas to swim, lounge, picnic, fish, and more. The IB Magee Beach extends down into the Gulf of Mexico. A very popular beach that you can find an area for you and your family, not a problem.
This is the longest undeveloped barrier island in the world. You can roam over 130,000 acres where you can hang at the beach, visit the dunes, grassland areas, trails and more.
You can even see sea turtles, ride 4-wheelers on the beach, it truly is a place to spend a few days and do a variety of things. Padre Island National Seashore is a perfect nature experience.
This is a very relaxed and secluded with miles of peaceful places to lounge or fish. This island is located just across from Port Aransas.
Pin the Best Texas Beaches for later!
Make sure your beach bag is loaded up with all the sunscreens you need for the beach! Which one of the 10 Best Beaches in Texas do you like the most?!
More family travel posts: