Vegas for kids?! Yes! Las Vegas has quickly turned into an affordable and fun destination for families. Here are 25 Things to Do in Las Vegas with Kids on the Strip!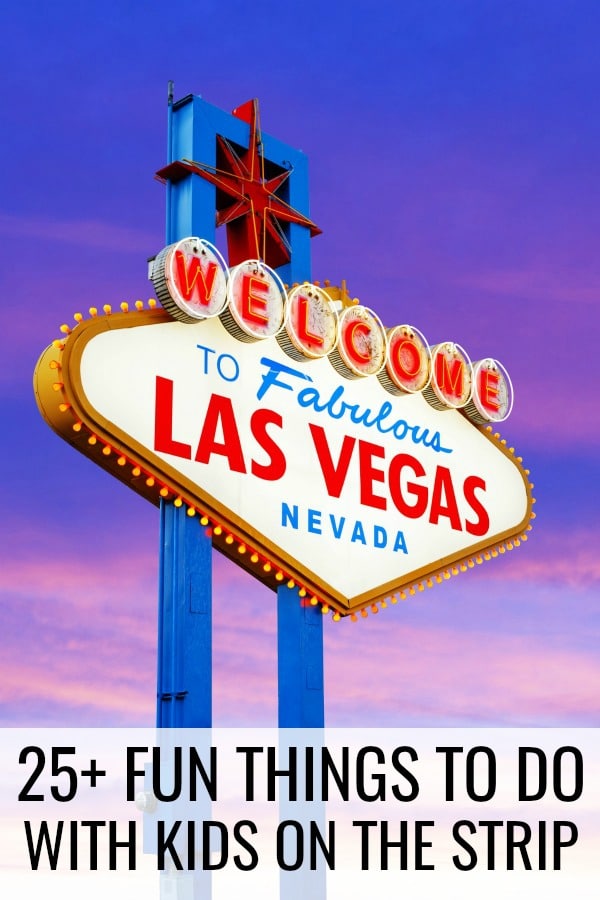 I've been visiting Las Vegas since I was 16. Far before I turned 21 and celebrated my birthday there. And every visit is always a good time.
I always told people how kid friendly Las Vegas is. But it wasn't until I had kids that I truly saw first hand all that kids could do and see!
Vegas for Kids: Things to Do in Las Vegas with Kids on the Strip
Let me start by saying taking kids to Las Vegas is way different than doing it without them. Obviously. To make a trip to Vegas fun for kids, you need to know where to go and what to see.
There are so many options I want to show you my top picks for Vegas with kids. These the fun things to do in Las Vegas with kids on the Strip.
You can also find a ton to do off the Strip as well, but I'll save those tips for another time. Depending on the length of your trip, you may just spend the entire time on Las Vegas Boulevard.
25 Things to Do in Las Vegas with Kids on the Strip
The best way to see all of Las Vegas. The High Roller at the Linq gives an amazing perspective of the Las Vegas Strip and the entire valley. There are options to ride during the day, night, and you can bring drinks with you. Or, if you're scared you might run out, join a group pod with a bar inside to ride to the top.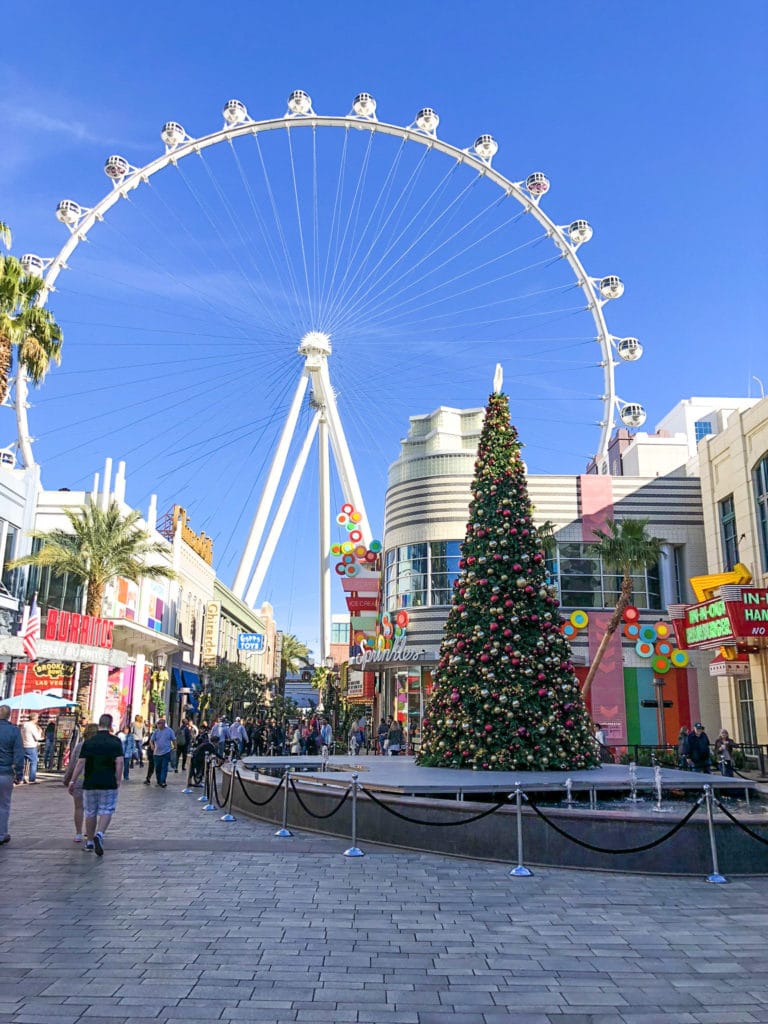 Get up close and personal with dolphins and other animals at this Mirage experience. You'll get to explore and learn more about bottlenose dolphins, white tigers, white lions, and leopards right on the Las Vegas Strip.
For older kids, there is also the option to be a dolphin trainer for a day or paint with a dolphin. How memorable is that?!
This aquarium located at the far south end of the Strip was another must-see for our family. The girls loved seeing all the sea creatures. Highlights were the stingray petting and shark tunnel.
This educational and interactive experience is perfect for the comic book fan in all of us. You will get Avengers training, learn secrets of the Marvel universe, and do fun experiments.
5. See a show.
Certain Cirque de Soleil and Blue Man Groups shows would all be a great choice. My picks for Cirque de Soleil shows are Mystery, O, or Beatles LOVE.
Hint: Zumanity might sound like it's kid-friendly but this is a 21 and up show.
This is another way to see Las Vegas from the sky without being in a helicopter or airplane. You can get front row seats to see the Fountains of Bellagio day or night.
This giant wax museum allows your kids to see and take pictures next to some of their favorite figures. From singers like Katy Perry and Miley Cyrus, to sports stars, and Marvel Superheroes this one is fun for the entire family.

You may not be able to make it to Venice, but you can grab a gondola ride cruising the canals of the Venetian. This ride takes you both inside and outside the casino.
For all the Fortnight fans this is a must do. Kids can play online computer games in a room full of other people that share the same passion.
You won't have to tell your kids to use forks at the Tournament of Kings. This Medieval dinner show lets kids eat with their hands and enjoy a jousting match.
Circle the New York City skyline in this roller coaster. You'll start inside the casino but end up cruising along the outside of the building with an unbeatable view of the city.
Kids love watching things explode. So imagine their excitement to see a lifesized volcano seemingly spewing with oozing lava.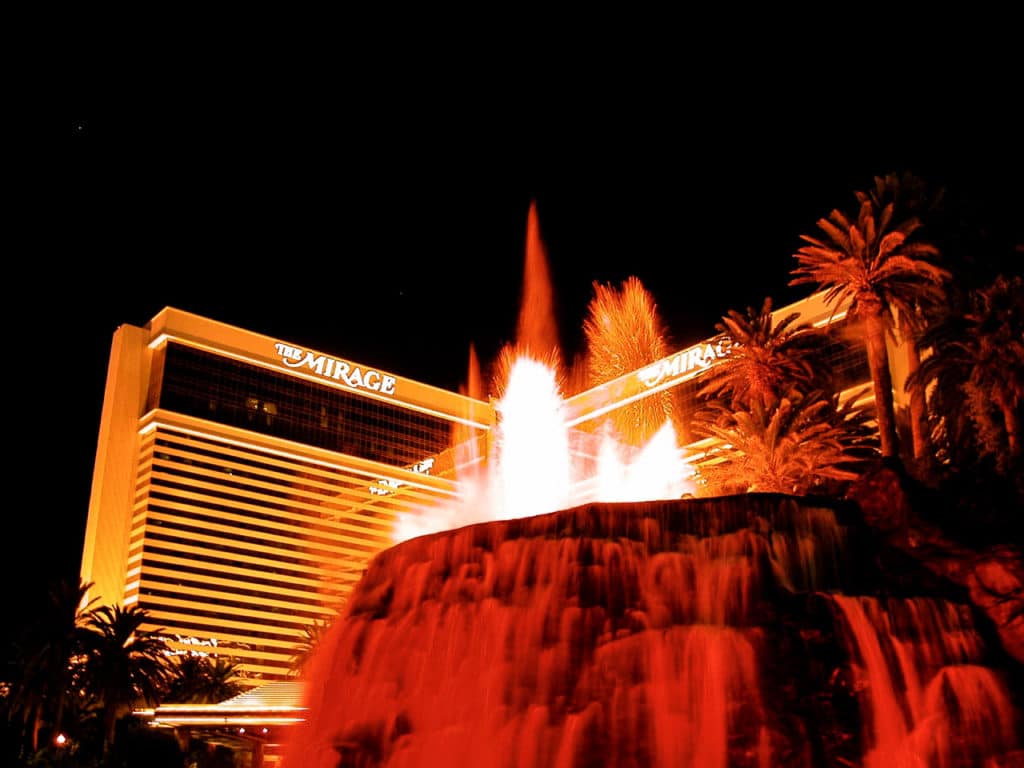 Possibly the best free thing to do in Vegas with kids, the Fountains of Bellagio are fun for every age. This fountain show shoots water hundreds of feet into the air, timed as if the fountains are dancing, to music.
Did you ever think you'd be ziplining along the Las Vegas Strip? Well now you can and you get to choose how to ride…seated ro superhero style.
If you're looking to take kids to a place that's all about them, you'll want to check out the Circus Circus AdventureDome. Roller coasters, rides, and more will keep kids happy and entertained for hours…or until the money runs out.
The Bellagio Conservatory & Botanical Gardens are updated seasonally and always stunning. We've been dozens of times at various points in the year and it never disappoints.
Bags of M&M's have a lot of different colors but there are even more than I bet you've ever seen! My girls had so much fun picking M&M's in colors they've never seen like purple, pink, and gold!
Las Vegas can be a show in itself. But if you want an actual circus show, head on over to the Circus Circus Hotel.
19. Go see a movie.
While not technically on the Strip, there is an AMC theater 2 miles south of Mandalay Bay still on Las Vegas Boulevard.
The Stratosphere (or the Strat) is not only the tallest building in Las Vegas but the entire state of Nevada. So imagine the adrenaline rush of being shot into the air like a slingshot at high speeds.
The Bodies Exhibition is definitely not for little kids. If you have middle or high school kids, they'll have an educational experience they won't forget.
This is another thing that's not for the littles. The CSI Experience lets you go behind the scenes and explore life as a forensic scientist.
Las Vegas requires a lot of walking. Take a break and explore the city in these tiny scootcars for a fun, new perspective!
Whether you gamble or not, your kids are being assaulted by tons of games that they're not allowed to play. Why not let them play games and have fun at the Excalibur Arcade?!
Hint: we got the most tickets on a skip/jump game!
25. Go to the pool.
Like some shows in Las Vegas, some pools have age limits too and are adults only. While we like to take our kids cities that aren't typically kid-friendly these pools are definitely not something you even want to try getting into. My top three picks for the best family friendly pools on the Strip are Mandalay Bay, MGM, and the Mirage.
Have you traveled to Las Vegas with kids? Are there any things to do on the Strip that I missed? Share them with me on Facebook!
Texas travel posts:
Make sure to pin these 25 Things to Do in Las Vegas with Kids on the Strip so you can plan your trip!