If you're looking for a St Patrick's Day dessert recipe that's as beautiful as it is delicious, you have to try these Easy Chocolate Cupcakes Recipe with Rainbow Buttercream Frosting. Making chocolate cupcakes from scratch is easier than it seems. Adding color to basic buttercream frosting makes this a fun rainbow recipe!

Easy Chocolate Cupcakes Recipe from Scratch
With each month that passes by, my initial thought is, "Where has the time gone?!" Seriously, time needs to slow down.
Valentine's Day was just here and with St. Patrick's Day and Easter so close together this year, I've been debating whether to even put out decorations for each. I'm leaning towards yes, or mixing and matching with St. Patrick's Day and Easter this year.
Some people don't celebrate St. Patrick's Day
but the kids love to savor each and every little holiday and I'm all for encouraging them to look forward to each day. And especially when that means lots of bright rainbows and glittering gold abound. In their art, the decorations, and even the recipes!
Looking for more rainbow recipes?
Especially in recipes. Chocolate cupcake recipes that come straight from the box are okay, but there's something so decadent and satisfying when you make your own!
Like this easy chocolate cupcakes recipe from scratch and topped with a homemade, delicious and colorful, rainbow buttercream frosting recipe. Having a simple and easy buttercream frosting recipe is all you need to frost your desserts. This one gets a little help from the whimsical addition of swirled colors and topped with some toy gold coins!
How to make chocolate cupcakes from scratch
Making chocolate cupcakes from scratch is super easy to do. You'll just need the right ingredients and tools.
Ingredients
All-purpose flour
Sugar
Unsweetened cocoa powder
Baking powder
Baking soda
Salt
Milk
Vegetable oil
Eggs
Vanilla extract
Water
Tools needed
Cupcake tin
Cupcake liners
Mixing bowls
Whisk
Electric mixer
Cookie scoop
Chocolate cupcakes recipe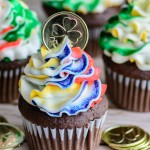 Chocolate Cupcakes
Decadent chocolate cupcakes are easier to make from scratch than you think. Top it off with rainbow buttercream frosting for a stunning and delicious presentation!
Instructions
Cupcakes:

Preheat oven to 350 F.

Line a cupcake pan with cupcake liners or lightly mist with cooking spray.

In a bowl combine flour, sugar, cocoa, baking powder, baking soda, and salt.

Whisk to combine.

In a separate bowl, with an electric mixer combine milk, oil, eggs, and vanilla.

Add to flour mixture until well combined.

Reduce speed and carefully add boiling water

Beat on high speed for another 1 minute.

Using a cookie scoop or large spoon, measure approximately 1/4 cup of batter into cupcake liners and bake for 20-25 minutes or until a toothpick inserted in the center comes out clean.

Remove from the oven and allow to cool for 2 minutes before transferring to a cooling rack and another 30 minutes before frosting.
Recipe Video
Nutrition Facts
Chocolate Cupcakes
Amount Per Serving
Calories 165
* Percent Daily Values are based on a 2000 calorie diet.
More chocolate cupcake recipes
What frosting goes with chocolate cupakes?
My favorite frosting for chocolate cupcakes is buttercream frosting. This recipe uses a dyed buttercream frosting to create a rainbow effect.
Buttercream frosting is \super easy to customize. If you're a buttercream frosting fan, you'll also want to check out this cherry buttercream frosting, cream cheese buttercream frosting, and this coconut buttercream frosting!
How to make rainbow buttercream frosting
Ingredients
Butter
Powdered sugar
Vanilla extract
Salt
Tools
Piping bag
Wilton #129 tip
Electric mixer
Gold coins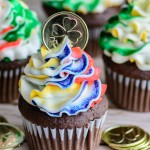 Rainbow Buttercream Frosting
Basic buttercream frosting takes on an eye-catching, rainbow appearance in this rich and creamy recipe.
Instructions
Cream butter and salt until fluffy.

Mix in 1 cup of the powdered sugar.

Slowly mix in remaining powdered sugar and mix until thoroughly combined

Place desired tip (these cupcakes were made using a

Wilton #129

inside a large piping bag.

Paint 4 separate stripes (different colors) on the inside of the bag.

Scoop frosting into the piping bag.

Pipe onto cooled cupcakes.
Nutrition Facts
Rainbow Buttercream Frosting
Amount Per Serving
Calories 125
* Percent Daily Values are based on a 2000 calorie diet.
More St. Patrick's Day desserts
St. Patrick's Day Jello Parfaits
Mint Chocolate Cheesecake Dip
Make sure to pin these Easy Chocolate Cupcakes with Rainbow Buttercream Frosting so you can find it later!