Make a healthy lunch for your kids that they will actually have fun eating! This rainbow chicken recipe is fun and nutritious at the same time.
A Healthy Lunch for Toddlers
Ensuring that a toddler eats a balanced diet is no easy task. Creating meals for toddlers that even the pickiest child will eat sometimes takes a little imagination. I'm always trying to find new fun and creative ways to either disguise foods or make the food seem more appetizing. I've managed to successfully puree vegetables and hide them in muffins but until recently, I hadn't found a way to incorporate a lot of healthy, wholesome foods into one new and exciting meal.
How I Finally Got My Picky Daughter to Eat Healthier
This may come as a surprise but even real chicken nuggets are sometimes a struggle to get my daughter to eat. My daughter occasionally has issues with texture and some of the brands we've tried must have felt/tasted strange to her because she wouldn't touch them. However, the last time I went shopping I decided to purchase Tyson Chicken Nuggets since they are 100% natural like the packaging says. Although I enjoyed the crispness of the chicken nuggets exterior and juiciness of the interior, my daughter was not sold on the chicken nuggets alone. But when I presented her a kid friendly recipe made with a fun, colorful, edible rainbow – she really dug in and enjoyed each bite and I did too. This is perfect for a special St. Patrick's Day meal or just a fun week night presentation.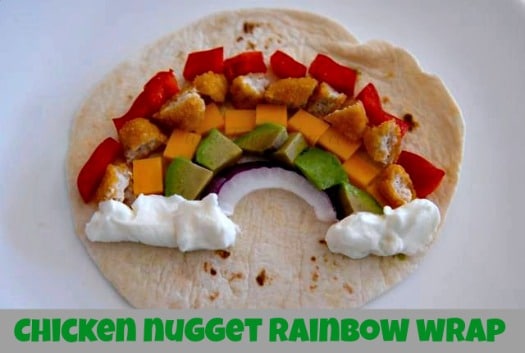 Chicken Nugget Rainbow Wrap
Here is what you need to make your own rainbow chicken lunch wrap:
small flour tortilla
red bell pepper
chicken nuggets
cheddar cheese
avocado
red onion
sour cream
Directions:
Assembly is easy, preheat your oven (or microwave) to cook your chicken nuggets. Meanwhile, lay your tortilla flat on a plat and begin chopping up the bell pepper, avocado, and cheese. Then, slice off a red onion ring and cut in half to make the center purple arch. When your chicken is finished, quarter and begin assembling. Start with the red bell pepper, then the Tyson chicken nuggets, cheddar cheese, avocado, and red onion. Finally, use a measuring spoon to create clouds at the bottom of your rainbow.
This was a super fast, creative, and easy way to ensure my daughter is a member of the clean plate club! Encourage your child to taste the colorful flavors in this tasty dish!
Rainbow Chicken Lunch Recipe
Here is a printable recipe card for you. Pin this post so you can find it later, you and your kids will love it!
Rainbow Chicken Wrap
An easy lunch idea that is healthy and fun - making a rainbow with chicken and veggies.
Instructions
Preheat your oven (or microwave) to cook your chicken nuggets.

Lay your tortilla flat on a plate

Chop up the bell pepper, avocado, and cheese

Slice off a red onion ring and cut in half to make the center purple arch

When your chicken is finished, quarter and begin assembling

Start with the red bell pepper, then the Tyson chicken nuggets, cheddar cheese, avocado, and red onion

Finally, use a measuring spoon to create clouds at the bottom of your rainbow with sour cream
More Chicken Recipes