This Cadbury Chocolate Creme Egg Cupcakes with Salted Caramel Frosting recipe is a delicious dessert for Easter. Cadbury chocolate creme eggs are stuffed inside chocolate cupcakes and topped with a flavorful salted caramel frosting.
Cadbury Chocolate Creme Egg Cupcakes with Salted Caramel Frosting
When I saw Cadbury Creme Egg Cupcakes all over Pinterest, I decided to try making them myself–I wait all year for Cadbury Egg season and combining them with cupcakes seemed like the best idea ever.
Chocolate or Caramel Creme Eggs – Which is Best?
Since the Creme Eggs had been done by so many other bloggers, I thought I'd try using the Cadbury Caramel Eggs in my cupcakes instead. I mean, if the Creme Eggs works, why wouldn't the Caramel Eggs?
When I was looking for the Caramel Eggs, I found the Chocolate Creme Eggs too, so I thought I'd do half the cupcakes with those and half with the caramel ones. I'm glad I decided to do that because the Caramel Eggs did not work out!
So yeah, maybe there's a reason why people don't use the Caramel Eggs. They melt and leak and stick to the bottom of the cupcake wrapper.
The Creme Eggs are solid enough that even when they get hot in the oven, they don't leak all over the place. (They do deflate, though–you're not going to have a perfectly shaped egg in the middle of your cupcakes.)
You definitely can use the caramel ones if you really have your heart set on it, but just know you might get a caramel-y chocolatey mess when you use them. The great thing about these cupcakes is that the Cadbury Eggs in the middle are the star, so you can really use any kind of cake or frosting you like.
Go wild! Or don't go wild! It doesn't matter! Because no matter what you do with them, your Cadbury Chocolate Creme Egg Cupcakes are sure to impress everyone who eats them.
Shopping List
This is what you need to make your own delicious cupcakes:
Unsalted Butter
Buttermilk
Eggs
Can you use a Cake Mix?
Yes, you certainly can. It will save you a little bit of time. I am sharing my homemade chocolate cake recipe because I found that it has a deeper flavor and amazing texture.

How to make Cadbury Chocolate Creme Egg Cupcakes
Here is a printable recipe card. Don't forget to pin this for later so you can make it again!
Cadbury Chocolate Creme Egg Cupcakes with Salted Caramel Frosting
Instructions
To make cupcakes:
Preheat oven to 350 degrees.

Line muffin tin with paper liners. Combine flour, sugar, baking powder, baking soda, and salt in a medium bowl.

Combine cocoa and 3 tablespoons of hot water in a large bowl; beat with a hand mixer until a thick paste forms. Add butter, buttermilk, egg, and egg white; continue beating until well-combined. Gradually add flour mixture and beat until smooth.

Spoon a heaping tablespoon of batter into cupcake liners. Lay a Caramel Egg on its side in each liner; carefully spoon remaining batter to cover eggs. Bake for 20 minutes. Cool in tins for 10 minutes then carefully (very carefully--you don't want to break the eggs!) transfer to wire racks to finish cooling.
To make frosting:
Whisk together granulated sugar and water in a small saucepan. Once combined, stop whisking and turn on heat to medium-high. Bring to a boil and continue cooking, without stirring, until mixture is a dark amber color and begins to smell caramelized.

Remove saucepan from heat. Gradually add in cream and vanilla, stirring with a wooden spoon until smooth. Cool for 30 minutes.

Using the paddle attachment for a stand mixer, combine salt and butter, beating on medium-high speed until fluffy (about 3 minutes). Reduce speed to low and gradually add powdered sugar. Continue to mix until sugar has been incorporated into the butter completely.

Turn off the mixer and scrape down the sides of the bowl with a spatula. Add caramel and beat on medium-high until airy and thoroughly mixed (about 2 minutes). Cover and refrigerate until stiff, about 45 minutes.

Frost cupcakes with a spatula or pastry bag. (Sadly, my attempts at using my pastry bag are always huge failures, so I used a spatula.)
Nutrition Facts
Cadbury Chocolate Creme Egg Cupcakes with Salted Caramel Frosting
Amount Per Serving
Calories 550
Calories from Fat 234
% Daily Value*
Fat 26g40%
Cholesterol 63mg21%
Sodium 270mg11%
Potassium 196mg6%
Carbohydrates 78g26%
Protein 5g10%
Vitamin A 565IU11%
Calcium 50mg5%
Iron 2.2mg12%
* Percent Daily Values are based on a 2000 calorie diet.
Make sure to print this Cadbury Egg cupcakes recipe for later!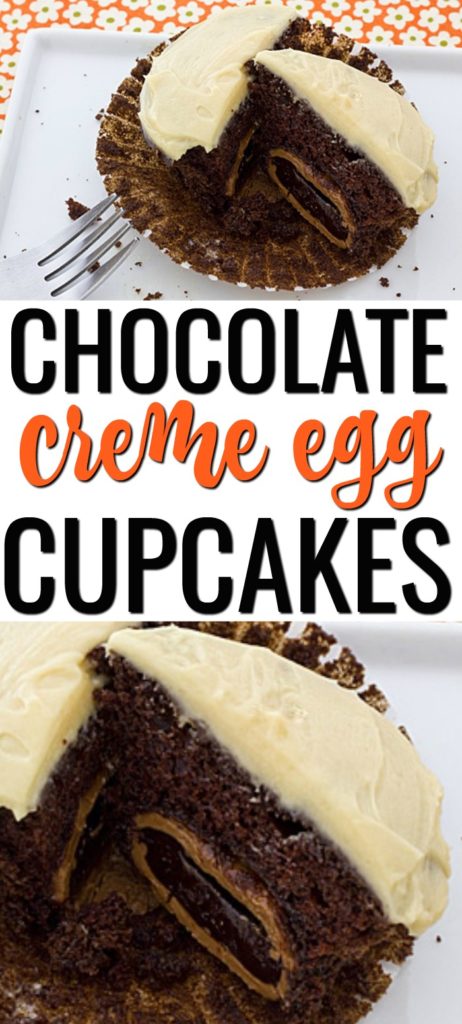 More Easter Ideas
If you like this recipe, be sure to check out my Chocolate Lambic Cupcakes with Raspberry Cream Cheese Frosting too!
For more Easter posts, be sure to read: