Whether you're looking for the best Easter dessert recipes or just recipes with Cadbury Creme Eggs, then you've come to the right place! This Cadbury Creme Egg Cupcakes recipe topped with an easy homemade buttercream frosting is a great way to use up all of those creme eggs you have laying around and provides a hidden surprise within these moist chocolate cupcakes recipe from scratch!

Cadbury Creme Eggs Make Perfect Easter Treats
Have you noticed how so many of the holidays have a candy associated with them that you look forward to all year long? Candy corn at Halloween, chocolate covered cherries at Christmas, and Cadbury Creme Eggs at Easter.
And if you haven't heard, Easter is here. Well, not quite here yet but it'll be here before you know it and these delectable little cream filled eggs are only here for a limited time.
So if you haven't already, now is the time to stock up for next year. Ideally, you'd wait until the day after Easter so you could pick them up at a discount but since there isn't a guarantee that there'll be any left then it's always best to grab some while you can.
Cadbury Creme Eggs are one of those candies that are polarizing. You either love them or hate them. There doesn't seem to be room for a middle ground.
If you're like me and in the camp that loves them, you may be trying to figure out new ways to enjoy them other than the obvious…unwrapping the foil, biting off the top and then sucking out the filling before finishing the rest of the egg off. Obviously.
These Cadbury Creme Egg Cupcakes are just one more delicious way you can get in your Cadbury Creme Egg fix. These look way more involved than they are, but as you can see from the directions below for this Cadbury Egg recipe, you just put the egg right into the batter and then baking the best ever chocolate cupcakes around it.
I've already professed my undying love for easy homemade buttercream frosting, so the obvious choice for topping these sinfully sweet cupcakes is with…homemade buttercream frosting. Was there ever any doubt? The answer is no.
Shopping List
Here is all you will need to make these amazing cupcakes:
There are two parts to this recipe – the cupcakes and the buttercream frosting. Keep this recipe pinned because even beyond Easter, this frosting recipe is perfect!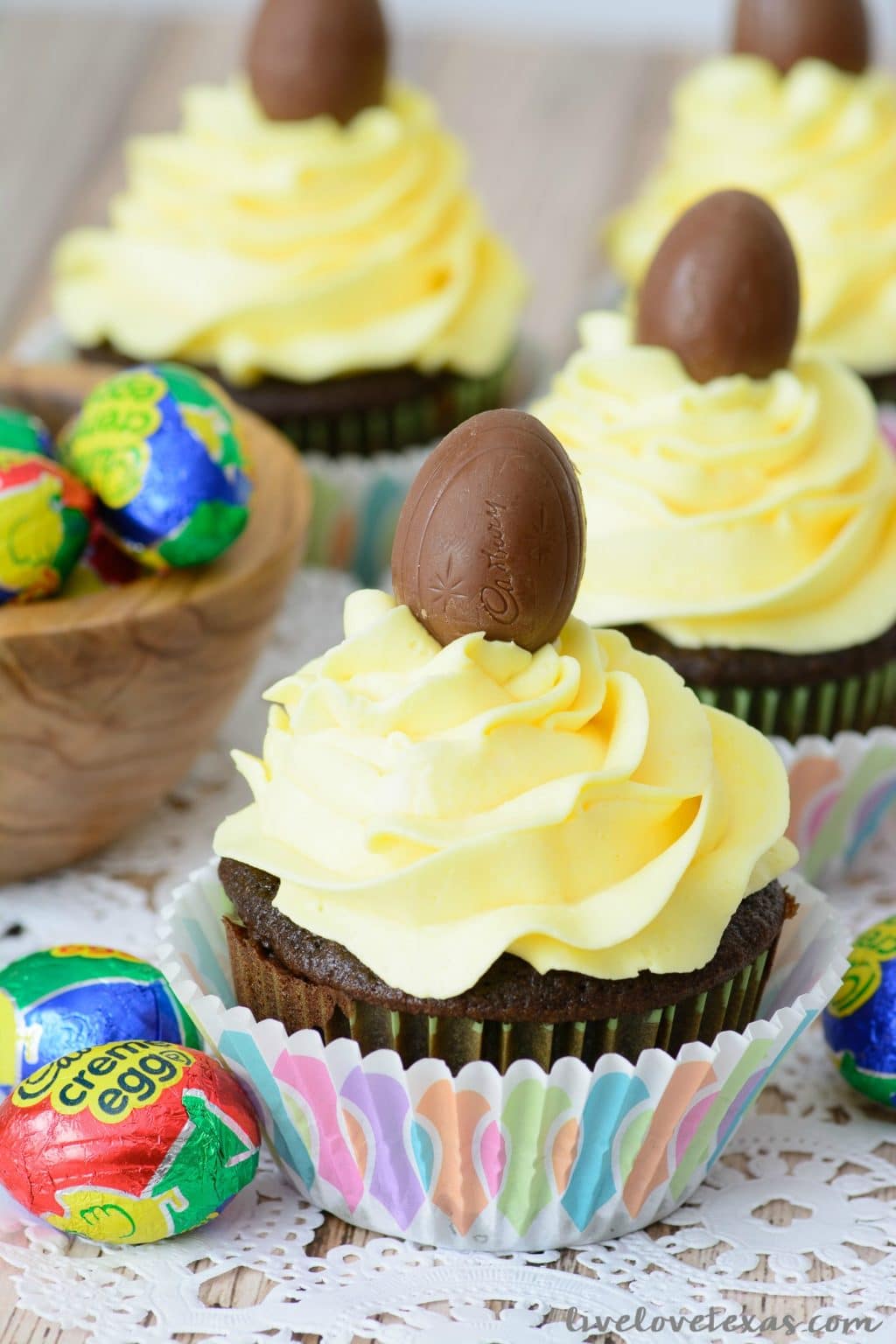 Cadbury Creme Egg Cupcakes with Homemade Buttercream Frosting
Here is the recipe for the chocolate cupcakes. Scroll on down for the buttercream frosting recipe too.
Cadbury Creme Egg Cupcakes
Instructions
Preheat your oven to 350º F.

Line a cupcake tin with liners and set aside.

In a large mixing bowl combine flour, sugar, cocoa, baking powder, baking soda, and salt.

Whisk to combine.

Add milk, oil, eggs, and vanilla to flour mixture and mix together on medium speed until well combined.

Reduce speed to low and carefully add boiling water.

Turn the speed to high and mix for about 1 minute.

Scoop 1 tbsp of batter into each cupcake liner.

Place Cadbury Creme Eggs in the batter horizontally.

Cover with more cupcake batter.

Bake for 20 minutes or until a toothpick inserted in the center comes out clean.

Remove from the oven and allow to cool for 3 minutes before moving to a cooling rack and approximately 30 minutes before frosting.
Nutrition Facts
Cadbury Creme Egg Cupcakes
Amount Per Serving
Calories 333
Calories from Fat 99
% Daily Value*
Fat 11g17%
Cholesterol 29mg10%
Sodium 372mg16%
Potassium 201mg6%
Carbohydrates 56g19%
Protein 4g8%
Vitamin A 65IU1%
Calcium 65mg7%
Iron 1.9mg11%
* Percent Daily Values are based on a 2000 calorie diet.
How to make homemade buttercream frosting:
Here's my all-time favorite recipe for homemade buttercream frosting. It is versatile and you can use it on so many different recipes.
Homemade Buttercream Frosting
Instructions
Cream butter and salt with an electric mixer until fluffy.

Slowly mix in remaining powdered sugar and mix until thoroughly combined.

Add milk and vanilla extract and continue mixing until desired consistency.

Pipe onto cooled cupcakes, using desired tip. The photos show a

Wilton 1M tip

.
Nutrition Facts
Homemade Buttercream Frosting
Amount Per Serving
Calories 255
Calories from Fat 135
% Daily Value*
Fat 15g23%
Cholesterol 40mg13%
Sodium 28mg1%
Potassium 7mg0%
Carbohydrates 30g10%
Vitamin A 475IU10%
Calcium 7mg1%
* Percent Daily Values are based on a 2000 calorie diet.
More Cadbury Creme Egg Recipes
For even more Cadbury Creme Egg Cupcake Recipes, check out this Cadbury Chocolate Creme Egg Cupcakes with Salted Caramel Frosting recipe!
What's your favorite filled cupcake recipe? Let's keep the conversation going on Facebook!
If you enjoyed this Cadbury Creme Egg Cupcakes recipe, pin the photo below so you can find it later!

More buttercream frosting recipes: