My youngest daughter, affectionately known online as Cupcake, turned 1 last week.  It's beyond me how she is growing so fast and the whole baby stage is slowly coming to a close and will be behind me long before I'm ready for it to be over.  What fun would a birthday be without some cake?  I wanted Cupcake to dig into her own birthday treat but wanted to save myself the work of baking two cakes, so I figured my best bet would be cupcakes.
A cupcake for my little cupcake!

Since it was just a small family celebration, we didn't do a big themed party with tons of decorations to celebrate.  Since I didn't have any theme to help inspire me, I tried thinking up all of the fun cupcake ideas I could using a boxed cake mix.  At last, inspired by the rainbow layer cake I made for my own birthday, I settled on making rainbow cupcakes with buttercream frosting.
While the rainbow layer cake was a labor of love, these rainbow cupcakes weren't nearly as labor intensive.  Once again by making cupcakes from cake mix this saved me extra time, which I am always in short supply of.  Another fun thing about these cupcakes is that while I layered the different colors of cake batter, there was nothing to keep them separated so the result is almost tie dye effect for something totally out of the ordinary!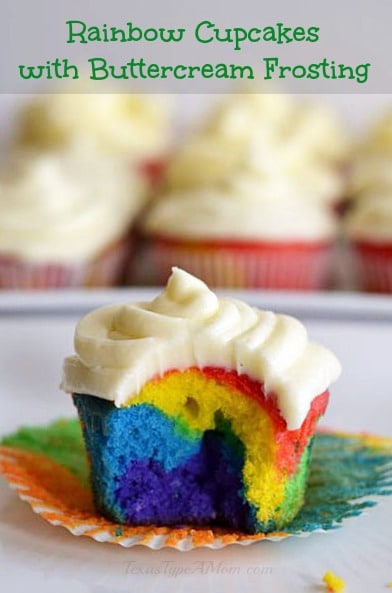 Rainbow Cupcakes with Buttercream Frosting
Rainbow Cupcakes with Buttercream Frosting
Author:
Kelly Tomlinson/Texas Type A Mom
Ingredients
1 box white cake mix (I used Betty Crocker)
3 eggs
⅓ c. canola or vegetable oil
1.25 c. water
Ingredients for Buttercream Frosting
1 c. unsalted butter (2 sticks), room temperature
4 Tbsp. milk
4 tsp. clear vanilla extract
4 c. powdered sugar
If you plan on spreading your frosting instead of piping it on, you can half this recipe.  The cupcakes in the pictures have a healthy amount of frosting on them.
Instructions
Preheat oven to 350 degrees, then lightly spray or line cupcake pans and set aside.
Mix cake mix, oil, water, and eggs together with electric mixer for approximately 2 minutes.
As best as you can, try to evenly divide the batter amongst six, small bowls.
Using a toothpick, use small amounts of Wilton gel food coloring at a time until you achieve your desired color.
This is the tricky part.  Once all batters are colored to your liking, begin evenly distributing your batter among the prepared cupcake pans.
Continue dividing the batter in the order you want your rainbow to appear.
Bake for 15-18 minutes and allow to cool completely.
While cupcakes are cooling, prepare the frosting by mixing all ingredients together using an electric mixer.
Frost your cupcakes as desired and served.  I used a Wilton 5 tip on the cupcakes in the front of the picture and a Wilton 1M tip on the back cupcakes.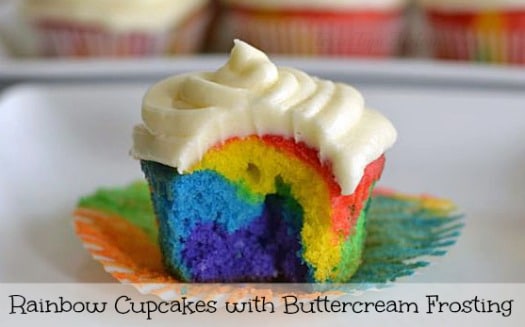 If you liked the idea of the rainbow layer cake but thought it might be a little too intimidating, I encourage you to give this recipe a try.  It's unique, fun, and still leaves a lasting impression without taking hours in the kitchen to make.  These rainbow cupcakes are perfect for birthdays or even your St. Patrick's Day celebration.