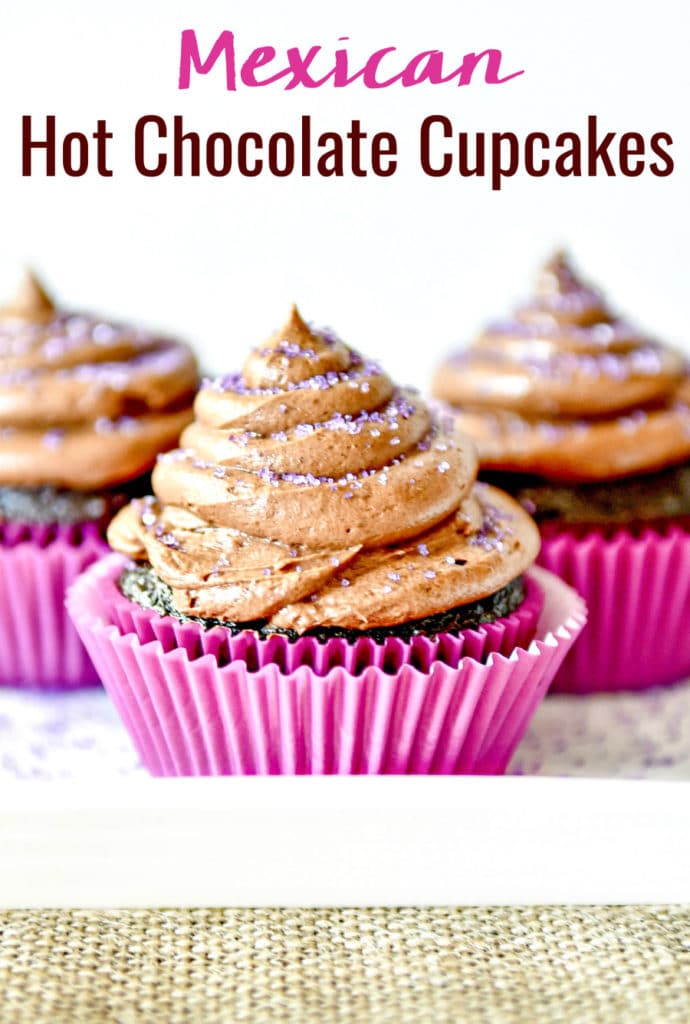 This Homemade Mexican Hot Chocolate Cupcakes Recipe was sponsored by Best Buy.
Homemade Mexican Hot Chocolate Cupcakes Recipe
Until we moved to Texas we never knew about Mexican hot chocolate. Who knew that there was a hot chocolate that was specific to Mexico?
Let alone that the flavors of it would inspire this homemade Mexican hot chocolate cupcakes recipe! But once you've tried Mexican hot chocolate, others just won't compare.
The deliciously creamy liquid may seem complex but is simply chocolate enhanced by the addition of cinnamon and cayenne pepper. Adding such basic and otherwise unassuming ingredients provide can totally transform basic chocolate cupcakes and frosting into an exciting and unique experience.
If you've never tried it before, this Mexican hot chocolate cupcakes recipe can renew your love of hot chocolate! I modified my homemade chocolate cupcakes recipe and my classic buttercream frosting recipe.
How to make Mexican Hot Chocolate Cupcakes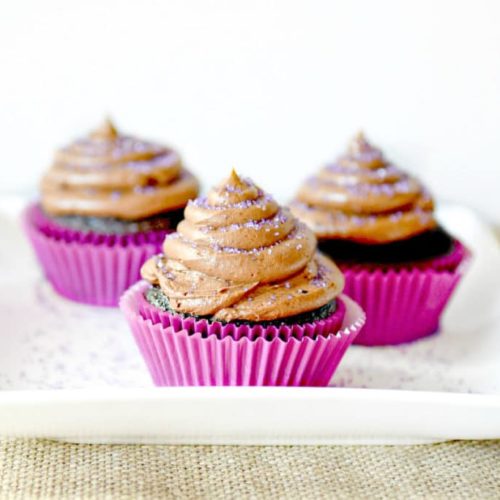 Homemade Mexican Hot Chocolate Cupcakes
Instructions
Cupcakes
Preheat oven to 350 F.

Line a cupcake pan with cupcake liners or lightly mist with cooking spray.

In a bowl combine flour, sugar, cocoa, baking powder, baking soda, and salt.

Whisk to combine.

In a separate bowl, with an electric mixer combine milk, oil, eggs, and vanilla.

Add to flour mixture until well combined.

Reduce speed and carefully add boiling water.

Beat on high speed for another 1 minute.

Using a cookie scoop or large spoon, measure approximately 1/4 cup of batter into cupcake liners and bake for 20-25 minutes or until a toothpick inserted in the center comes out clean.

Remove from the oven and allow to cool for 2 minutes before transferring to a cooling rack and another 30 minutes before frosting.
Frosting
Cream butter and salt until fluffy.

Mix in 1 cup of the powdered sugar.

Slowly mix in remaining powdered sugar and mix until thoroughly combined

Place desired tip (these cupcakes were made using a [url:1]Wilton #129[/url] inside a large piping bag.
Nutrition Facts
Homemade Mexican Hot Chocolate Cupcakes
Amount Per Serving
Calories 376
Calories from Fat 162
% Daily Value*
Fat 18g28%
Cholesterol 46mg15%
Sodium 357mg15%
Potassium 180mg5%
Carbohydrates 54g18%
Protein 3g6%
Vitamin A 420IU8%
Calcium 52mg5%
Iron 1.6mg9%
* Percent Daily Values are based on a 2000 calorie diet.
Looking for more homemade frosting recipes
You know what I don't like about making this homemade Mexican hot chocolate cupcakes recipe?! The dishes afterward.
I'm not the neatest baker and it often looks like a bomb went off when I'm done cooking. Not to mention after letting these chocolate cupcakes cool, the pan is usually looking a little crusty with all of the remnants that stuck to the cupcake tin.
Growing up my parents pretty quickly delegated all of the household chores between myself and my step-sister who moved in as a teenager. All of the chores were divided amongst us based on the time it took to complete. But some chores were something that could be done weekly and others had to be done daily and were obvious if you didn't get your chores completed. Like the kitchen.
When it came to cleaning the kitchen neither my sister nor myself wanted that job. Since my retired grandparents lived with us too and we were both homeschooled, that meant there were dishes going into the sink all day long. It felt impossible to keep up with it all.
That's why when I look for dishwashers as an adult, I always wanted the biggest one possible that can do all of the things (even delicate items) so I'm not spending my life doing dishes. And is another reason I like to shop for the latest and greatest dishwashers like the BOSCH 800 Series dishwasher at Best Buy!
What makes the BOSCH 800 Series dishwasher so special? It may only be 24″ wide but has room for 16 place settings, but thanks to RackMatic® there are also 3 different height levels and up to 9 possible rack positions, meaning you can customize every load for your needs. Plus, it has an optional 3rd rack with adjustable tines to fit all of those random things that never fit and you usually end up being forced to wash by hand.
You can also choose from 6 different wash cycles including five-level wash, 5 options like Extra Dry. And even if you choose the delay cycle, you don't have to worry because with the 24/7 Aquastop® your home and floors are protected thanks to the 4-part leak prevention system which uses special sensors to detect and stop leaks or turn off by itself. Anyone that's had water damage can appreciate the peace of mind this brings.
BOSCH is not only the quietest dishwasher brand in the U.S., it owns 5 of the top 10 drying scores out of 160 tested dishwashers and has the lowest repair rating according to a leading consumer publication. I want to wash less by hand and let the BOSCH dishwasher wash more so I can spend more time baking things like this homemade Mexican hot chocolate cupcakes recipe in the kitchen! Gear up for the busy holiday season and take a look at the BOSCH 800 Series dishwasher at Best Buy!