Learn how to make this easy rainbow cake recipe using boxed cake mix. This cool cake idea is perfect for birthdays! You can swirl the buttercream rainbow cake for a tie dye cake or make a 6 layer rainbow cake. No matter how you bake it, this big rainbow cake is the perfect dessert for every celebration!

Easy Rainbow Buttercream Cake
This homemade dessert recipe for a 6 Layer Rainbow Cake Recipe is easier than it looks thanks to boxed cake mix. The beautiful and vibrant colored layers really make a statement especially when it's topped off with a delicious homemade buttercream frosting!
Turning 30 is definitely a milestone birthday. Maybe not physically but definitely mentally.

So to celebrate turning 30, I wanted to do something a little bigger and more memorable for my birthday dessert. This was definitely more time consuming and elaborate production than the birthday cookie cake I made for my husband.
Or the Cars birthday cake I made for Brady. It was big, beautiful, and absolutely delicious!
And where does anyone go these days when searching for inspiration? Pinterest, of course!
I have zero experience working with fondant, so since I didn't want my cake to be an unappetizing mess I decided to look for something memorable that didn't include fondant.
One idea possibility that kept popping up was for a 6 layer rainbow cake recipe, hidden beneath some unassuming buttercream frosting. It looked pretty straightforward but made a big statement, so I went with it.


A picture from Martha of her multi layer cake was all I needed to start to work. I knew I wouldn't need to use or modify anyone's recipe though. I have absolutely no problem using boxed cake mix to make things easy.
It's fast, it's easy, and with two small kids running around it fits my needs perfectly. But how do you make a 6 layer rainbow cake recipe easy?
Well if you're looking for some birthday cake inspiration or something for your St. Patrick's Day party that will really wow all of your family and friends, then I'd definitely urge you to give this easy 6 layer rainbow cake recipe a try.
How to make a rainbow layer cake
To make this rainbow cake as easy as possible, you're going to want to start the night before. You'll start by making the buttercream frosting.
When the buttercream frosting is done, you'll begin making the layers between each color. You'll also freeze the buttercream frosting so it's easier to spread the next day.
It's totally ok if the buttercream frosting layer breaks. No one will ever know!
The next day, you'll make two boxes of white cake mix according to the packages. Then divide the cake batter into six bowls.
Once it's divide you'll add gel food coloring to each bowl to achieve the desired color for each layer. Then, transfer to disposable cake pans and bake.
Once the cakes are baked, allow to cool in pans for 10 minutes. Then invert on baking sheets to finish cooling.
After the cakes are cooled, use a serrated knife to make flat layers on top of each cake. This will allow them to stack more easily.
Before assembling the rainbow layers of your cake, prep a foil-lined baking sheet or cake stand. Starting with the purple layer, begin alternating layer of cake, layer of buttercream frosting until done.
A 6 layer cake can be pretty heavy. You can skip this step if you want, but I added three straws through the layers to add stability.
Cut the tops of the straws so they're flush with the cake.
Next you'll apply a thin layer of frosting all over the cake. This layer doesn't have to be perfect and is know as the crumb layer.
You don't want to skip the crumb layer step as it will help seal all of the crumbs in. It also helps ensure you'll have a smooth frosting layer.
After the crumb layer, apply a thick layer of buttercream frosting. I used the edge of a metal spatula to smooth out this cake, but you could also use a bench scraper if you're looking for perfection.
6 Layer Rainbow Cake with Easy Buttercream Frosting Recipe
6 Layer Rainbow Cake Recipe with Easy Buttercream Frosting
This homemade dessert recipe for a 6 Layer Rainbow Cake Recipe is easier than it looks thanks to boxed cake mix. Nonetheless, the beautiful and vibrant colored layers really make a statement especially when it's topped off with a delicious homemade buttercream frosting!
Ingredients
For Cake:
2

boxes white cake mix

6

eggs

2/3

c.

canola or vegetable oil

2.5

c.

water

Wilton Gel Food Coloring

6 disposable cake pans

wax paper
Ingredients for Buttercream Frosting
1

c.

unsalted butter

2 sticks, room temperature

4

Tbsp.

milk

4

tsp.

clear vanilla extract

4

c.

powdered sugar
Instructions
The night before preparing the cakes and assembling, using a piece of wax paper and a pencil trace the outline of the bottom of your cake pan.  You can use the disposable cake pans for tracing but the disposables I bought had a curved bottom so I used my own 9" cake pan which had a uniform edge.  From your template, you're going to make 14 circles made of wax paper for this project.

Cut out the circular wax paper pieces.

Mix all buttercream frosting ingredients together until desired consistency.  If your frosting ends up too thick, continue adding milk 1 tablespoon at a time until the mixture is what you're looking for.

Spread a thin layer of buttercream frosting on a wax paper cake pan template.  Cover with a new circle and repeat, stacking your layers of buttercream frosting, until you have one wax circle left to place on top.  You will have one extra layer of buttercream frosting in case any of your layers fall apart during assembly.

Carefully place your dividing layers of buttercream in the freezer until ready to assemble your cake the following day.

Refrigerate remainder of buttercream frosting until ready to frost cake.

Set aside remaining wax circles until the following day when you'll coat with cooking spray and use these to line the bottom of your disposable baking pans.  Lightly spray additional cooking spray to sides of cake pans.

The next day, preheat your oven according to cake mix box directions - usually 350 degrees.

Mix cake mix, eggs, oil, and water together until blended (about 2 minutes).

Evenly divide cake batter in mixing bowls.

Add gel food coloring to each individual bowl, adding a small amount at a time until you achieve your desired colors.

Pour batter into baking pans and place all pans in oven to cook for approximately 8-12 minutes. Make sure to keep an eye on your cakes during this stage as cooking times will vary and these cakes are very thin.

Once cakes are done, allow to cool in pan for 10 minutes before inverting pans on baking racks to finish cooling.

When the cakes are cooled, if needed using a serrated knife cut tops to make flat edges for the layers.

On a cake stand or foil covered surface, place your bottom layer of cake followed by a frozen layer of buttercream frosting. Continue alternating cake and frosting until all layers are assembled. Since this cake is so heavy, I cut three straws to the height of the cake and stuck them into the cake to provide stability.

Icing a cake this size can be really tricky. I used a plastic spatula to plop some frosting on top of the cake, then I used a metal offset spatula to smooth it all over creating a thin layer to seal in the crumbs. Then repeat using more icing and spread an even layer of buttercream frosting on your cake. You can use the edge of your metal spatula to smooth things out. If you're looking for an even smoother, more finished look I've heard a bench scraper would really make a difference and get the job done perfectly.
Recipe Video

The rainbow cake frosting on this cake is really unassuming. But it's sure to surprise those around when the beautiful rainbow is exposed beneath.
To add a little more color to the outside, you could always decorate it with sprinkles, candies, or other colors of icing.
Have you ever tried your hand at a 6 layer rainbow cake recipe? For more easy cake recipes and rainbow cake ideas, check out the other fun creations below!
Pin this rainbow buttercream cake for later!
More buttercream frosting recipes:
Check out these rainbow recipes:
Tie Dye Rainbow Cupcakes with Buttercream Frosting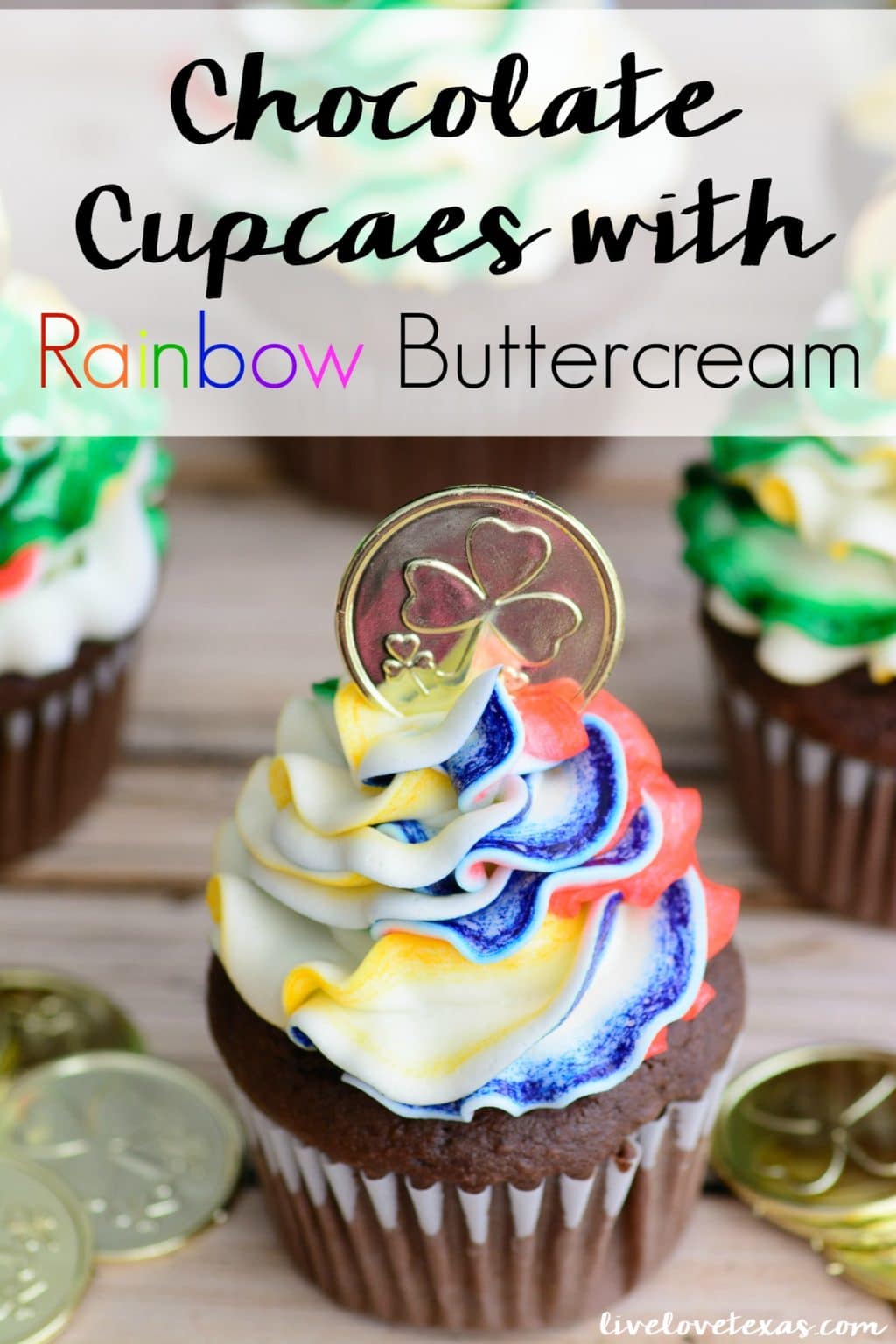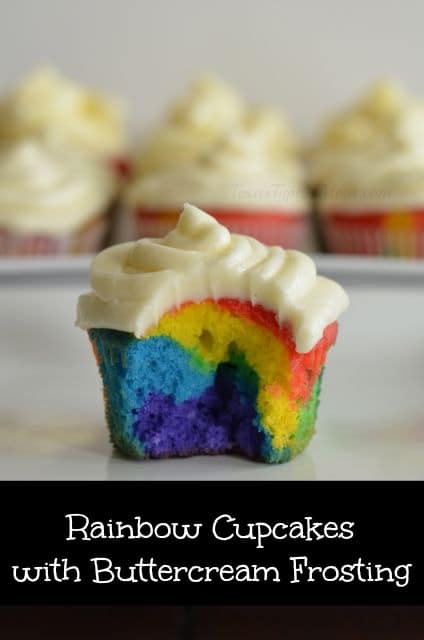 Chocolate Cupcakes with Rainbow Buttercream Frosting