This easy meringue cookies recipe uses only 5 ingredients and is so delicious. These egg white cookies are perfect for parties, holidays, and celebrations.

How to Make Easy Meringue Cookies
I love me a good cookie as much as the next person. But when I want to be fancy, I like to do something different unexpected.
When you're short on ingredients, meringue is where it's at. This French dessert has a base of egg whites, sugar, and cream of tartar.
I like to add two teaspoons of vanilla extract for a little more flavor. So technically these are vanilla meringue cookies.
You could also add other flavorings as well like lemon or almond. And food coloring makes these meringue drops more colorful and festive.
Meringue Ingredients
Egg whites
Food Coloring (I like this brand because it's easy to adjust the hue and there are so many options.)
Are meringue drops a candy or a cookie?
This meringue recipe could be considered a candy and a cookie!

How do you make meringue without cream of tartar?
To make meringue without cream of tartar, substitute an equal amount of lemon juice or white vinegar.
Do meringue cookies need to be refrigerated?
No, this egg white dessert recipe does not need to be refrigerated.
Can you freeze meringue cookies?
You can freeze these cookies, however, be careful they don't absorb moisture because it will cause them to soften.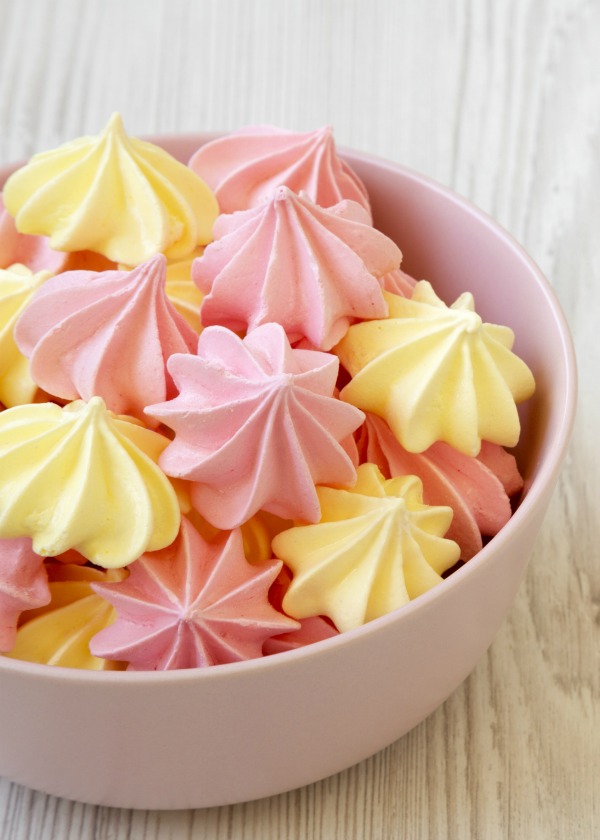 How long do meringue cookies last?
Meringue cookies will last 1-2 weeks when stored in an air-tight container.
More cookie recipes:
Don't forget to pin this meringue cookie recipe for later!
Easy Meringue Cookies
Print the recipe card below so you'll know how to make the perfect cookies for desserts, parties, or holidays!
Easy Meringue Cookies
Get ready to create the perfect meringue with only 5 ingredients using this easy meringue cookies recipe. These cookies melt in your mouth!
Instructions
Preheat oven to 225°F.

Beat egg whites in large bowl with electric mixer on medium speed until frothy. (If using a freestanding mixer, use the wire whisk attachment.) Add cream of tartar; beat until soft peaks form. Increase speed to medium-high. Add sugar, 1 tablespoon at a time, beating until sugar is dissolved and stiff peaks form. Beat in extract and food color until well blended. Gently stir in chips, if desired.

Drop by rounded measuring teaspoonfuls about 1 inch apart onto 2 large foil-lined baking sheets sprayed with no-stick cooking spray.

Bake both sheets of meringues at the same time 45 minutes. Turn oven off. Let meringues stand in oven 1 hour or until completely cooled.
Nutrition Facts
Easy Meringue Cookies
Amount Per Serving
Calories 75
* Percent Daily Values are based on a 2000 calorie diet.