Make an impression with these Rosé Cupcakes with Rosé Buttercream Frosting! This is an easy wine dessert for a girls night out or Galentine's Day in. These boozy cupcakes are the ultimate in boxed cake hacks.
This recipe for cupcakes with rosé buttercream frosting to celebrate Galentine's Day was sponsored by Llano Estacado Wine.
Recipe for Cupcakes with Rosé Buttercream Frosting to Celebrate Galentine's Day
Happy belated Galentine's Day!
Wait. What?!
What is Galentine's Day?
Galentine's Day is a holiday started based off of season 2 episode 16 of Parks & Recreation as a way for women to celebrate the other women in their life.
When is Galentine's Day?
Galentine's Day is on February 13th. The day before Valentine's Day.
Galentine's Day Gifts
Not only is it a great time to celebrate your friendships with women, but it's also a time that single women are able to join in the fun of Valentine's Day without a significant other. That means gifts are exchanged.
Depending on how many girls you're exchanging gifts with, it can really add up. So check out these 5 Galentine's Day gift ideas under $10!

5 Galentine's Day Gift Ideas Under $10
1. Homemade beauty products.
If you're really on a budget, going the DIY route is definitely cheapest. You can make easy homemade sugar scrubs with just a few ingredients that you probably already have around the house.
2. Flowers.
Who says a man needs to bring you flowers? Flowers are one of the simple gifts that always put a smile on my face.
You don't have to go crazy either. Grocery stores around Austin have dozen rose specials for less than $10.
Or you could go with a seasonal flower mix. It's the thought that counts, right?!
3. Fun accessories.
Think about all of those little quirky items you see online and in magazines. Grab some of those for your girls.
Think fun notebooks, makeup bags, or wine glasses. And you don't have to spend a ton.
Just hit up the dollar spot. That's where I got the wine glasses below!
For me, Galentine's = my gals + wine! Gift your girlfriends your favorite Llano Estacado Wines and have a Girl's Night In.
A true pioneer in the Texas wine industry, Llano Estacado Winery has been driven to uncork the potential of vintages produced on Texas soil since 1976.
Now, Llano Estacado Winery is the largest, best-selling premium winery in Texas, producing wines of world-class quality and introducing not just Texans but the entire world to the fine wines made in the Lone Star State.
Llano Estacado is licensed to ship wine to the following states: Arizona, California, Colorado, Florida, Georgia, Hawaii (Honolulu), Illinois, Iowa, Louisiana, Minnesota, Missouri, Montana, Nevada, New Mexico, New York, North Carolina, Oregon, Tennessee, Texas, Washington, West Virginia, Wyoming.
To learn more about Llano Estacado Wine or purchase it, check out their website. Llano Wines are also available at statewide retailers in Texas and at select retailers nationwide.
My Llano Estacado Wine pick for Galentine's Day is Rosé. I mean look at that color, nothing could be girlier and more refreshing!
You can always theme your Galentine's Day party by doing a pajama or spa party. Or, you could have a decorating party.
A cupcake decorating party! Now you can drink your wine and bake with it too!
5. Cupcakes.
Who isn't guilty of drinking while they bake? So why not add some of that wine to your dessert recipe too?
These boozy cupcakes are so simple to make but taste amazing. It's so easy to take a basic box of cake mix and really make it perfect your girl's night in!
Making the cupcakes is easy. It all starts with a boxed white cake mix and just swapping the water for Llano Estacado Rosé.
That's all you have to do to give the cupcakes a little extra flavor. Unfortunately, the wine does cook off while baking but don't worry, you'll be topping it with this Rosé Buttercream Frosting!
How to make Rosé Buttercream Frosting
Print this recipe card so you can celebrate Galentine's Day or just Happy Hour with these Rosé Buttercream Frosted Cupcakes.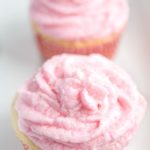 Rosé Buttercream Frosting
This boozy dessert recipe is super easy to make. You'll use a boxed white cake mix and basic buttercream frosting recipe and add Rosé wine to both. This will give you Rosé Wine Cupcakes topped with Rosé Buttercream Frosting.
Instructions
Cream butter until fluffy.

Stir in vanilla extract and Rosé.

Mix in 1 cup of powdered sugar at a time into butter mixture until thoroughly combined.

Scoop frosting into piping bag or plastic bag with a corner clipped off.

Pipe onto cooled cupcakes.
Recipe Notes
Note: If your frosting is too thin, add 1 tablespoon of powdered sugar at a time until desired consistency.
Nutrition Facts
Rosé Buttercream Frosting
Amount Per Serving
Calories 148
Calories from Fat 63
% Daily Value*
Fat 7g11%
Cholesterol 20mg7%
Sodium 67mg3%
Potassium 2mg0%
Carbohydrates 20g7%
Vitamin A 235IU5%
Calcium 2mg0%
* Percent Daily Values are based on a 2000 calorie diet.
How do you celebrate Galentine's Day? Or, do you? Share your ideas with how you celebrate!
Looking for more buttercream frosting ideas? You'll love these recipes:
Don't forget to pin these White Cupcakes with Rosé Buttercream Frosting for later!