Try out some of these cherry dessert recipes and just try to pick a favorite! From pies and cookies to frozen desserts and drinks – these treats are unique!
43 Sweet and Tart Cherry Desserts You Need to Try
This little post is like a min-cookbook! Pin this post, you will definitely want to come back for it later. I found the best cherry recipes I could find and organized them by type. Here is what you will find in this delightful round-up:
Cherry Cupcakes
Frozen Cherry Desserts
Cherry Drinks
Cherry Cookies
Cherry Cheesecakes
Cherry Pies
Cherry Brownies
Cherry Cakes
Super Creative Cherry Recipes
Are you ready to find something you will love? Here you go!
4 Easy Cherry Cupcakes
Let's start with my favorite – cupcakes! Each of these is a unique spin on a classic – with a cherry on top.
Chocolate Ganache Cupcakes with Cherry Buttercream Frosting from Live Love Texas – I made these and if you love the combination of chocolate and cherries, you have to make these. I even share a recipe for cherry buttercream frosting!
Maraschino Cherry Cupcakes from Thrifty Jinxy – These cupcakes are extra sweet – so if you have a really big sweet craving, gift these a shot.
Cherry Almond Cupcakes from Julie's Eats & Treats – The almond gives these cupcakes an extra deep flavor profile and cuts the sweetness down a notch, which is just perfect.
Cherry Lemon Cupcakes from April Golightly – Who knew cherry and lemon went so well together? April did!
5 Frozen Cherry Desserts That Are Perfect Anytime
When it's hot outside or you are just craving something frozen, give something on this list a try.
Cherry Amaretto Ice Pops from Live Love Texas – These are adult popsicles, so bring them out when you are having a BBQ, they are amazing!
Roasted Peach & Cherry Coconut Popsicles from The Forked Spoon – When you want the flavors of an Island getaway, whip up some of these!
Cherry Blender Sorbet from Yummy Healthy Easy – As a self-professed ice cream addict, I fell in love with this sweet and tart sorbet.
No-Churn Cherry Chocolate Chunk Ice Cream from Eat Picks – The no church ice creams are so easy – even the kids can help you make them. And this one has chunks of real chocolate in it.
Homemade Cherry Popsicles from The Bewitchin Kitchen – This is perfect on a hot day and has just 3 simple ingredients!
6 Perfect Cherry Drinks
There is something for everyone in this list – adults and kids alike.
4 Cherry Cookies That Will Surprise You
Yes! Ther are more ways to make cherry cookies than just mixing with chocolate chips. And some of them are so gooey, you'll need a fork.
6 New Ways to Make Cherry Cheesecake
Think beyond cherry topping and try one of these astonishing new cheesecakes.
Dr Pepper Cherry No Bake Cheesecake from Live Love Texas – You read that right. Read on and see how to make cheesecake with Dr. Pepper.
Cherry Cheesecake with Oreo Crust from Simply Stacie – Honestly, the Oreo crust is what makes this cheesecake so memorable.
Cherry Cheesecake Eggrolls from Spend With Pennies – This takes cherry cheesecake and turns it into finger food.
Cherry Cheesecake Monkey Bread from The Typical Mom – If you love sticky-sweet desserts, this monkey bread is heavenly!
Mini Chocolate Cherry Cheesecakes from A Grande Life – The small size of these little cheesecakes is so adorable. They are perfect for bridal showers.
Cherry Cheesecake with Sugar Cookie Crust from The Bewitchin Kitchen – Have you ever made a cheesecake with sugar cookie crust? Give it a shot, it turns out crunchy and perfectly sweet.
Classic Cherry Pie in 3 New Ways
How's that saying go? As American as cherry pie! Well, try the classic but with a few new twists.
Cherry Pie Recipe with Lattice Crust from Savory Sweet Life – If you ever wondered how to do a lattice crust on a cherry pie, this post is for you. The tutorial is super easy to follow, even for beginning bakers.
Easy Cherry Crumble Pie from Singing Through the Rain – When you don't have much time to fuss with a crust, make a crumble topping.
Cherry Hand Pies from Eat Picks from Eat Picks – Hand pies are perfectly portioned treats that have a flaky crust around super gooey cherry yumminess.
2 Blissful Cherry Brownies
I found two of the very best cherry brownie recipes out there! Go to the original recipe pages and pin them, they are out of this world.
Cherry Brownies from The Typical Mom – They are perfectly portioned brownies with frosting on top!
Cherry Bliss Brownies from Dear Crissy – I love the marbling on the top with the cherries filling in all the cracks. You'll need to eat these with a fork.
3 Ways to Celebrate with Cherry Cake
If you have an upcoming celebration, make one of these stunning cherry cakes.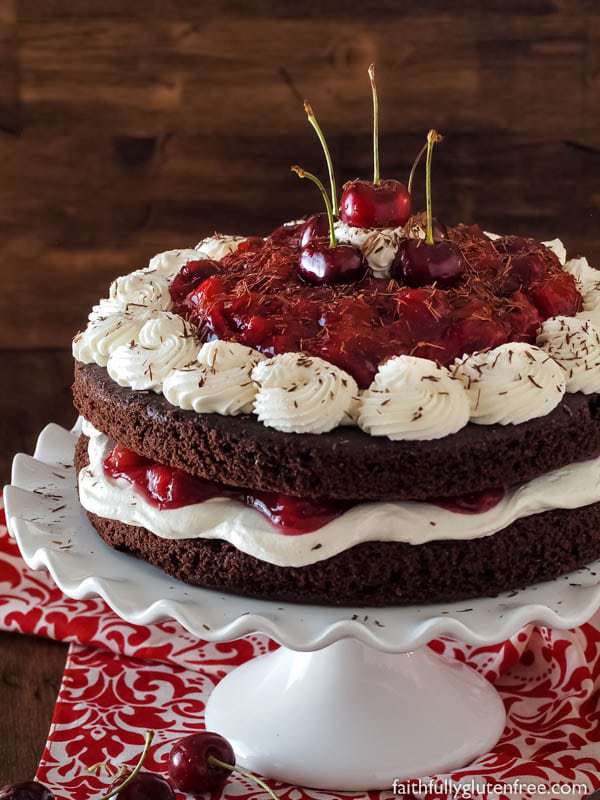 Flourless Black Forest Cake from Faithfully Gluten Free – This is the cake pictured above and it is stunning! You won't even miss the flour.
Cherry Pineapple Dump Cake from The Typical Mom – Dump cakes are some of my favorites to make because they are incredibly simple. But this cake elevates beyond typical dump cakes because it has the tang of pineapples.
Cherry Coffee Cake from Chic N' Savvy Reviews – This is a perfect last-minute dessert. It can be made in just 30 minutes.
10 More Creative Cherry Recipes
Finally, here are some super fun recipes that didn't exactly fit in any of the categories above. But all of them are incredible. Try something new.
The Charm of Cherries
Did you find a new cherry recipe to try out? Cherries are wonderful year-round. Cherries are typically in season in the summer – from around May to August. But lots of these recipes used canned pie filling.
Try a few new recipes and experience the sweet-tart combination of cherries.
Before you start making these cherry recipes, you need to have the right oven. The LG combination double wall oven gives you the flexibility and convenience you need. You get the even cooking of convection with the speed of a microwave.
Who would have thought possible?! With the LG TurboCook™ Speed Oven, you can bake whole chickens, pizzas and more—without preheating. This means you can cut cook times by 2-4 times!
With LG True Convection you can get the precise temperature to give you the food you want. It means everything is always evenly cooked on the outside and perfectly crisp on the outside.
LG isn't just about function, it's also about form. The LG Black Stainless Steel Series takes the traditional stainless steel look to a new level. It has a satin finish that perfectly complements every kitchen with modern style.
More Dessert Recipes
Next, check out some of these dessert recipes. Happy Baking!