Did you know Las Vegas is family friendly and the perfect place for your next vacation? This is the ultimate guide of kid friendly Las Vegas insider tips!
Kid Friendly Las Vegas
Wherever our family goes, we always travel together. There aren't destinations that we think are adult-only and don't bring the kids along. We turn every place we go into a family-friendly experience. Find out how to plan a kid friendly Las Vegas vacation with these tips!
That's not to say we only travel to Disney World or center our trips on kid-centered places all the time. We do those things too, but we make the trip work for the entire family. We've just taken our kids to enough places that they know how to hang with adults and the proper expectations when we're in social settings.
But you know what? Those trips to Disney and Great Wolf Lodge aren't even their favorite trips we've ever taken. And maybe they're on to something and should read why you shouldn't visit Disney.
And you know what? They're not ours either.
Sure we had a great time spending time together but that's just not us.
They love our trips to the beach and to the mountains to see the snow. But we do those regularly enough that those trips kind of blend together. As of right now, one of their favorite trips is to a city you might not think of as kid-friendly.
Las Vegas.
Kid Friendly Las Vegas Insider Tips
1. Choose your hotel based on location.
This may be the most essential of kid-friendly Las Vegas insider tips. On our family vacation to Las Vegas, we stayed at the Mandalay Bay because my husband and I had always to stay there yet never had. It was a beautiful hotel and we had no complaints about the room, service, or view. What we should have thought about was how far it was from every other place we wanted to visit on the Strip. My suggestion would be to stay Center Strip so you're centrally located to wherever you want to go.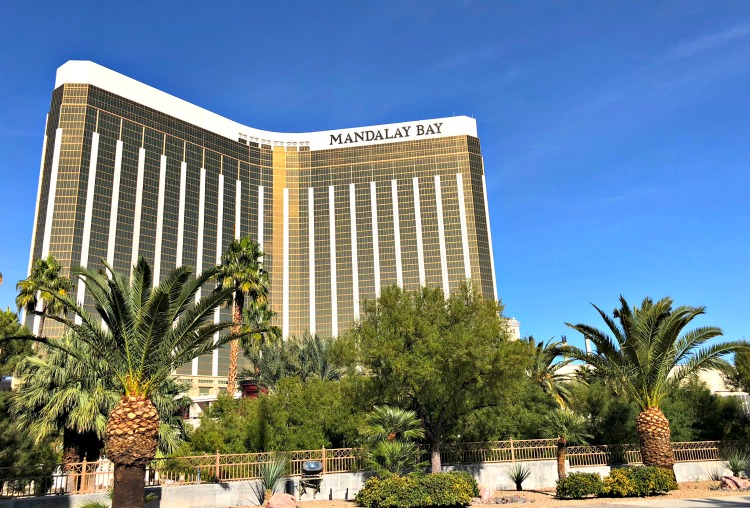 2. Plan for downtime.
Looking at your hotel's pool and making sure it will be open during your stay will give you some fun, free, low key entertainment and a way to relax after all of the walking. This is most important in summer, but I remember growing up that if there was a pool at a hotel I wanted to be in it. The Mandalay Bay pool consistently gets ranked at the top of all pools on the Las Vegas Strip and while we did get to see the pool, we didn't actually get to swim in it because of the time of year. So before you book, make sure the pool is still open when you visit. My top three picks for kid friendly Las Vegas hotels with pools are at Mandalay Bay, MGM Grand, and Mirage.
3. Consider the length of your trip.
We traveled to Las Vegas for 5 days even though the airfare was the same for a 3 or 4-day trip as well. Going in, my mindset was this would give us time to be leisurely and not rush through everything.
In retrospect, we should have gone with the 3-day trip. I also overestimated how enamored they'd be with the lights and all there was to do. While it was like this at first, they were done after the third day. This may have been different if the hotel pool had been open so we had a chance for more relaxing.
You might also like: Things to Do With Kids on the Las Vegas Strip
4. Plan your day in advance.
Knowing where all of the things you want to do are located will save you time walking and money from multiple Uber rides to do stuff you forgot was in the area. While there's a ton of free things to do with kids in Vegas, the rides will cost you money so again, planning ahead is key.
You'll be walking a lot so make sure everyone is comfortable and you don't tire yourself any more than necessary by carrying a tired kid. Comfy shoes are the most basic kid friendly Las Vegas insider tip.
In case you haven't heard, Las Vegas is in the desert. Aside from the summer, this means cool mornings and nights and warm days. But that's not to say it doesn't get cold in Vegas. It does and I've even seen it snow there before. Dressing in layers is usually the best way to dress for the entire family if possible. Otherwise, you or your spouse will end up looking like a sherpa hauling all of those bulky coats around.
You're going to get tired. Walking up and down the Las Vegas Strip is something we did before we had kids, but that's just not something any of us want to do. At least not roundtrip. There are a ton of different options to take you directly to the spots you want to visit on the Strip. You can get a bus pass, ride on the monorail, or hop in an Uber fairly inexpensively. Believe me, these rides will save you from complaints and crankiness. You can get your first Uber ride free by signing up with my referral link. Or, if you already have an Uber account, you can download the Lyft app using my referral link and get up to $15 in Lyft ride credits. If you and your spouse both sign up for your own Uber and Lyft accounts, that's four free rides for your trip to Las Vegas!
As with any trip, packing snacks is another key to a successful kid friendly Las Vegas vacation. There's no shortage of shops or restaurants to get food on the Strip, but snacks in the hotel gifts shops and even at the drugstores are way overpriced. And if you have room to bring quick breakfast items like bars or mini muffins, you'll save quite a bit on breakfast each morning. It'll also help you survive the plane ride. Especially if you get a crazy deal on a budget airline like we did that charges for every. single. thing.

Not only will you be able to refill your bottle for free after you've passed security at the airport, but you'll also save a ton of money. Four dollars seems to be the normal price for bottles of water unless you go to CVS or Walgreens. While I usually carry an insulated water bottle at home, I like to use a water bottle with a built-in filter like this one to help remove any strange flavors or minerals in tap water. Again you're in the desert and it's super dry so you'll need to stay hydrated…especially with all that walking.
You'll likely be out and about for most of the day, make sure your devices don't die when you really need them. Like while waiting in line for a restaurant with hungry kids.
If you want to get out there and travel with your kids and don't forget to pin these kid friendly Las Vegas insider tips for later!
More insider travel tips:
More family travel tips: