If you're looking for a flavorful and unexpected Thanksgiving side dish, you need to try this Roasted Butternut Squash recipe. Butternut squash, feta cheese, and dried cranberries come together to make one delicious veggie side dish!
Roasted Butternut Squash Recipe
When you think of fall veggies, what comes to min? For me it's squash. Butternut squash to be exact.
There's something about the colors and flavor that just scream fall. Plus, it has such a versatile flavor that you can turn it into a sweet or salty side.
What is butternut squash?
Butternut squash is a winter squash that grows on a vine and has a sweet flavor similar to pumpkin.
What does butternut squash look like?
This winter squash is a tan, bell-shaped gourd with yellow-orange flesh.
How to cut butternut squash
The easiest way to cut a butternut squash is to cut off the ends first. Then, slice it in half length-wise and in half again. Peel each of the long pieces first with a vegetable peeler or paring knife. When you get to the bottom of the squash, scoop out the seeds and throw away before peeling each side. Cut the rest of the squash into bite-sized cubes.
How to roast butternut squash
Roasting butternut squash is the easiest way to cook it! To roast a butternut squash, preheat your oven to 400 degrees. In a medium bowl, lightly coat butternut squash with 2 tablespoons of extra-virgin olive oil and 1/2 teaspoon each of salt, pepper, and garlic powder. Place on baking sheet and roast for 20-30 minutes or until tender, but still firm.
Roasted Butternut Squash with Dried Cranberries & Feta Cheese
You're never going to believe just how easy it is to make this Thanksgiving side dish. This is such a flavorful and unexpected veggie for the Thanksgiving table. But definitely something everyone is going to want more of!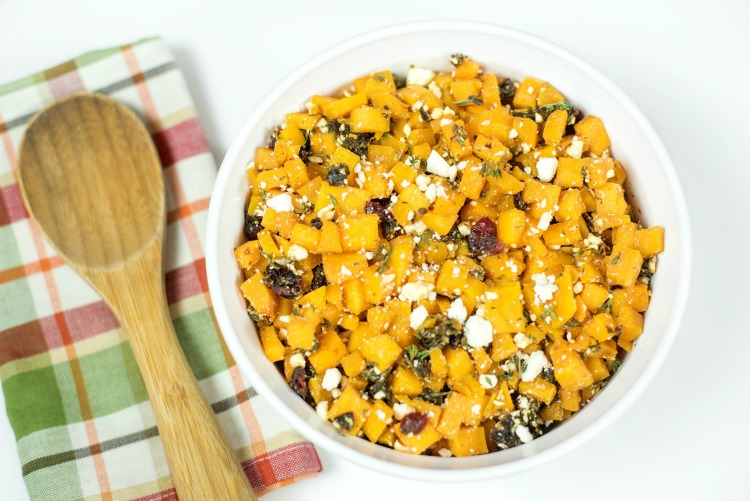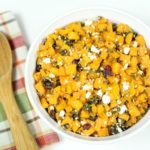 Roasted Butternut Squash with Dried Cranberries & Feta
This Roasted Butternut Squash recipe has all the flavors of fall and makes an unexpectedly delicious veggie side dish for Thanksgiving.
Instructions
Preheat oven to 400 degrees F.

In a medium mixing bowl, coat butternut squash with olive oil and spices.

Roast in preheated oven for 20-30 minutes or until tender but still firm.

Remove from oven, transfer to serving dish, and mix with dried fruit and feta cheese.

Top with fresh thyme and serve!
Nutrition Facts
Roasted Butternut Squash with Dried Cranberries & Feta
Amount Per Serving
Calories 196
Calories from Fat 63
% Daily Value*
Fat 7g11%
Cholesterol 11mg4%
Sodium 339mg14%
Potassium 470mg13%
Carbohydrates 32g11%
Protein 3g6%
Vitamin A 13450IU269%
Vitamin C 29.9mg36%
Calcium 133mg13%
Iron 1.5mg8%
* Percent Daily Values are based on a 2000 calorie diet.
More Roasted Butternut Squash Recipes:
Other Thanksgiving recipes:
If you need some more Thanksgiving ideas, here are some of my favorites.
Make sure you pin this Roasted Butternut Squash for your Thanksgiving feast!