This delicious roundup of 20 Spicy Thanksgiving Side Dishes is sure to add a little spice and a little flavor to any Thanksgiving feast! So if you need a few different ideas, give one of these a try!
Thanksgiving Side Dishes
While a Thanksgiving dinner usually will include some version of a turkey, the side dishes are just as important if not more so than the main dish since so many supporting characters are needed for this event. Meal planning can also make preparations for the holiday so much easier, and less stressful.
These 20 spicy Thanksgiving side dishes include fall ingredients such as sweet potatoes, butternut squash, and carrots. Some of the recipes are classics, while others are on the non-traditional side – just in case you want to keep things fresh and have some variety on your Thanksgiving table this year.
Nevertheless, all of them have something in common – they're all spicy Thanksgiving side dishes! Because life is always better with flavor, right?
20 Spicy Thanksgiving Sides
This list of Thanksgiving side dishes is full of the hottest peppers and boldest spices. Try something new. Don't forget to pin this post so you can try all of the recipes at least once.
Moroccan-Spice Roasted Butternut Squash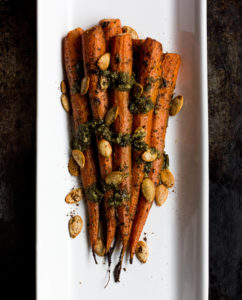 Moroccan-Spice Roasted Butternut Squash – Bowl of Delicious
Butternut Squash is already a winter squash, so it's perfect for Thanksgiving. The spices that bring the heat in this dish are a combination of coriander, ginger, and cumin.
Spicy Bourbon Glazed Carrots
Spicy Bourbon Glazed Carrots – The Chunky Chef
When you glaze your carrots with this spicy bourbon sauce, you won't believe the flavor! This is perhaps one of my favorites.
Jalapeno Cheddar Cornbread Stuffing
Spicy Jalapeno And Cheddar Cornbread Stuffing – Jones Dairy Farm
Everyone loves stuffing. But add some jalapeno to that stuffing and you have a kicking side dish.
Spicy Roasted Pumpkin with Honey and Feta
Spicy Roasted Pumpkin With Honey And Feta – Bourbon and Honey
Take roasted pumpkin to a whole new level with these spices. You will love it. Plus, it just looks beautiful! You will assuredly impress your guests with this pan of colorful roasted veggies.
Spiralized Sweet Potato Noodle Casserole
Spiralized Sweet Potato Noodle Casserole – Just a Taste
Sweet potato casserole is a Thanksgiving staple. But when you spiralize it and season it with nutmeg and cinnamon, you have something completely different.
Sweet and Spicy Brussel Sprouts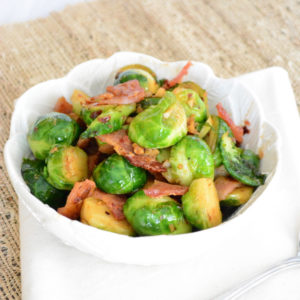 Sweet And Spicy Brussel Sprouts – Cooking and Beer
Even people that don't like Brussel sprouts will love these. Maybe it's the beer that's in the sauce. Maybe it's the kick of the Sriracha. Or, maybe it's the bacon. These are not like any Brussel Sprouts you've ever tasted.
Horseradish Mashed Potatoes
Horseradish Mashed Potatoes With Caramelized Onions – The Chunky Chef
Mashed potatoes are amazing at Thanksgiving. Season them with horseradish for a side dish that will make your taste buds stand at attention. You don't need very much. The dijon mustard and heavy cream in the recipe take these potatoes beyond a boring Thanksgiving side dish.
Tempeh Sausage and Kale Stuffing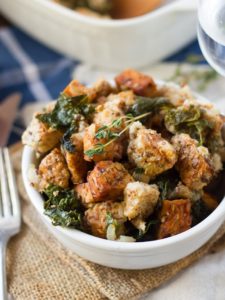 Tempeh Sausage & Kale Stuffing – Connoisseurus Veg
If you haven't tried to make stuffing with Kale yet, this is the perfect place to start. Plus, it's a vegetarian side dish.
Spicy Mushroom Rice
Spicy Mushroom Rice – Mantitlement
What makes this recipe so amazing is the jalapeno and marsala wine. You don't normally think of rice as a Thanksgiving side dish, but if you bring this to dinner, everyone will want seconds.
Spiced Sweet Potato and Bacon Skewers
Spiced Sweet Potato And Bacon Skewers Recipe – Homecooking Memories
Everything is better with bacon – even sweet potatoes. The combination of brown sugar and cayenne pepper is smokey, hot, and sweet.
Honey Sriracha Roasted Carrots
Honey Sriracha Roasted Carrots – Closet Cooking
Sriracha is one of those hot sauces that goes in every dish. The sweetness of the honey with the zest of the peppers is out of this world.
Spicy Asian Meatballs
Spicy Asian Meatballs – Girl and the Kitchen
These are made with Panko breadcrumbs and Hoisin sauce, among other ingredients. They are incredible!
Roasted Carrots with Pesto Butter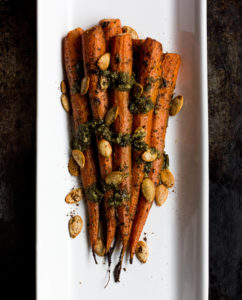 Roasted Carrots With Pesto Butter And Spicy Pumpkin Seeds – Whole Bite Blog
You'll want to use this pesto butter in other recipes too, so Pin this recipe for later.
Spicy Roasted Butternut Squash – Thanksgiving Side Dish
Roasted Butternut Squash With Moroccan Spices – Kalyns Kitchen
This is different than the first recipe. This recipe has a few different spices, see if you can tell the difference. For me, it was the sweet paprika that made this recipe stand out.
Spicy Southern Hot Corn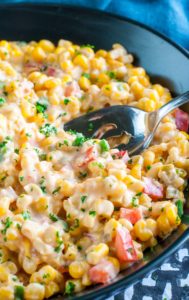 Spicy Southern Hot Corn – Peas and Crayons
There are both jalapenos and pickled jalapenos that gives this dish the heat.
Cheesy Jalapeno Corn Casserole
Cheesy Jalapeno Corn Casserole – Spicy Southern Kitchen
This is almost the same kind of casserole but with different cheeses and a few different spices.
Loaded Scalloped Potatoes
Loaded Scalloped Potatoes – Chef-in-training
These look so beautiful and are topped with tons of cheese and bacon. They are wonderful for Thanksgiving, or you can just make them anytime for dinner.
Bourbon Sweet Potatoes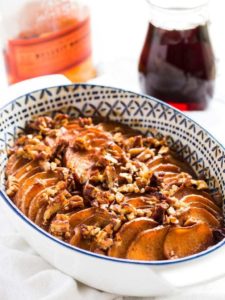 Bourbon Sweet Potatoes – If You Give a Blonde a Kitchen
You have got to make these. The bourbon leaves a sweet and tangy spice to the sweet potatoes.
Spicy Mashed Sweet Potatoes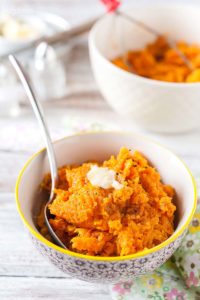 Spicy Mashed Sweet Potatoes – Imagelicious
These mashed sweet potatoes are filled with both cayenne pepper and chili powder.
Gluten-Free Quinoa and Wild Rice Dressing
Gluten-Free Quinoa & Wild Rice Dressing (Stuffing) – The Cozy Apron
If you need a gluten-free Thanksgiving side dish, try this Quinoa and wild rice dressing. It's incredible!
Are there any other spicy Thanksgiving side dishes that you love? Let's continue the conversation on Facebook and let me know!
More Thanksgiving Recipes
Want some Thanksgiving snack ideas or colorful and sweet treats? Here are some of my favorite fun recipes that I created: