This post is part of a social shopper marketing insight campaign with Pollinate Media Group® and Dove, but all my opinions are my own. #pmedia #pmgdove #DovePartner #EssentialUpgrade http://my-disclosur.es/OBsstV I've partnered with Dove to tell you all about their Dove Advanced Care Antiperspirant.
It's only May, but living in a warm weather climate, our family has already had one beach vacation this season. Another one is coming more quickly than we're ready for.
Next week, we'll be heading to Florida and going on the beach vacation that we look forward to each and every year. This is our annual vacation and something that we can't imagine giving up. This trip is the one that memories are made of and that our girls will remember.
Everyone knows about those beach bag must have items that aren't really beach bag, since you wear them to the beach but are definitely must haves. You know a floppy sun hat (which after one too many face burns a friend diagnosed with melanoma is a necessity), oversized sunglasses, figure flattering bikini with coordinated pedicure, and cute sandals. The must have's that are a mix of glamour and necessity.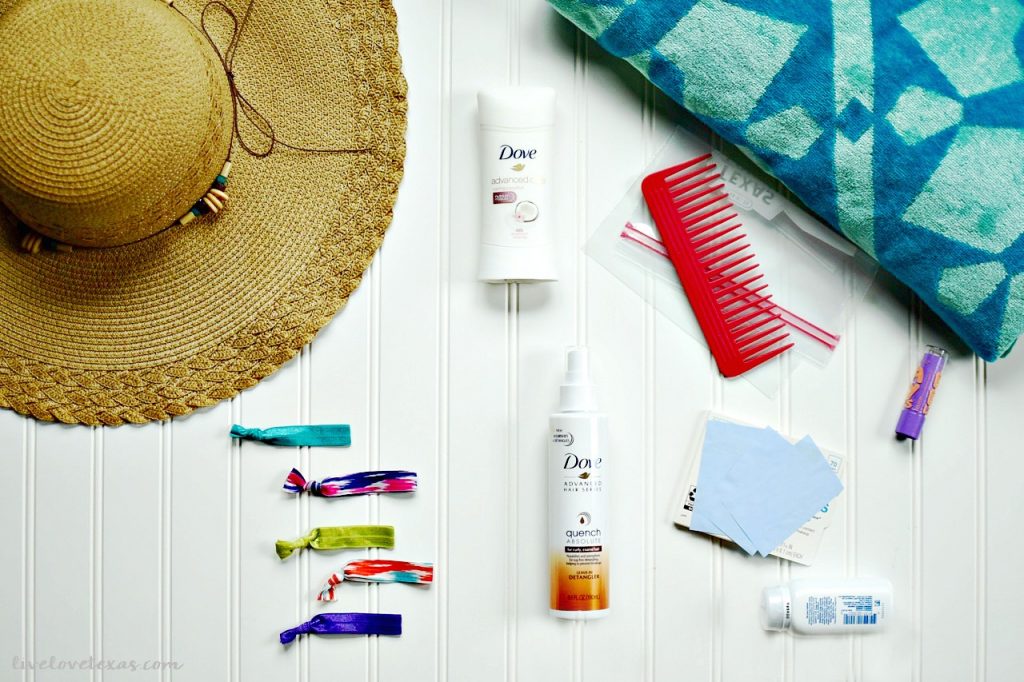 1. Sunscreen: protecting against the sun's harmful rays is such an important step. Something that I assume is the most necessary item when going into the sun, you might take for granted when visiting the beach. It's shocking how sunscreen is something that others rarely (never) think about.
Don't just think about your skin, protecting your lips with an a balm that has SPF is key to preventing to sun damage.
2. Towel: when you get wet or are hot, you obviously need a towel. This one is a given when going to the beach. I like the tall, beach sheet sized so you're completely covered and it works on those of us that are taller too!
3. Plastic bag: Before heading into the water, you want to keep your electronics…or more accurately, your phone protected. A simple resealable sandwich bag will keep the sand and moisture off your phone and give you the peace of mind to have fun.
4. Wide toothed comb & leave in conditioner: You protect your skin, so why not protect your hair? Give your locks a little TLC with a lightweight, spray in conditioner that you can leave on your hair while laying in the sun. Help thwart the effects of those UV rays with minimal effort!
5. Hair ties: I probably use a failed method but part of the ways I know when to reapply sunscreen is by how hot I feel. Even if I'm not super hot, I'll still reapply if I'm hot. Cute hair tie ribbons will pull the hair up off your neck and keep you looking chic a the same time!
6. Oil blotting sheets. Get rid of that greasy, sunscreen laden skin with some cheap, oil blotting sheets and be ready to go from the beach to dinner in one easy step!
7. Baby powder. This sweet talcum powder will help remove those granular, grains of sand with ease. Just rub it on and watch the grains fall off!
8. Deodorant: I've partnered with Dove to tell you all about their Dove Advanced Care Antiperspirant. When you're going in and out of the water, smelling good may not be a priority for some. But for me, I'm always hyper aware of my body odor. If I'm sweating, I want to know and take precautions before it gets to obvious to those around me.
And I'm not alone. Deodorant is so important that when women have forgotten to put it on 87% feel self conscious and 92% of women care about how their underarms look and feel when they're exposed.
I love that Dove Advanced Care Antiperspirant has 48-hour odor of wetness protection so I'm not constantly reapplying and the coconut scent blends with all the other smells of the beach without being too obvious that anyone can tell that you I stink. Plus, with the added skin care benefits of its NutriumMoisture formula my underarms feel soft and smooth instead of irritated. It's a great upgrade to your beauty routine…at the beach or at home!
I may be in the minority here but I love the way smells of summer. If I could smell like coconut and all things summer, I would. And I will with Dove Advanced Care Antiperspirant. I love that I can use a product that not only keeps me dry but smells good too. I can reapply discretely and it smells amazing whether I'm staying on the beach or heading out for dinner. What's not to love?!
These are my 8 Beach Bag Must Haves – what am I missing? What's on your beach bag must haves list?!