Update your look for summer with custom made jewelry for women! This Heidi J Hale review was sponsored by the brand, all opinions and monogramming selections are my own. Shop Heidi J Hale now!
Heidi J Hale Review
As women, I think we're all fans of all things sparkly and pretty. I have quite a bit of jewelry but during the busy school year, I never can seem to get my act together and wear it on a regular basis.
Sure I have my go to pieces. But these are classic, everyday pieces.
I'm talking the fun stuff. So for summer, I'm challenging myself to update my look and mix things up in the jewelry department.
Heidi J Hale sent me some awesome new custom made jewelry pieces to add into my rotation. And I'm totally in love! All of the pieces are handmade in the USA and from a female owned business.
We Texans love to show pride for our state, so the Texas State Monogram Necklace was an obvious first choice. While I've lived in a lot of places in my lifetime, Texas is definitely home and I couldn't imagine living anywhere else.
"I wasn't born in Texas, but got here as fast as I could."
Inspired by some the website, the next piece of custom handmade jewelry I chose was the Say It On a Ring. I know I use the nicknames Cakes and Cupcake, but these are my girls names. Brady is Cakes and has had the name Bradycakes since birth and Cupcake just seemed to fit with the theme as she was the newest member of the fam.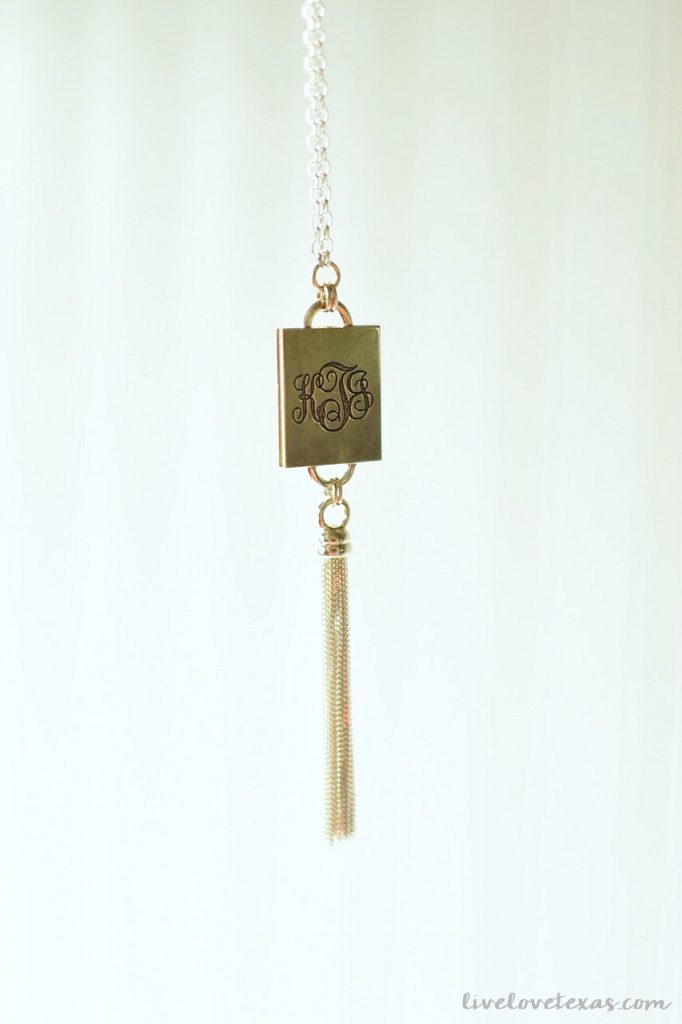 The last piece of custom jewelry I was sent is this Monogrammed Tassle Necklace. Colby, 4, thought it was very reminiscent of a friend's Kendra Scott Necklace and I like how understated and versatile it was. Surprisingly enough, this is my first monogrammed…well, anything. I even had to ask a friend the order of the initials because there's apparently two schools of thought on it.
Connect with Heidi J Hale online and stay up to date on all of the latest news by following the brand on Twitter, Instagram, and Pinterest and liking the official Facebook page!
I'd love to hear which piece of Heidi J Hale custom made jewelry is your favorite and what you'd customize it with!
More mom style posts: