School may be in session here in Texas, but that doesn't mean the fun has to stop. Check out one of the best family friendly resorts in Texas…The Woodlands Resort & Spa! This review was sponsored on behalf of The Woodlands Resort & Conference Center. All thoughts, opinions, and experiences are mine alone.
We're those parents that like to save our kids from disappointment. Because you never really know when someone is going to come down with a mystery virus or weather prevents you from going some place. And there's something to be said from the magic of surprise a child with something they least expect!
At the end of July, our family took one of our last trips of the summer and visited The Woodlands Resort. While we've visited other hotels in Texas for staycations in the past, we've never been to such a family friendly resort in Texas.
Along the way we questioned them about what they thought the surprise could be and answered ranged from Florida (our annual family vacation that happened the month before) to Sea World (which, they're pretty alert and aware of the drive there so made zero sense). Our surprises can be something of a long game and the girls weren't phased when it took us nearly four hours to arrive at our destination. Once we pulled into The Woodlands Resort, Colby (age 4) proudly proclaimed we were at the "show and tell" to which Brady (age 7) quickly corrected to, hotel.
Tucked behind tall, Texas pines and a good distance off the main road we found easy to follow signs directing us to the reservations desk. Although there was a very friendly valet staff, I hopped out and headed in alone to get an early check in and our wrist bands for access to all of the pool and water fun! Even though we didn't valet, a valet opened and closed my door as we headed to park in a lot closer to our room.
After cruising around the small lot directly in front of our room, we opted for the farther out parking. If you're handicapped or unable to walk long distances comfortably, opt for the valet. If you're able bodied and don't mind the walk (I don't, I always park my truck at the back of the lot anyway) then there's a convenient footpath with crosswalk over to the resort. If after the short walk you find you're done hauling your luggage to your room, the friendly bellhops are more than happy to escort your luggage and give you a direct, guided route to your room.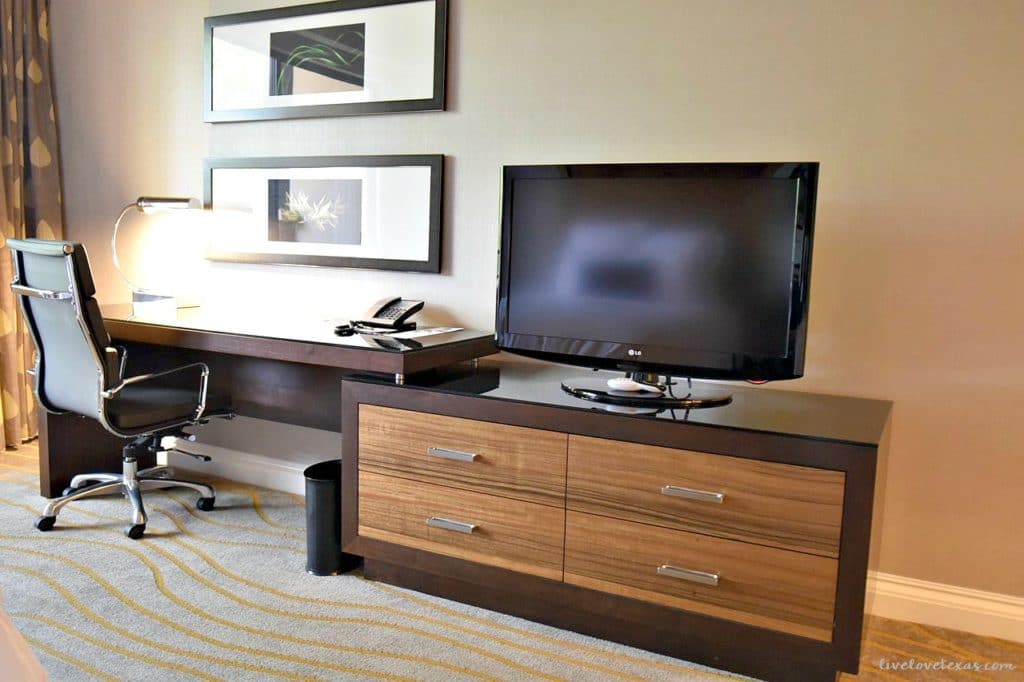 We were on the second floor in a pool facing room with balcony. For our family of four, this was a perfect location as we could see the 3 story water slide and the poolside restaurant while only a short walk from the exterior door to both the outside and the pool area.
Don't forget swimsuits. In my typical style I always forget at least one thing when we pack. This time, I put Colby's swimsuit next to (but not in) the pile of clothing we put in our suitcases. If you have a blonde moment like this, there's a Target and mall close to the resort to grab another or any other essentials you may have forgotten.
In our rush to start our Texas family staycation, we had breakfast before we left and waited to enjoy a late lunch until we arrived. To kill time until the happy hour specials started at the Cool Water Cafe, we made a quick trip around the lazy river before heading in for $1 chips and queso, $2 pulled pork tacos, and $3 Shiner drafts.
Tip: Cool Water Cafe specials vary from day to day so make sure to check the schedule before dining. These were the specials on the Friday we visited.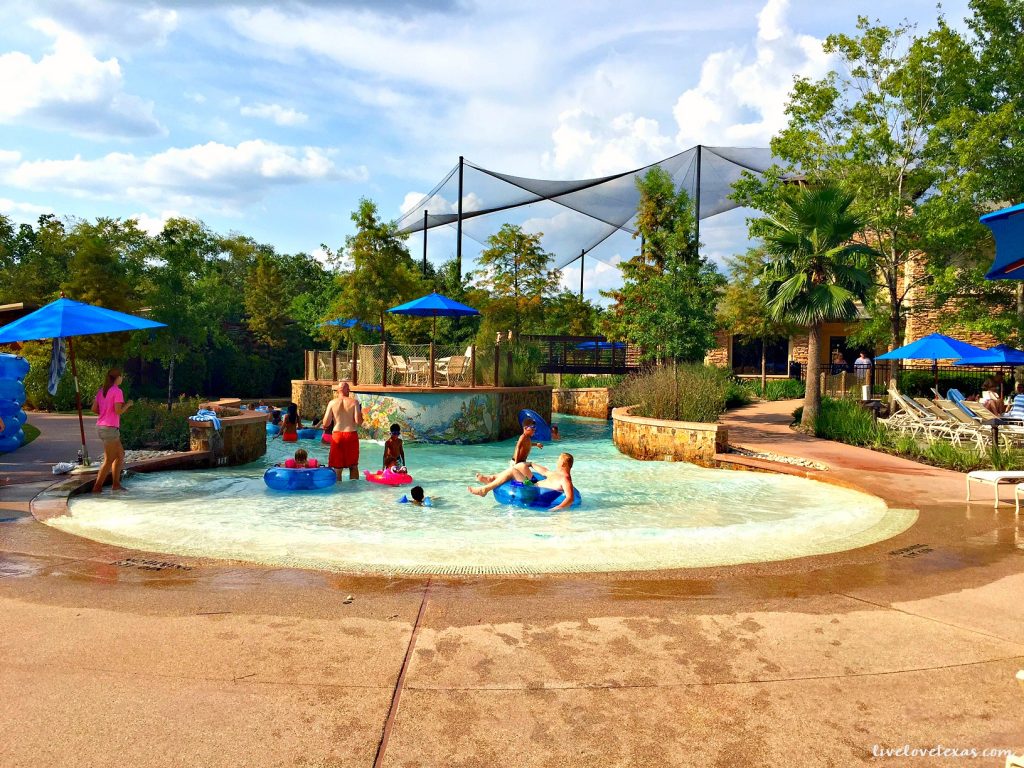 This pick me up was what we needed to spend several more in the pool, before heading upstairs to dry off, unwind, and get ready for dinner. We were so focused on enjoying the pool and lazy river again that we completely missed out on the s'mores served from the fire pit at the pool pavilion.
Since we had such a late lunch, we knew we didn't need a lot for dinner. My husband and I enjoyed the tasty rolls at Sakekawa, while the girls ate the hibachi.
Tip: If your kids enjoy beef as much as mine do, opt for the hibachi steak dinner for just $12.95. They'll get the full sized, adult filet which Brady devoured. My husband and I love spicy rolls, so check out their four page menu of rolls before you arrive to get a head start on the ordering process. Great service and very family friendly. We got back to the resort just as the nightly dive in movie was ending.
On Saturday, I started the day off early with a massage while my husband took the girls to The Woodlands Dining Room for the breakfast buffet.
Located in the same building as The Woodlands Dining Room (so the entire family was able to walk together), the spa was ah-mazing! Upon check in I was invited to enjoy the whirlpool, dry sauna, and steam room before lounging on the sofa in front of the fireplace and drinking strawberry flavored spa water. My wait was super brief and I got to catch up on part of a magazine before being led into a room.
This summer my middle to lower back has been bothering me, so I let the therapist know so she could focus on these areas. After asking for permission, she did some deep tissue massage in these areas and said they may be sore the following day. They weren't and I had such relief and the ability to sleep better than before the massage. In full disclosure, I've only had a handful (less than six massages) and this is the one that I needed the most and I felt instant relief.
After my massage I met back up with the fam at the pool for time in the sun and afterwards headed out to explore. We ended up along the same stretch of road as we had the night before and had lunch at Crisp for pizza and beer before heading back. Another great find – service was prompt and food was great!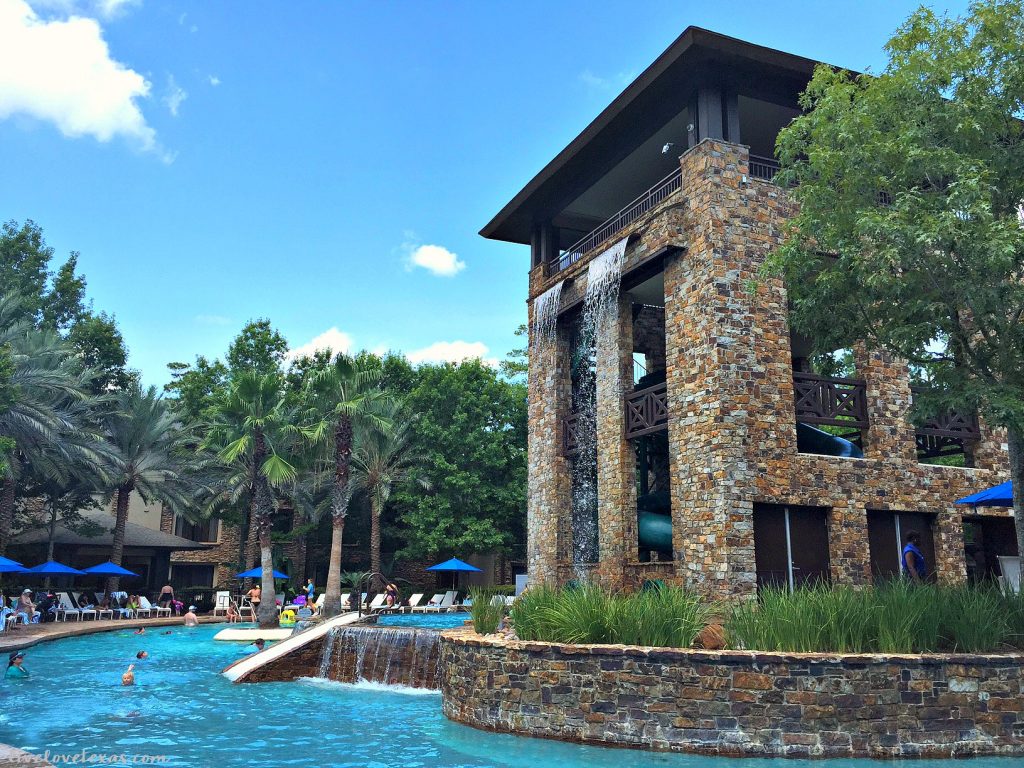 The pool, 3-story water slide, and lazy river were definitely the highlights of our trip, so after lunch we headed back to indulge once again. While our girls just wanted to be in the water, there was so many fun things for kids around the pool area. There was a dance off where the deejay insisted that he wasn't a deejay but instead a musical babysitter…point taken. And even the adults were rocking to some popular songs. On Saturday there was also balloon animals and a face painter for the kids to make things even more fun! This is definitely a family friendly resort in Texas!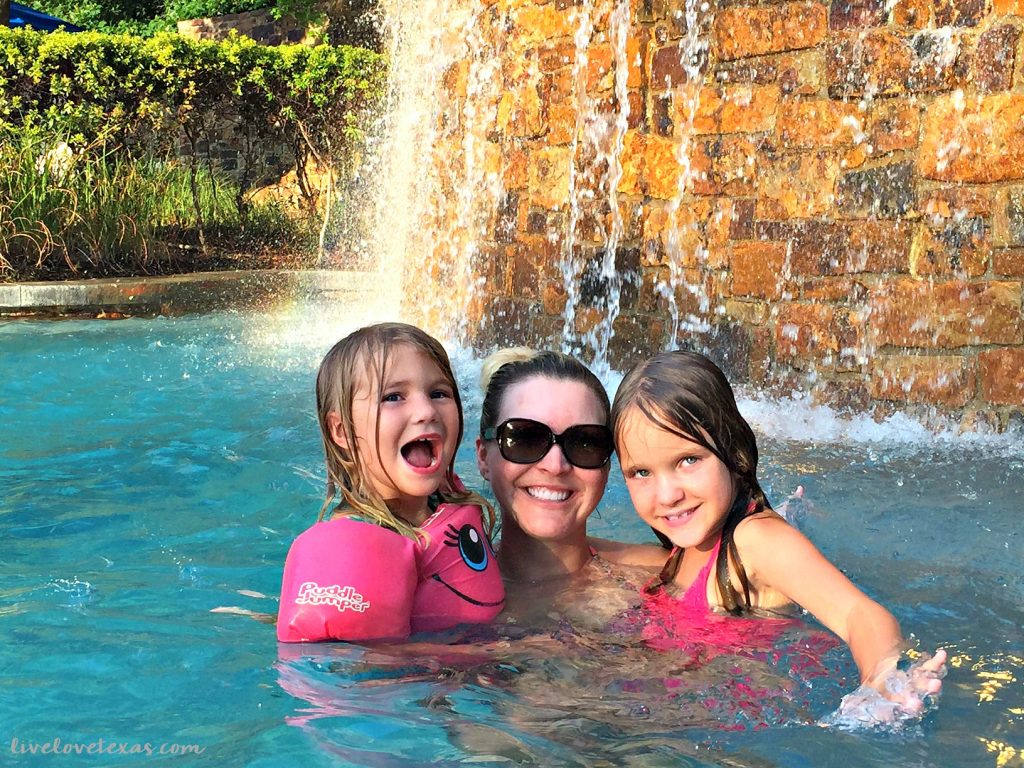 Tip: let the kiddos experience the hidden waterslide inside the lazy river. You'll have to double behind the waterslide before there's an easy entrance to get out and get in!
After lunch we tried to make reservations at the on-site steakhouse, Robard's Steakhouse, but they were booked. We were super bummed at this but based on the five star reviews on Yelp, this was to be expected. Next time we'll make reservations before we arrive or as soon as we get there using the tablet on the nightstand between the beds.
Instead we had dinner at Lonestar Steakhouse. While not local by any means, this Texas based chain is consistently great and with our late arrival time (because of all our time spent in the water) we had minimal wait times.
With a full belly and day in the sun behind us, we were ready to turn in for the night and get prepped for checkout. Before heading back to Austin we stopped at the Forest Cafe and Bakery.
Tip: Opt for the delicious breakfast burritos and lattes (with a to go cup). This place gets busier the later it gets and has both inside and outside seating.
Make sure to stay up to date on all of the latest events and deals at The Woodlands Resort by following them on Facebook and Twitter!
What's your favorite family friendly resort in Texas?
More family friendly travel destinations: