Have you ever seen someone stumbling around like a drunken cowboy? This is how I would best describe Cupcake's approach to walking. She's only been at it for a week but already she's figuring the fastest mode to transport her to where she wants to be.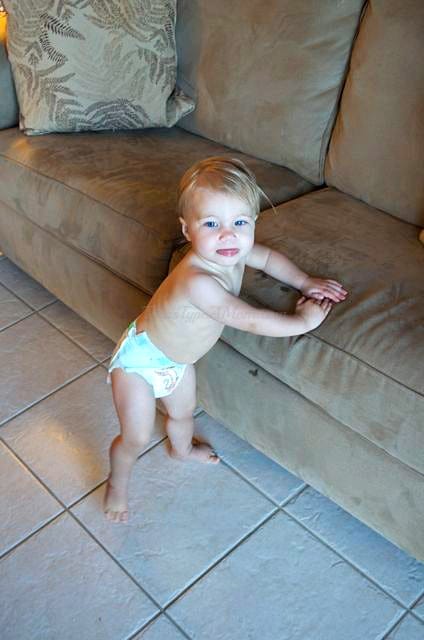 And just because Cupcake is still coming into her own and figuring out this whole walking thing, that doesn't mean she's just been sitting around. My girl can move! She has at least three different distinctive methods of crawling – traditional, crawl and drag (half sit/half crawl), and the bear crawl – in addition to her crazy climbing skills.
First steps. First overnight away from mom. First fitting.
What's a first fitting? In short, it's a standing diaper change instead of the baby laying down.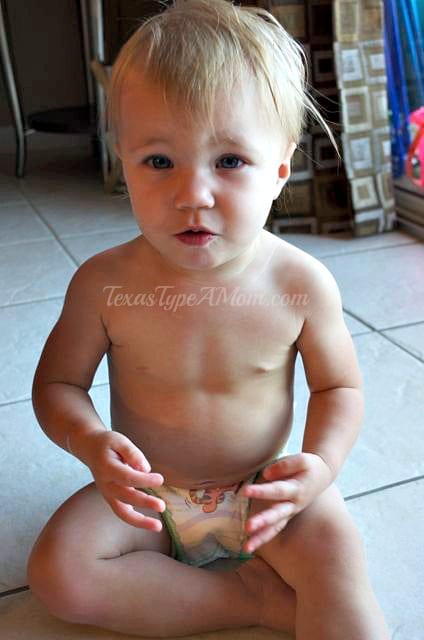 Cupcake does not like laying down unless she's sleeping. She prefers to stand or sit at all times, so I knew when Cupcake started thrashing around and resisting diaper changes, it was the sign she was growing up and ready for her first fitting.
Thanks to Huggies sending a sample pack of their newest product my way, we tried our First Fitting with Huggies Slip-On Diapers. Standing diaper changes are so much easier – there's no resistance or struggle. I can simply slide on the Huggies Slip-On Diapers like I would a pair of shorts and let Cupcake continue on her journey.
These new Huggies diapers feature a design unique to infant diapers similar to pull up diapers. How they differ from the pull up diapers is not only does this allow you to easily change baby while they are standing, but with stretchy sides to maintain a snug fit. Removal and disposal are made simple with easy open sides and grips.
The last few weeks have brought so many milestones and so many firsts in Cupcake's and my lives. I want to tell my baby to slow down so I can enjoy this time that is passing by far too quickly. But alas, she can't and/or won't so I'm left with all of these emotions about the baby of the family growing up. After all that's happened recently, I can't even fathom what milestone Cupcake might be hitting next.